Cristiano Ronaldo, a player that has been subjected to as many controversies as the number of accolades he has achieved in the last decade, is not going through a great post-season period after Spanish authorities have accused him of tax evasion.
The four-time Ballon d'Or winner, Cristiano Ronaldo, has enjoyed another glorious season after winning the La Liga title as well as Champions League with Real Madrid, along with becoming the first footballer to score 100 European and Champions League goals.
All was going well for the Portugal national before a lawsuit against him was filed by Spanish authorities for an alleged tax evasion of $21.8 million, which were paid to the player for image rights in the year 2014.
According to a report published by 'A Bola', Cristiano Ronaldo is 'outraged' after being accused by the Spanish prosecutors and he wants to leave Real Madrid. Ronaldo is said to have told the same to Los Blancos President Florentino Perez and has said that his decision is irreversible.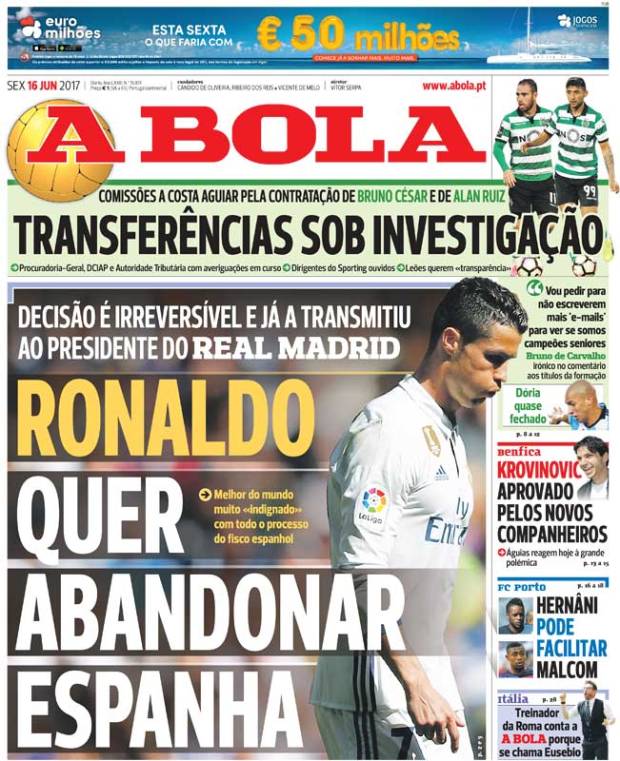 Although Real Madrid has issued a statement supporting the Cristiano Ronaldo while claiming that the club is "absolutely convinced of his innocence", rumors have surfaced stating that a club might have made a bid of $264 million for Cristiano Ronaldo before the summer transfer window.
Interestingly, Cristiano Ronaldo is Real's biggest asset as he has taken the club to its third Champions League title since joining them from Manchester United in 2009. His former club is expected to join the race for a reunion with Cristiano Ronaldo and as per the reports, they are ready with an offer, hard to refuse.
Paris Saint Germans, on the other hand, have been long-time admirers of Cristiano Ronaldo and in order to fill the void left after the exit of Zlatan Ibrahimovic last summer, they are expected to come out with everything to bag his services.
Author's Take
Despite being 32, Cristiano Ronaldo is still the hottest property in club football and he already leads the race for the next Ballon d'Or award against Lionel Messi. His market value means that a transfer would come with huge profits for Real Madrid, however, there are just a handful of clubs who can afford him.
Moreover, Cristiano Ronaldo leaving Real Madrid is highly unlikely because the club would not leave a single stone unturned to keep him at Santiago Bernabeu with Karim Benzema being inconsistent with his attacks and Gareth Bale just coming out of an injury-laden season.
There is another side to this development and that is Chinese clubs showering tens of millions of dollars to bring European talent to Asian league and if Cristiano Ronaldo really wants to leave Real Madrid, a contract in China can make him the highest grossing athlete in the world.