Cristiano Ronaldo has finally made his presence felt in the La Liga with his 85th-minute goal in the league game against cross-city rivals Getafe ensuring a 2-1 win for the Zinedine Zidane side. However, a report has surfaced online stating that, moments after winning the game, Ronaldo has put an astonishing demand in front of the manager that might result in an end of BBC trio.
Before dwelling into the details, Real Madrid hasn't had the best start to their 2017/18 campaign as they find themselves trailing by 5 points behind arch-rivals Barcelona in the tally and for the unknown, the difference was even more indifferent as Barcelona was witnessing a perfect run in the Spanish League, having a 7-pointer advantage over defending Champions, Real Madrid.
However, the last weekend has changed the standings as Real Madrid had received a breather with their 2-1 victory over Getafe. Moreover, Barcelona's winning streak also came to an end their La Liga clash against Atletico Madrid which ended in a 1-1 draw.
As for the Getafe vs Real Madrid fixture, Karim Benzema opened the scoreline with a 39th-minute goal. Getafe had a free-kick but it was wasted and Real Madrid went forward to register the opener. The ball was played through to Karim Benzema, who defeated a Getafe defender, before stroking a low finish into the far corner of the net.
Although the hosts equalized in the 56th minute of the second half with Jorge Molina sliding the ball past Real Madrid goalkeeper Kiko Casilla, it was Cristiano Ronaldo, who broke his La Liga duck with a late winner, giving Los Blancos the desperately needed points.
With just five minutes left on the play and the match being tied 1-1, Cristiano Ronaldo was played by Isco in over the top and the Portuguese slammed home with a first-time half-volley to take his team home.
Interestingly, Real Madrid was playing without an injured Bale, whose absence has been testing the nerves of fans as well as the administration alike and now there has come a report by Spanish outlet Don Balon, according to which, Cristiano Ronaldo has decided and has urged Zinedine Zidane to make Benzema his permanent strike partner rather than Gareth Bale or Marco Asensio.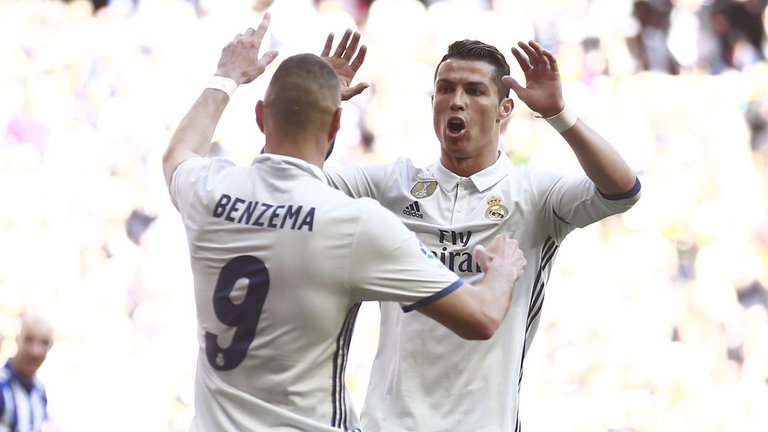 Karim Benzema's appearance for Real Madrid on Saturday was his first in over a month and his return from injury meant that countryman Zidane will adopt a 4-4-2 formation, which he did. If Cristiano Ronaldo and Benzema remain the frontmen in this plan, it highly likely that one of Gareth Bale or Marco Asensio might miss out on a starting place.
That said, during their prime, the BBC trio was one of the most dominating attacking lines in modern day football with all the three members, Bale, Benzema and Cristiano Ronaldo scoring goals after goals for Real Madrid. However, we haven't seen much of the BBC genius as while Gareth was out for a long time due to his calf injury, at the starting of this season, Ronaldo found himself on the receiving end of a 5-match ban in Spanish Leagues.
Moreover, while Marco Asensio started on the weekend against Getafe, it remains to be seen how much game time Asensio or his Welsh team-mate Bale will see if Real Madrid is not lining up with these three in the attack.
Real Madrid will welcome Premier League outfit Tottenham Hotspur to Santiago Bernabeu this week, where one of the two clubs will definitely lose their 100% record in 2017/18 Champions League.
Gareth Bale won't be playing for the side and will miss the chance of facing his former club, as he continues to recover from the calf injury.