Cristiano Ronaldo has been on fire in this season and has chipped 35 goals as well as assisted 11, in all competitions. Real Madrid, too has been on a winning streak in La Liga, thanks to the BBC trio consisting of Gareth Bale, Karim Benzema and Cristiano Ronaldo.
Camp Nou knows the importance of the Portugal International as the forward has scored almost 400 goals for the Spanish Giants, since his record transfer from Manchester United. He is often ranked as the best player in the world and is widely regarded as one of the greatest of all time. Cristiano Ronaldo is the only player to win four European Golden Shoe awards is also one of the most marketable athletes in the sport.
Ronaldo has been a synonym to Real Madrid for the last seven and a half years but we all know that it was Manchester United that made him CR7. During the six years he played for Red Devils, after joining them at the age of 18, he helped United win three successive Premier League titles, one UEFA Champions League title, and the FIFA Club World Cup. Cristiano Ronaldo developed his skills at Old Trafford and achieved some major breakthroughs, Ballon d'Or and FIFA World Player of the Year nominations being the most important ones.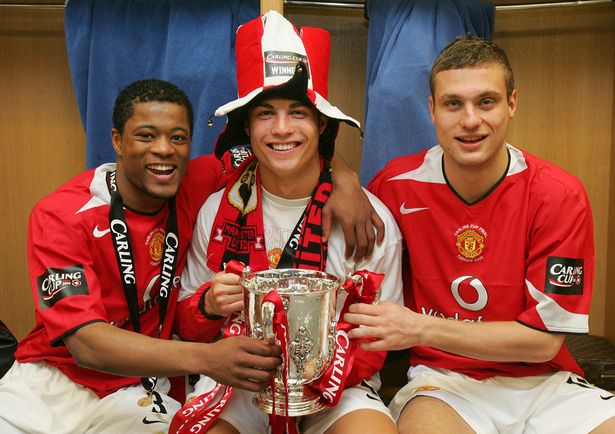 Now, he is one of the most marketable athletes in the world and got his first ever sponsorship in 2003, during his days at Manchester United. Over the next 13 years, Cristiano Ronaldo has worn 60 different kinds of Nike cleats and in December Last year, he signed a Billion Dollar lifetime deal with Nike. he is only the third Athlete in the world to get a lifetime contract from the company after Michael Jordan and LeBron James.
Making this deal even more special, Ronaldo and Nike have launched another set of football boots that have taken the world by storm. Despite him being the 'speciale' for Real Madrid, Cristiano Ronaldo, on several occasions, have shown how much he still loves former club Manchester United and now he has honored the Red Devils with another stunning gesture.
The 32-year-old, who recently claimed his fourth Ballon d'Or award, has dedicated his new Nike football boots to Manchester United. He recently launched a video in which he said, "I'm excited to launch my new boots today. This boot celebrates the time I played at Manchester United when I started to play with number seven".
https://twitter.com/101greatgoals/status/849904798967226368
https://twitter.com/101greatgoals/status/849905060167528448
While haters will say that Cristiano Ronaldo has disrespected Real Madrid and Zinedine Zidane with his gesture, the truth remains the same that the Portuguese is CR7 because of Red Devils and there is no denying this fact.
Moreover, him dedicating the new Nike Boots to his former team reflects the good side of him which we always tend to ignore due to the cloud of controversies that has always hovered above him throughout his career.