After what turned out to be a shocking defeat for Real Madrid against La Liga newcomers Girona by 2-1, the defending Champions now trail behind Barcelona by 8 points in the tally, a margin they have never overcome in the history of their existence.
However, Sunday's clash has left Real Madrid with another reason to worry and that is a possible Cristiano Ronaldo's second ban of the season in Spanish top flight.
For the unknown, Real Madrid rolled into Girona with their strongest XI available and yet, even with most of the players available, they didn't look good on the field despite an early opener from Isco (12') as they struggled to deal with the hosts' high-press, and gradually giving away the ball, around six times in dangerous areas, leading to multiple conceded chances.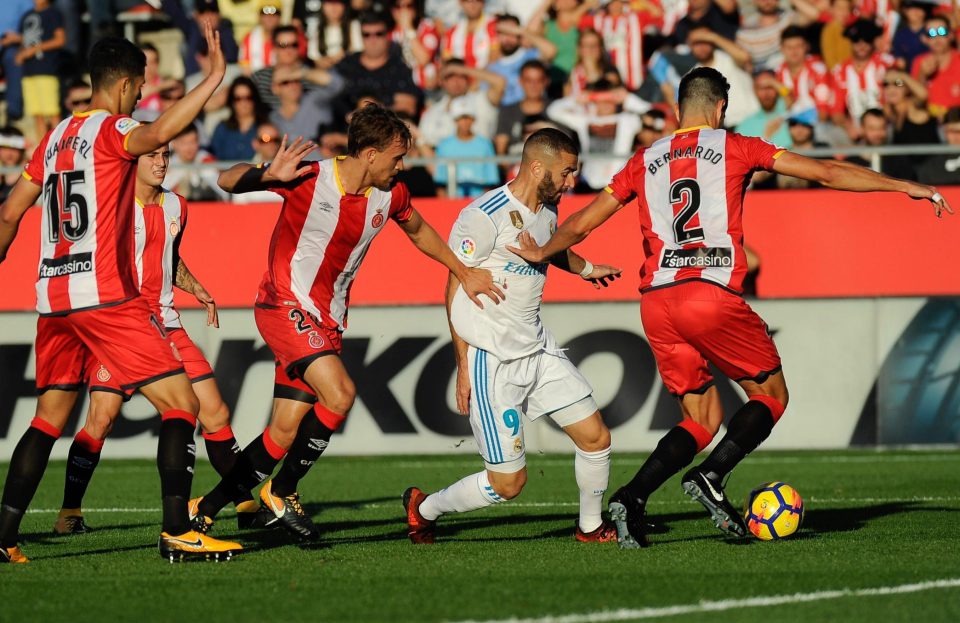 Girona, on the other hand, also hit Real's woodwork twice in the first half, before eventually finding the back of the net, twice, in the second half (54', 58').
However, for Cristiano Ronaldo, the recently crowned World Player of the year, this was another game to forget as he again failed to score during the match, coupled with another controversy that might lead to another ban from La Liga.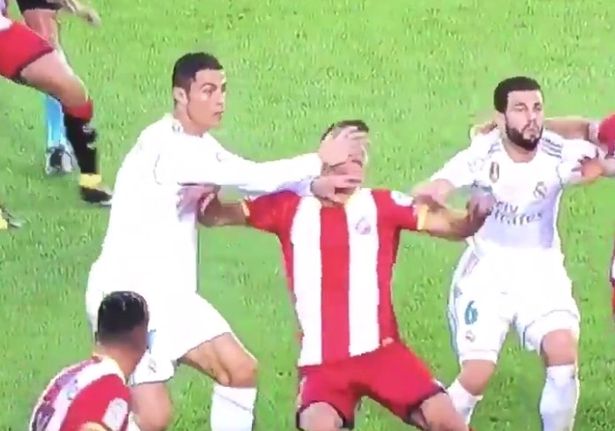 During a corner, Cristiano Ronaldo was caught grappling with Pere Pons, a Girona midfielder, which sounds normal so far. But as the ball headed towards him, he started grabbing Pons' head after realizes that he has lost the battle. With another Girona defender winning the header at the corner, Ronaldo palms Pons off in the face, leaving the new comer on the floor.
https://www.youtube.com/watch?v=j2lh8YGEJno
( Video Source: Real Football Videos )
Ronaldo has already served a five-match ban at the start of the season, including a one-game ban for getting two yellow cards in the Super Cup final win over Barcelona, followed by a four-game suspension for pushing the referee after being shown the red in the same match.
While the Ronaldo-Pons incident isn't as bad as the previous one, it would be CR7's luck if he is found guilty.
And for the second time in the season, Zinedine Zidane will have to play with a Cristiano Ronaldo-less squad in La Liga.
However, if this happens, Real Madrid could be in serious danger of losing the lead and eventually give away the title as according to previous stats, Los Blancos have never overcome such a huge margin in Spanish top flight.
Here is what Girona's biggest upset of the season means for Real Madrid.
Of all goalscorers in top five European leagues, Cristiano Ronaldo has the worst conversion rate this season which works out as one goal in every forty shots.
In six league games, Cristiano Ronaldo has only scored once, 11 less than his rival Lionel Messi's current tally.
The last time a La Liga new comer beat Real Madrid was on October 28 (27 years ago) when Real Burgos beat the men in whites.
Real Madrid suffer their 1st La Liga defeat in their last 59 games against newly promoted sides, dating back to Feb 2008 (v Almeria) pic.twitter.com/WsHdtxIWRf

— Sky Sports Statto (@SkySportsStatto) October 29, 2017
It was the first time that a Catalan side, other than Barcelona FC, had beaten Real Madrid in La Liga in more than 10 years with Espanyol being the last team to do so, way back in October 2007.
The reigning La Liga champions, Real Madrid have never won the Spanish league after being eight, or more, points away from the top in any season.
Real Now Needs The Goal Scoring Prowess Of Cristiano Ronaldo, More Than Ever.