Copa Del Rey 2016/17 found its first finalists after a heart wrenching game between Barcelona and Atletico Madrid at Camp Nou. Carrying a 2-1 deficit from the first leg, Atletico Madrid needed to score at least 2 goals more than Barcelona to reach their first ever Copa Del Rey final and given the fact that the visitors have never won a single game at Camp Nou, this was not going to be an easy task for the Diego Simeone led side.
However, Atletico came out with good intent and for the first few minutes, they saw a lot of ball and tested Jasper Cillessen by presenting some nervy runs during the initial moments of the game. We witnessed Barca struggling to cope up with regressive attacking from the visitors before Lionel Messi took the matter in his hands.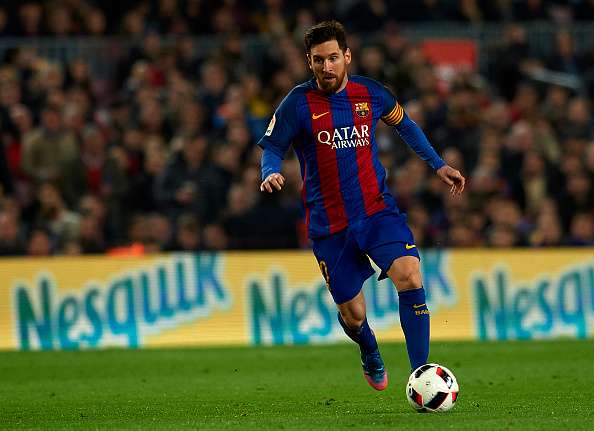 In his classical unbeaten style, Messi rushed inside the opposition's defence, leaving the defenders muddled by the quick turn of events. He unleashed a dragon ball sorts of strike at the bottom corner which was somehow defended by Atletico Madrid goalkeeper Miguel Moya. However, Luis Suarez was following his partner's marks and on the rebound, he magically tapped the ball and bundled home with ease, in the 43rd minute.
With just seven minutes remaining for the first half, Barcelona needed to play the calm game and wait for the opportune moment to score the decider, however, Sergi Roberto and Yannick Carrasco being already dismissed, Luis Suarez was caught by the referee while competing for a header with Saul Niguez and received the first ever yellow card of his Barcelona run.
Suarez's booking did not change a thing for Atletico Madrid as the team still needed 2 goals to force the game into extra time.
Things started to come into place for Atletico Madrid in the second half as the visitors reclaimed the ball and were openly challenging Barca's defence. Barcelona fans were silenced in the 59th minute when Antoine Griezmann again become the savior for his team and took the numerical advantage by opening the goal tally for his team, with a low shot. However, it seemed that Diego Simeone's stars were not in his favour as the linesman had the flag raised and marking it an offside.
The biggest shock for Atletico Madrid came moments later when replay showed that Griezmann was indeed inside the border and it was a legal strike, but the damage had already been done and the game resumed.
https://twitter.com/UItraSuristic/status/829077786224689154
Thankfully, Atletico answered with their renowned defending strategies and shed the intense play mode to remain in the competition and they were rewarded for their risks in the 83rd minute. Gameiro was awarded with a penalty in the 80th minute when Pique fouled him and the 29-year-old substitute attempted a failed strike but made amends minutes later on Antoine Griezmann's assist. His classical tap-in brought Atletico Madrid back in the game and the visitors just needed one more successful shot for their rise to glory.
However, Barcelona quickly sensed the danger and came up with defending techniques of their own but again, Luis Suarez got a yellow card while leading from the front.
With the game coming to a closure, Barcelona's entry in their third consecutive and fourth overall Copa Del Rey final was just in grabs but Luis Suarez wanted more for his team. The Uruguayan International got a red card after catching Saul in the back of his head with his forearm, while jumping for a header.
Luis Suarez is sent off for the first time in his Barcelona career and will now miss the Copa del Rey final. pic.twitter.com/9trmdyEAfN

— Squawka News (@SquawkaNews) February 7, 2017
By the end of the game, the goal tally remained unchanged and Barcelona did the expected, ending Atletico Madrid's dreams to defeat Barca at Camp Nao and entering their first ever Copa Del Rey final.
After defeating Atletico Madrid by an aggregate of 3-2, Barcelona will now face the winner of Alaves vs Celta Vigo game but without Luis Saurez.
With Neymar and Suarez being ruled out for the Finale, it will be interesting to see how Messi will perform with the substitutes and whether or not Barcelona will successfully defend their their Copa Del Rey title.
Did Barcelona reach the Copa del Rey final?

2010/11: ✅
2011/12: ✅
2012/13: ❌
2013/14: ✅
2014/15: ✅
2015/16: ✅
2016/17: ✅ pic.twitter.com/oVzEiWF0cd

— Squawka Football (@Squawka) February 7, 2017
To the FINAL. 🔵🔴#CopadelRey pic.twitter.com/Ut9h5QFe9e

— Leo Messi 🔟 (@WeAreMessi) February 7, 2017
Lionel Messi is on his way to his FOURTH consecutive Copa del Rey final.

Aiming to win his 30th trophy for his 30th birthday. pic.twitter.com/GbHrQ2BUos

— Chef (@champ_ian) February 7, 2017
Four successive Copa del Rey finals for Barcelona, the first time since 1951-1954 🙌 pic.twitter.com/UWtqV69XVY

— B/R Football (@brfootball) February 7, 2017
Follow us on Facebook, Twitter and Instagram for more updates. Don't forget to like and share. Do tell us your views in the comment box below.