For all those who have been following the Under-17 World Cup, Celebrity Clasico 2017 might not have the same entertainment-factor, however, it was indeed a goal fest, to say the least. The last time All Stars FC and All Hearts FC went head-to-head, they had to do with a 2-2 draw, however, this year's Celebrity Clasico was a whole new ball game altogether.
MS Dhoni and Aniruddha Srikanth, both scored a brace to give All Hearts FC a comfortable lead which was later converted into a 7-3 victory with one goal each from Virat Kohli, Kedar Jadhav, and Shikhar Dhawan.
Within the first five minutes, MS Dhoni opened the scoreline from outside the box, followed by a 39th-minute free-kick that might have even left European players in awe. In the first half, MS Dhoni's Brace and Srikanth's header (41') off Virat Kohli's pass was enough for the All Hearts to take a 3-1 lead, however, Shabbir Ahluwalia (42') did keep All Stars into the game with a goal.
Watch MS Dhoni's Goals That Have Taken The Internet by Storm, Here
The 5th Minute Opener
Live that super Mahical moment! ⚽🦁😇 pic.twitter.com/cGrjDL5oxr

— Chennai Super Kings (@ChennaiIPL) October 15, 2017
The Wonder Free-Kick
Here comes another one from @msdhoni !! 2-0#ChampOfAll@ChennaiIPL @IndSuperLeague @BCCI @StarFootball pic.twitter.com/H3wrDN90E6

— Ashish Shinde (@iammrashish) October 15, 2017
MS Dhoni's batting and wicket-keeping talents aren't hidden from anyone, but during the El Clasico, the 35-year-old took on the responsibility of taking this direct-free-kick, which wasn't even anywhere near the 15-yard penalty box but he converted it superbly.
The story was almost similar in the second half, as well, as All Stars FC players were finding it way too hard to keep the possession. It all started with a 49th-minute penalty, which was converted successfully by Aniruddha Srikanth but Ranbir Kapoor, the All Stars captain, played his heart out and scored a savior in the 57th minute.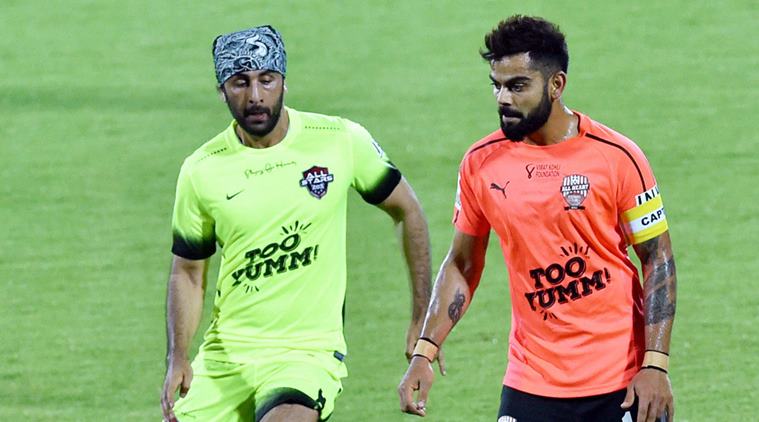 For once it looked like Ranbir Kapoor can lead his team to a comeback as we saw back-to-back attacks from the Stars. However, none of the attempts were converted into a goal, but by the end of it, Ranbir Kapoor did leave the attendees in awe.
https://twitter.com/Ranbir_Kingdom/status/919613509964574720
In the 85th minute, Virat Kohli led an attack to the goalpost but was denied by the keeper, however, Kedar Jadhav came from behind and sent the ball curling in a rebound.
Within the next four minutes, the All Stars captain once again fabricated an attack and assisted Aadar Jain to keep his team in the match. However, that was it for the All Stars as Celebrity Clasico 2017 got its winners with Virat Kohli's 92nd-minute strike followed by Shikhar Dhawan's successful free-kick (97').
https://www.youtube.com/watch?v=JJJaGGr6HOI
( Source: Mukesh Chauhan )
At the end of it, Ranbir Kapoor and MS Dhoni were the ones in the spotlight and while we all know about how serious Ranbir takes his football, MS Dhoni's endeavors in the Celebrity Clasico did give All Hearts the psychological advantage early in the game.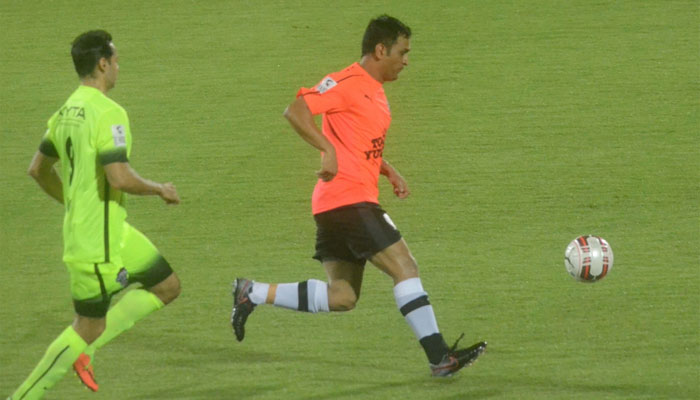 MS Dhoni's football skills are quite well known but this performance on Sunday showed the world exactly how good he is with his feet.
And for MS Dhoni fans, here is a cute moment from the Celebrity Clasico where the former skipper's daughter, Ziva Dhoni carried drinks for her tired father.
Game time for Ziva and Mahi ❤️ she is all around the ground.. cuteness at its best. @msdhoni @Circleofcricket pic.twitter.com/ToHQj6cOm0

— Ishan Yadav Mahal (@BeingIshanCric) October 15, 2017
While All Heart FC walked away with a trophy, once again, the Man of the Match was awarded to MS Dhoni for his brace. All Stars FC too lifted a trophy as the best goalkeeper award was given to Marc Robinson.