UEFA Champions League's round of 16 has kicked off in an unexpected fashion. First PSG defeated Barcelona F.C in the biggest upset of the tournament by 4-1, then Real Madrid left Napoli haywired in a 3-0 comeback game and now the Bayern Munich 5-1 Arsenal. It's either the defence of the losing teams that needs proper evaluation or the managers of the winning squad have done some substantial changes in the diet.
Arjen Robben gave Bayern the lead in the 11th minute when he took his trademark curling effort with his left foot which D. Ospina had no answer of. For the next couple of minutes, Munich played with dominance but Alexis Sanchez brought back Arsenal hopes as he struck the opener, 30 minutes into the game. Throughout the remaining first half, on one hand, the visitors were trying really hard to regroup their defence while on the other hand, Bayern Munich consistently opted for attacks but failed to send the ball past the finishing line.
However, the second witnessed a complete turn of events as the visitors registered a record on their name, that shouldn't literally exist. Bayern ended up scoring four times after the break through a goal each from Lewandowski (53), Muller (88) and a brace from Thiago as he scored twice in just 8 minutes (56 & 63). Alexis Sanchez, who gave his team the opener in the first half, was very well marked by the opposition's defence as Bayern Munich never let the striker complete either an assist or a shot at glory.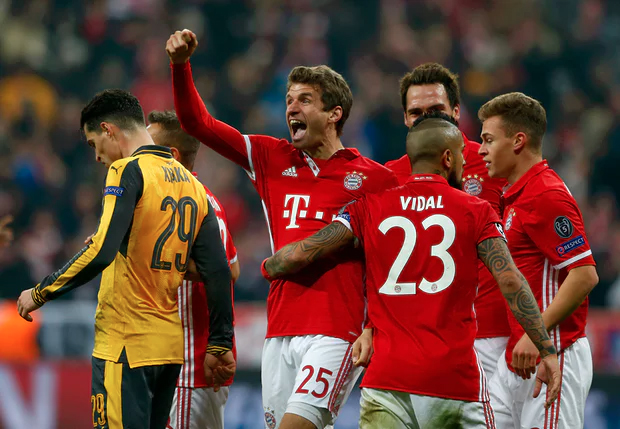 Coming back to the record, Arsenal is now the only English team to concede 200 goals in the Champions League. This was even the same scoreline as Arsenal's previous visit to the Allianz Arena in last season's group stage, which must have brought back some unpleasant memories.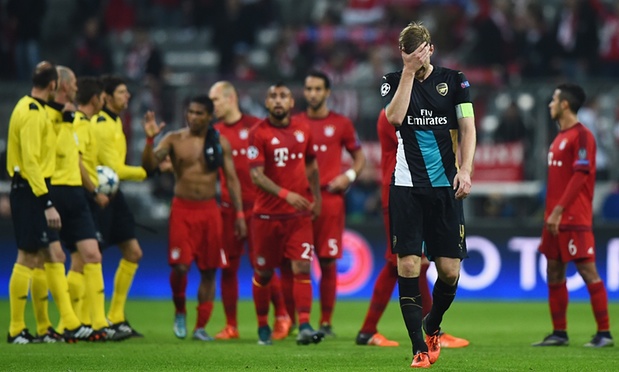 As usual, Twitter had all the reasons to troll Arsenal and if the team doesn't go for a makeover after being humiliated this much, then only God can save Arsène Wenger's men from self-destruction.
Arsenal fans & ex-players who continue to back him are now damaging this great club.
He has to go. #WengerOut

— Piers Morgan (@piersmorgan) February 15, 2017
Hard not to feel desperately sorry for Wenger at this point. He seems broken here, speaking.

— Miguel Delaney (@MiguelDelaney) February 15, 2017
Wenger should: – I will leave in the summer
Team should: – Win games for a great farewell
Fans should: – Never forget what he has built

— Jan Aage Fjortoft (@JanAageFjortoft) February 15, 2017
He's going this summer, make the last games of the greatest ever Arsenal legend easier. Support the club til the end and it all will change.

— Spanish Gooner (@ElSpanishGooner) February 15, 2017
Every Arsenal supporter feels like Alexis right now… pic.twitter.com/quOSFTxRZV

— Chris Wheatley (@ChrisWheatley_) February 15, 2017
Arséne Wenger, @Arsenal: "The last 25 minutes were a nightmare for us. We didn't have an answer." #UCL pic.twitter.com/0khTHAaNpI

— Champions League (@ChampionsLeague) February 15, 2017
Sums up Arsenal's dreadful night that Alex Oxlade-Chamberlain is on the pitch on his own clapping the wrong fans. Bayern's clapping him back

— Paul Hayward (@_PaulHayward) February 15, 2017
To clarify on Oxlade-Chambelain, he ended up clapping both sets because it was hard to see the difference. Credit to him for coming back out

— Paul Hayward (@_PaulHayward) February 15, 2017
Taken a while but Wenger finally got Arsenal playing like Barcelona in the Champions League

— Blanco (@philwhite2468) February 15, 2017
What it feels like to play for a club like Arsenal. pic.twitter.com/e84fVFdAfj

— Aniqa Ovais (@Fabresque4) February 15, 2017
Arsenal fans be like pic.twitter.com/xBBNwR7tJ1

— Freebets.co.uk (@freebetscouk) February 15, 2017
Before I go to sleep, never thought I'd say this but Arsenal's season rests on whether they can beat @suttonunited

— Ian Abrahams (Moose) (@BroadcastMoose) February 15, 2017
https://twitter.com/mikesanz19/status/832000565165092865
It is disappointing to lose heavily to Bayern. On the other hand, we should have lulled Sutton into an outstanding false sense of security.

— Wenger Knows Best (@wengerknowsbest) February 15, 2017
Ozil's warm up routine for big games. pic.twitter.com/K9YPNd32vk

— (Mkhit)Aryan (@theunitedmanc) February 15, 2017
Anyone know what happened to Mesut Ozil? #StrangerThings pic.twitter.com/0fUwZXVW8i

— Bleacher Report UK (@br_uk) February 15, 2017
That Arsenal game was the most disastrous one legged performance I've seen since Pistorius heard someone flushing his toilet

— Ant Campbell (@acampbell68) February 15, 2017
Idea for dark fantasy comedy: a top-level football team re-enacts the same season year after year until its supporters are driven psychotic.

— boydhilton (@boydhilton) February 15, 2017
Arsenal have lost the first leg in the Champions League last-16 for the sixth consecutive season. pic.twitter.com/nleeHkhmhw

— Squawka Football (@Squawka) February 15, 2017
https://twitter.com/paddypower/status/831979709810499594
5 – There have been four instances of an English team conceding five goals in a CL match – two of them by Arsenal. Outclassed. #FCBvAFC

— OptaJoe (@OptaJoe) February 15, 2017
According to official Uefa stats, Arsenal committed just one foul in the second-half. That's not really going down fighting…

— Mark Ogden (@MarkOgden_) February 15, 2017
Arsenal:

Get through the group stage✅

Meet Bayern in the knockout stages✅

Get eliminated. REPEAT.✅ pic.twitter.com/MuSoQQfhbM

— TheSPORTbible (@TSBible) February 15, 2017
https://twitter.com/Sporf/status/831994620913520640
"You can't lose the game if you never show up" @Arsenal pic.twitter.com/a2kfUjEXpE

— dan colosimo (@dancolosimoo) February 15, 2017
#AFC players all trudge over to applaud visiting fans up in the heavens, all except Sanchez who disappeared straight down the tunnel.

— Mark Mann-Bryans (@MarkyMBryans) February 15, 2017
"We were unlucky," says Wenger. No you were lucky. You could have conceded 10 #AFC

— Kevin Palmer (@RealKevinPalmer) February 15, 2017
He must be an Arsenal fan. pic.twitter.com/LLyCsWdiDa

— Footy Humour (@FootyHumour) February 15, 2017
Arsenal when it was still 1-1… pic.twitter.com/82J8apxjAh

— JOE.co.uk (@JOE_co_uk) February 15, 2017
Arsenal bringing on Theo Walcott. Better off bringing on Steve Bould and calling down Martin Keown from the studio.

— Paddy Power (@paddypower) February 15, 2017
49 Minutes: Gabriel replaces the injured Koscielny at 1-1

63 Minutes: Bayern Munich go 4-1 up pic.twitter.com/knBXza10yu

— Copa90 (@Copa90) February 15, 2017
Arsenal have completely disintegrated. An utter shambles and rudderless after koscielny went off.

— Gary Lineker (@GaryLineker) February 15, 2017
— Troll Football (@TrollFootball) February 15, 2017
Waiting for Arsenal fan tv like… pic.twitter.com/0szGEZceJc

— Jack 'Pie' McDermott (@the_pieface) February 15, 2017
https://twitter.com/freebetscouk/status/831979755494858760
https://twitter.com/freebetscouk/status/831976430691024896
LIVE from Arsenal dugout. pic.twitter.com/77GcW7p3tG

— Stan Collymore (@StanCollymore) February 15, 2017
Where's your shame, Wenger?
Resign. #afc

— Piers Morgan (@piersmorgan) February 15, 2017
Follow us on Facebook, Twitter and Instagram for more updates. Don't forget to like and share. Do tell us your views in the comment box below.