.2017 FIFA U-17 World Cup is just around the corner and since India will be hosting its first ever major International football tournament, it is going to be nothing short of a fest for the domestic fan base.
While poor infrastructure has been the reason behind football's below-par growth in India, with the country hosting its first ever FIFA tournament, i.e. 2017 FIFA U-17 World Cup, it will give Indian football the needed boost as well as take the nation towards the global spotlight that it deserves.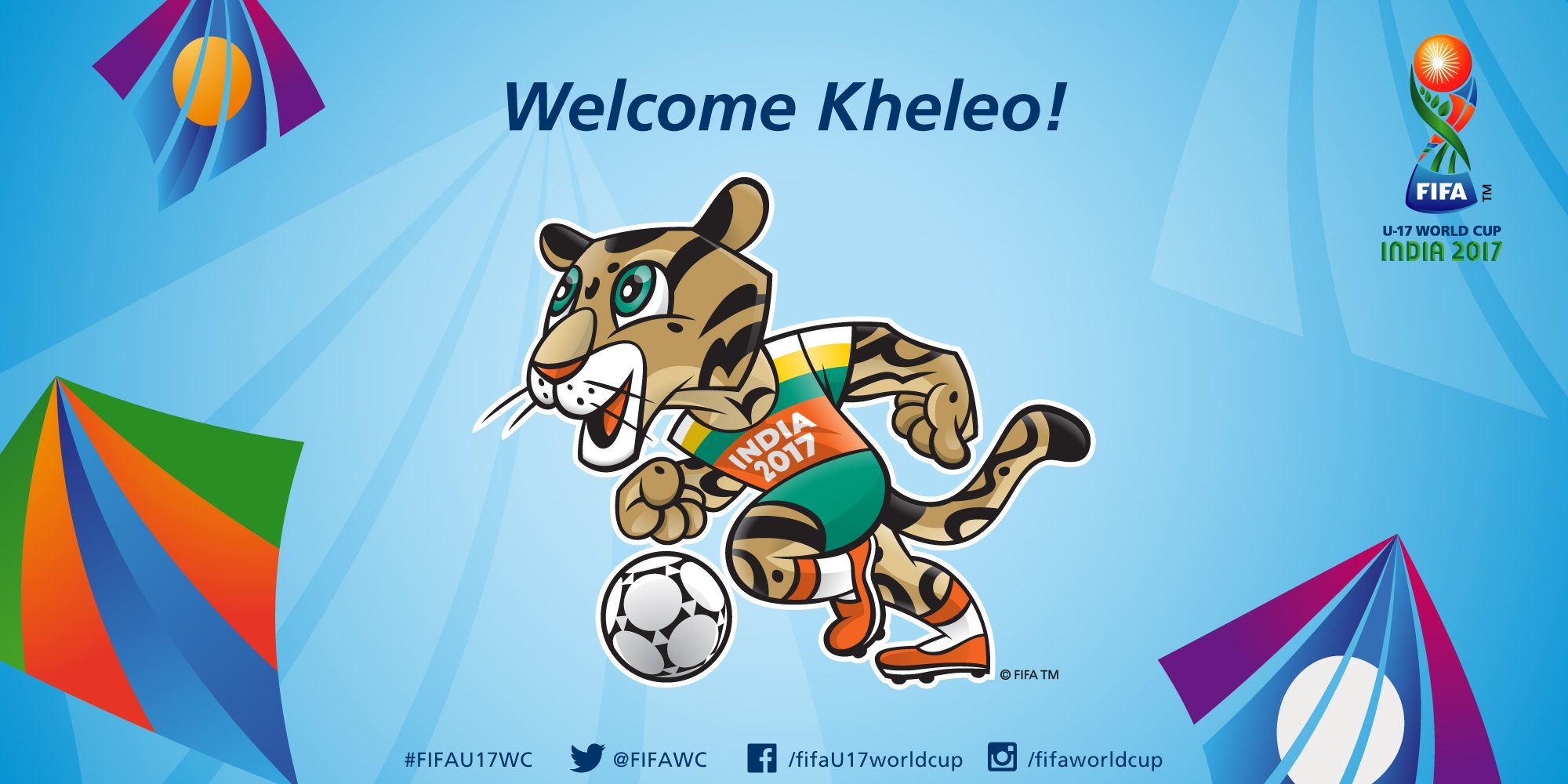 2017 FIFA U-17 World Cup, the seventeenth edition of the tournament, will kick off on October 6 and the final will be played on October 28. During these 22 days, twenty four teams will take part in a total of 52 matches, across six venues in India.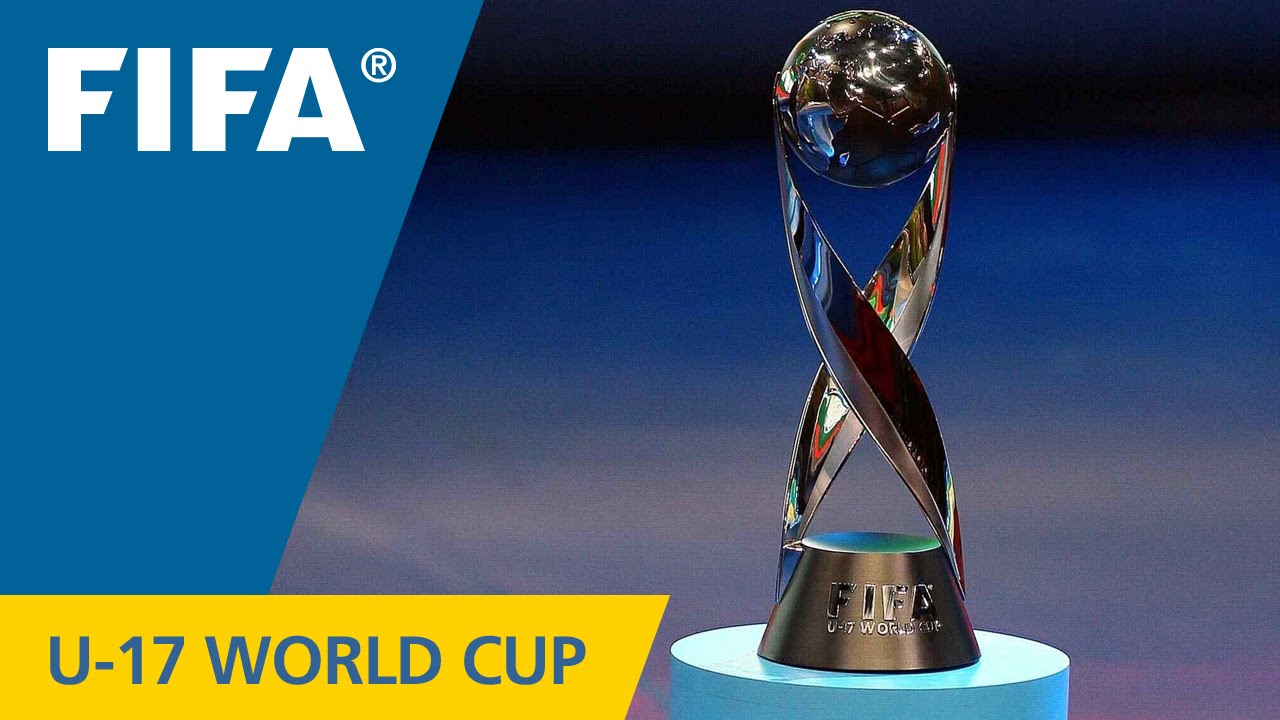 New Delhi and Mumbai will simultaneously host the first matches of the history-defining 2017 FIFA U-17 World Cup, while the final is scheduled at the majestic Salt Lake Stadium in Kolkata.
For the Indian National Football team, which is making its debut across all age groups in any FIFA World Cup, a new chapter will begin for them as they take on the USA in the first Group A match of the 2017 FIFA U-17 World Cup on 6th October at the Jawaharlal Nehru Stadium in New Delhi, followed by a game against Colombia and the two-time World Champions Ghana.
2017 FIFA U-17 World Cup will also see Niger as well as New Caledonia making their respective debuts alongside hosts India, while Nigeria, the reigning champions, have been eliminated from the tournament.
2017 FIFA U-17 World Cup Groups
Group A
India, The United States Of America, Colombia, and Ghana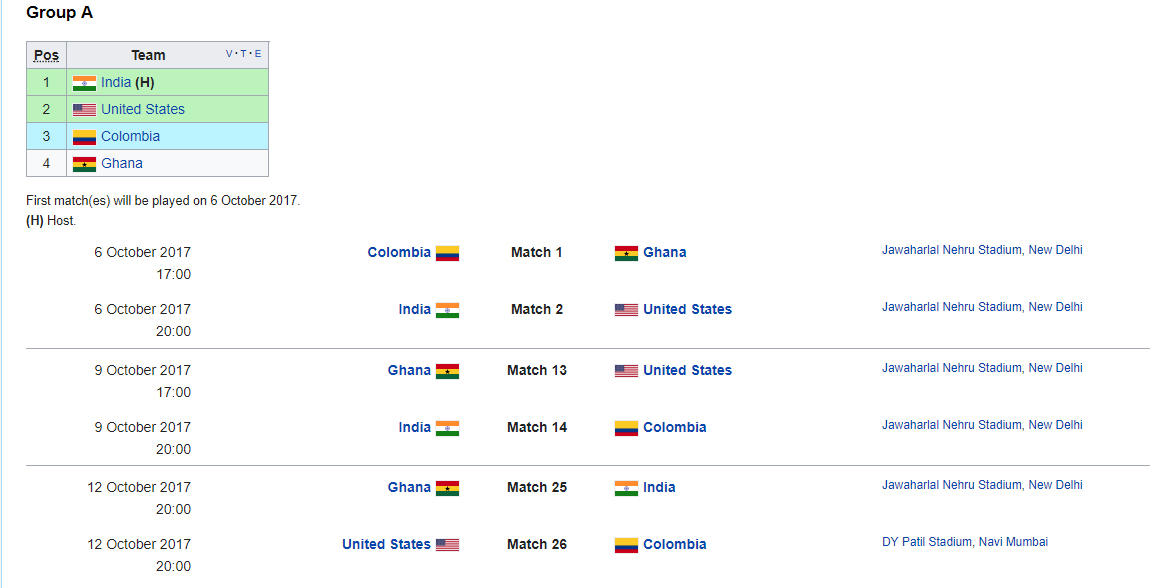 Group B
Paraguay, Mali, New Zealand and Turkey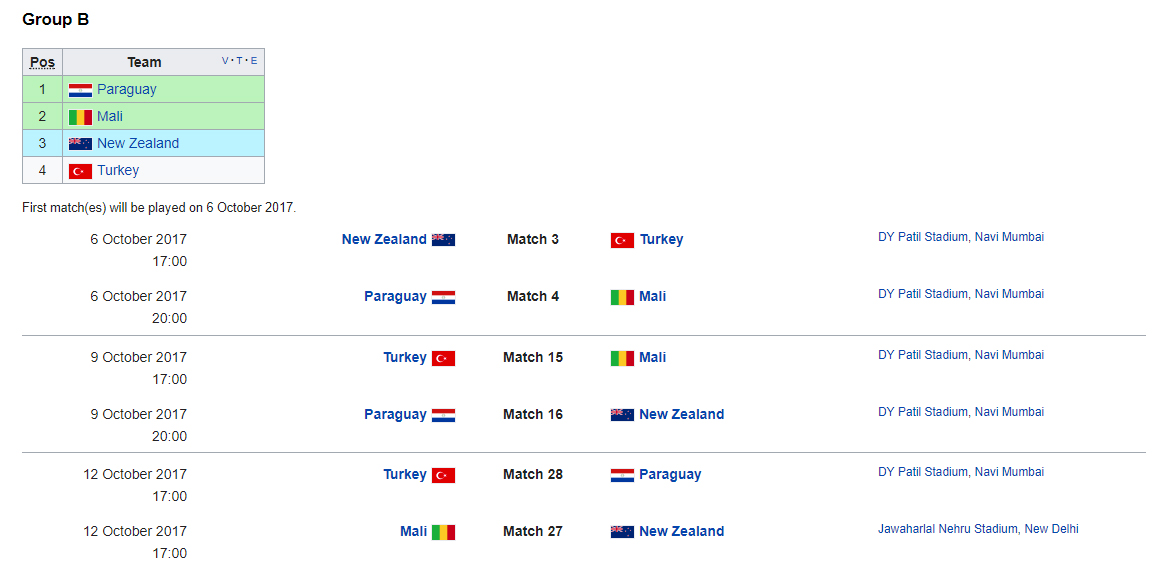 Group C
Iran, Guinea, Germany and Costa Rica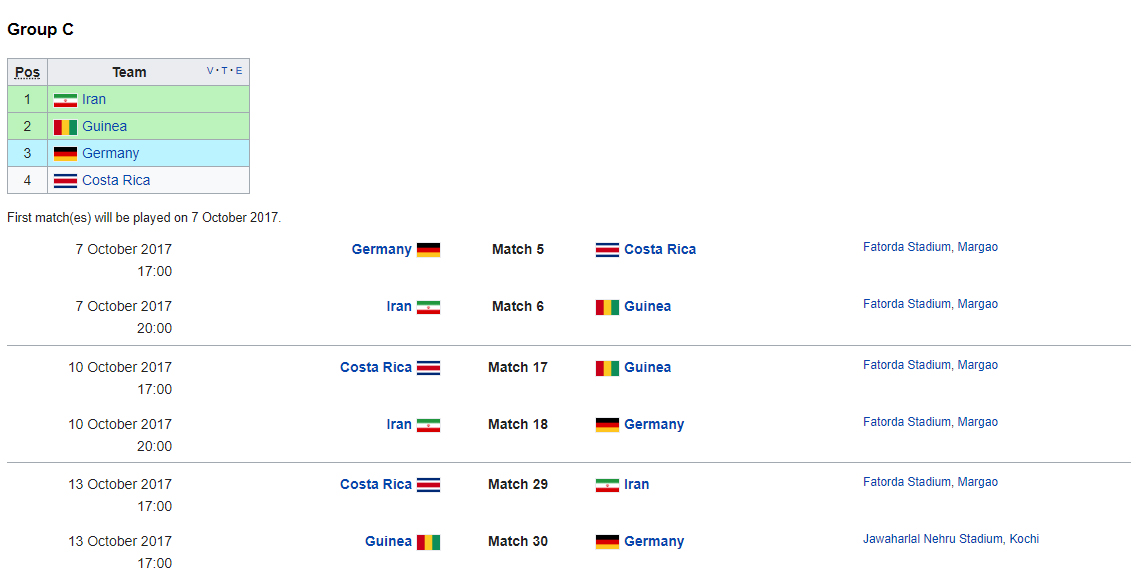 Group D
North Korea, Niger, Brazil and Spain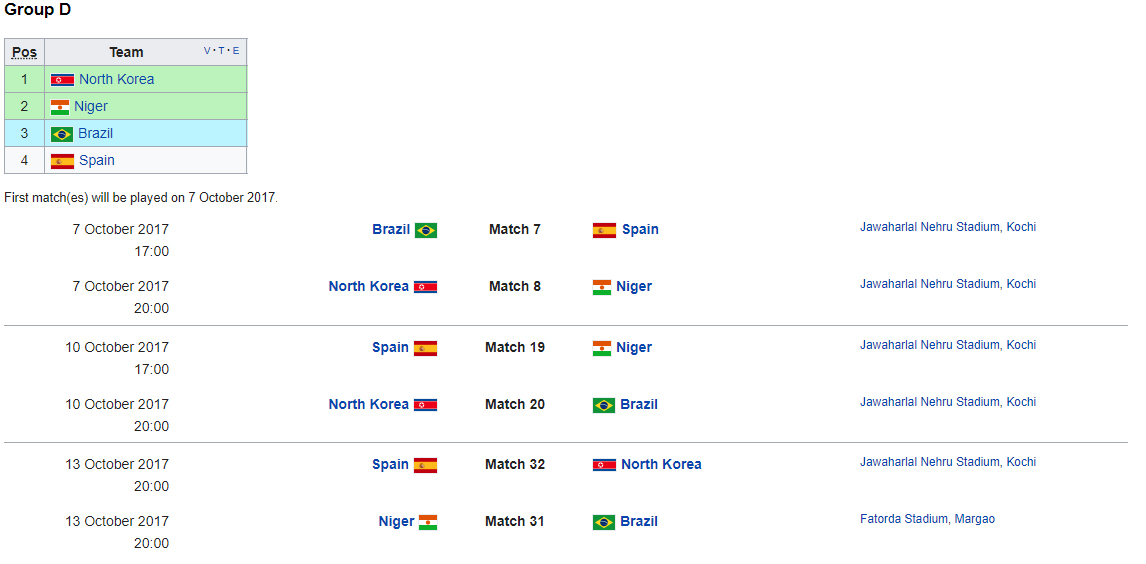 Group E
Honduras, Japan, New Caledonia and France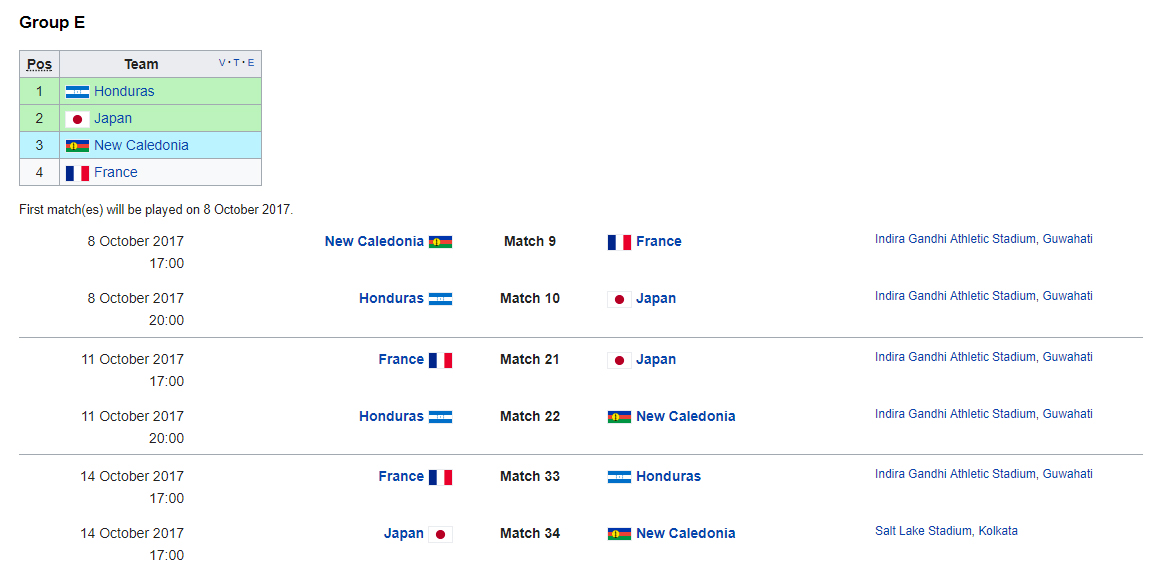 Group F
Iraq, Mexico, Chile and England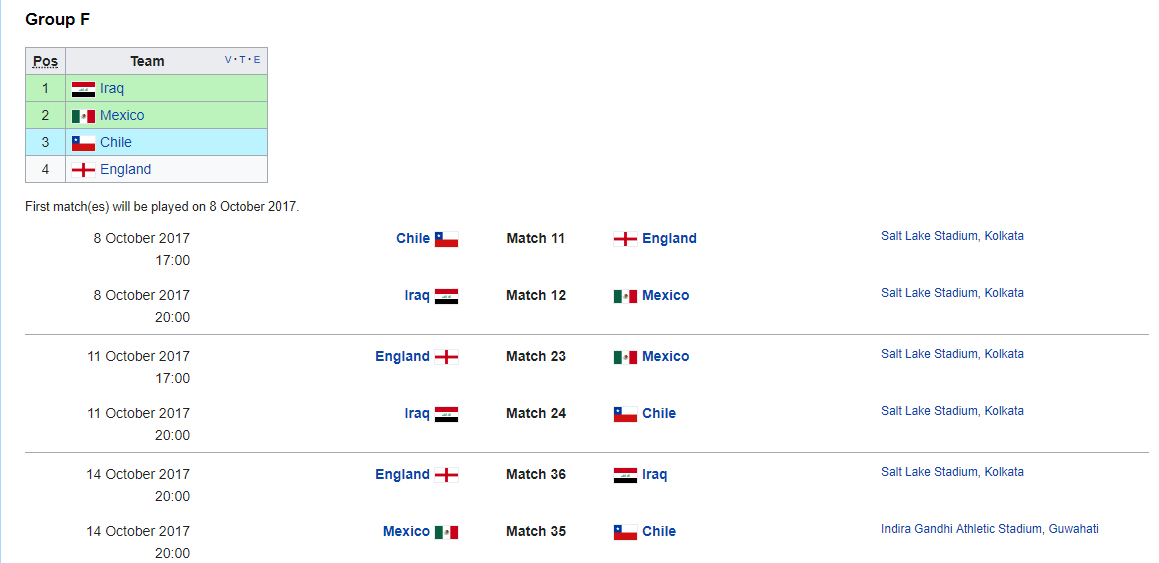 The two top teams from each group, along with four best third-placed teams from the six groups will go head-to-head in the 2017 FIFA U-17 World Cup round of 16.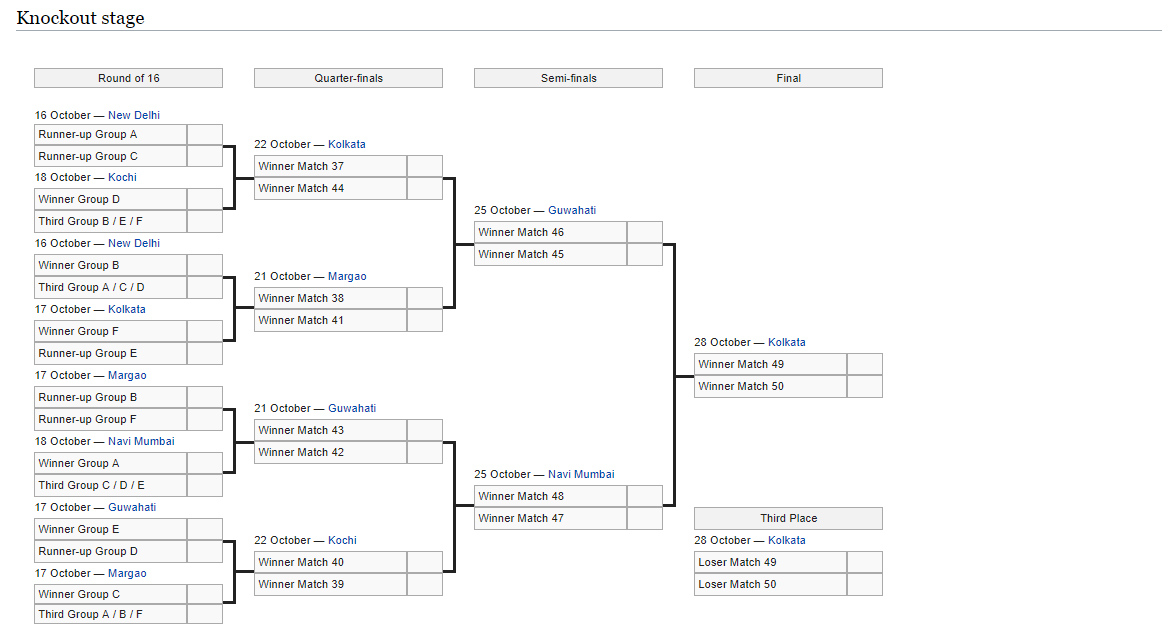 2017 FIFA U-17 World Cup Squads
2017 FIFA U-17 World Cup Group A
India
Goalkeepers: Dheeraj Singh, Prabhsukhan Gill, and Sunny Dhaliwal
Defenders: Boris Singh, Sanjeev Stalin, Jitendra Singh, Anwar Ali, Hendry Antony and Namit Deshpande
Midfielders: Suresh Singh, Amarjit Singh Kiyam, Ninthoinganba Meetei, Abhijit Sarkar, Jackson Singh, Komal Thatal, Lalengmawia, Nongdamba Naorem, Rahul Kannoly Praveen and Md. Shahjahan
Forwards: Rahim Ali and Aniket Jadhav
Colombia
Goalkeepers: Nicolás Gómez, Kevin Leonardo Mier and Daniel Melo
Defenders: Andrés Felipe Balanta, Christian Andrade, Robert Andrés Mejía, Thomas Gutiérrez and Juan Sebastián Peñaloza.
Midfielders: Luis Miguel López, Gustavo Adolfo Carvajal, Yair Meneses, Brayan Arley Gómez, Andrés Felipe Perea, Guillermo Tegue, Etilso Martínez and Fabián Steven Ángel.
Strikers: Déiber Caicedo, Jaminton Campáz, David Barrero, Deyman Andrés Cortés and Juan David Vidal.
Ghana
Goalkeepers: Michael Acquaye, Ibrahim Danlad and Kwame Aziz
Defenders: Gideon Mensah, Najeeb Yakubu, Bismark Terry Owusu, Abdul Razak Yusif, Edmund Arko-Mensah, Gideon Acquah , Rashid Alhassan and John Otu
Midfielders: Isaac Gyamfi, Mohammed Kudus, Gabriel Leveh, Ibrahim Sulley, Emmanuel Toku and Mohammed Iddriss
Strikers: Richard Danso, Eric Ayiah, Mohammed Aminu and Ibrahim Sadiq
USA
Goalkeepers: Carlos Joaquim Dos Santos, Alex Budnik and Justin Garces
Defenders: Sergio Dest, George Bello, Christopher Durkin, Jaylin Lindsey, Christopher Gloster, James Sands, Tyler Shaver and Akil Watts
Midfielders: Taylor Booth, George Acosta, Blaine Ferri, Chris Goslin, Alex Mendez and Indiana Vassilev
Forwards: Andrew Carleton, Ayo Akinola, Jacobo Reyes, Ulysses Llanez, Bryan Reynolds and Joshua Sargent
2017 FIFA U-17 World Cup Group B
New Zealand
Goalkeepers: Jacob Clark, Zac Jones, and Nicholas Milner.
Defenders: Liberato Cacace, Matthew Jones, Boyd Curry, Ben Deeley, Joshua Rogerson, Jordan Spain and Emlyn Wellsmore.
Midfielders: Willem Ebbinge, Oliver Duncan, Elijah Just, Kingsley Sinclair, Kieran Richards, Oliver Whyte and Leon Van Den Hoven.
Forwards: Matthew Conroy, Max Mata, Charles Spragg and Matthew Palmer.
Turkey
Goalkeepers: Ozan Can Oruç, Berke Özer and Eren Bilen
Defenders: Şahan Akyüz, Bekir Melih Gökçimen, İsmail Çokçalış, Abdussamed Karnuçu, Ozan Muhammet Kabak, Berk Çetin and Ramazan Emirhan Civelek.
Midfielders: Kerem Atakan Kesgin, Egehan Gök, Atalay Babacan, Recep Gül, Sefa Akgün Sezer Taşkolu and Umut Güneş
Forwards: Yunus Akgün, Embiya Ayyıldız, Malik Karaahmet and Ahmed Kutucu
Paraguay
Goalkeepers: Ángel Roa, Diego Huesca, Jhonathan Martínez, and Aldo Pérez
Defenders: Luis Zárate, Alexis Duarte, Marcelo Rolón, Roberto Fernández, Pedro Álvarez and Jesús Rolón.
Midfielders: Stevens Gómez, Julio Báez, Víctor Villasanti, Braian Ojeda, Giovanni Bogado, Hugo Quintana and Alan Rodríguez.
Strikers: Fernando Romero, Fernando Cardozo, Leonardo Sánchez, Nicolás Morínigo, Aníbal Vega, Antonio Galeano and Blas Armoa.
Mali
Goalkeeper: Youssouf Koita, Alkalifa Coulibaly, and Massire Gassama
Defenders: Boubacar Haidara, Soumaila Doumbia, Fodé Konate, Mamadi Fofana,Abdoulaye Diaby and Ibrahim Kane
Midfielder: Mohamed Camara, Dj Moussa Traore, Salam Jiddou, Abdoulaye Dabo, Siaka Sidibe, Mamadou Samake and Cheick Oumar Doucoure
Forward: Mamadou Traore, Hadji Dramé, Seme Camara, Mahamane Toure and Lassana Ndiaye
2017 FIFA U-17 World Cup Group C
Germany
Goalkeepers: Luis Klatte, Luca Plogmann and Marian Prinz
Defenders: Jan Boller, Dominik Becker, Pascal Hackethal, Yann Aurel Bisseck,, Kilian Ludewig, Lars Lukas Mai and Alexander Nitzl
Midfielders: Sahverdi Cetin, Elias Abouchabaka, Erik Majetschak, Yannik Keitel and John Yeboah
Forwards: Noah Awuku, Jann-Fiete Arp, Jessic Ngankam, Dennis Jastrzembski, Nicolas-Gerrit Kühn and Maurice Malone
Costa Rica
Goalkeepers: Kevin Chamorro, Ricardo Montenegro, and Brandon Calvo
Defenders: Fernán Faerron, Andrés Hernández, Karin Arce, Walter Cortés and Alexánder Román
Midfielders: Amferny Arias, Ronnier Bustamante, Sebastián Castro, Christian Muñoz, Daniel Chacón, José Alfaro, Josué Abarca, Felipe Flores, Yecsy Jarquín, Andrés Gómez and Greivin Fonseca
Forwards: Julen Cordero and Mario Mora
Iran
Goalkeepers: Ali Gholam Zadeh, Mobin Ashayer and Amir Janipour
Defenders: Amir Esmaeil Zadeh, Ali Satavi, Ahmad Jalali, Majid Nasiri, Taha Shariati and Ali Davaran,
Midfielders: Mohammad Sharifi, mirhossein Hosseinzadeh, Mohammad Ghobeishav, Mohammad Ghaderi, Ali Kooshki, Vahid Namdari, Sobhan Khaghani and Amir Khoda Moradi
Guinea
Goalkeeper: Abdoulaye Doumbouya, Ibrahima Sylla and Mohamed Camara
Defenders: Samuel Conte, Cherif Camara, Issiaga Camara, Ibrahima Soumah, M bemba Camara and Ismael Traore
Midfielders: Aguibou Camara, Sekou Camara, Salia Bangoura, Elhadj Bah and Blaise Camara
Forwards: Fandje Toure, Lape Bangoura, Djibril Sylla, Doss Soumah, Seydouba Cisse, Naby Bangoura and Aly Soumah
2017 FIFA U-17 World Cup Group D
Brazil
Goalkeepers: Gabriel Brazao, Lucas Alexandre, and Yuri Sena
Defenders: Weverson, Wesley, Luan Candido, Matheus Stockl, Lucas Halter, Rodrigo Guth and Vitor Eduardo
Midfielders: Alan de Souza, Rodrigo Nestor, Marcos Antonio, Victor Bobsin, Victor Yan and Vitinho
Forwards: Lincoln, Brenner, Paulinho, Vinicius Jr and Yuri Alberto.
Spain
Goalkeepers: Alvaro Fernandez, Marc Vicente Vidal and Alfonso Pastor.
Defenders: Hugo Guillamon, Mateu Jaume, Juan MIranda, Victor Chust, Eric Garcia and Victor Perea.
Midfielders: Mohamed Aiman Alvaro Garcia, Antonio Blanco, and Carlos Beitia.
Forwards: Ferran Torres , Abel Ruiz, Pedro Ruiz, Sergio Gomez Ignacio Diaz, Diego Pampin, Jose Lara and Cesar Gelabert.
DPR Korea
Goalkeepers: Tae Song, Ryong Hun, and Chol Jin.
Defenders: Kwang Sok, Hyok Sin, Kyong Sok, Kyong Hun, Hyon Il and Cha Kwang.
Midfielders: Kye Tam, Pom Hyok, Ju Song, Jin Bom, Chung Jin, Jin Song, Il Ju, Kwang Min and Yun Min.
Forwards: Hwi Hwang, Kang Guk and Nam Hyok.
Niger
Goalkeepers: Moussa Louali, Abdoulaye Boubacar, and Khaled Lawali.
Defenders: Abdoul Nasser, Mahamadou, Farouk, Djibrilla, Abdoul Rachid, and Ibrahim,
Midfielders: Yacine, Habibou, Ismael, Moctar, Rachid, Yacouba, Abdoul Karim and Abdul Kader,
Forwards: Ibrahim, Abdoul Kairou, Ahmed Salim and Hamid
2017 FIFA U-17 World Cup Group E
Japan
Goalkeepers: Umeda Togo, Tani Kosei, and Suzuki Zion
Defenders: Sugawara Yukinari, Iketaka Nobuki, Kobayashi Yuki, Kemmotsu Takumu, Yamasaki Taichi and Baba Seiya.
Midfielders: Hirakawa Rei, Okuno Kohei, Suzuki Toichi, Tsubaki Naoki, Kida Hinata, Fukouka Shimpei and Kozuki Soichiro.
Forwards: Miyashiro Taisei, Yamada Hiroto, Nakamura Keito, Kubo Takef and Saito Koki.
France
Goalkeepers: Yahia Fofana, Bryan Bernard and Illan Meslier.
Defenders: Oumar Mickael, Vincent Collet, Andy Joseph, Batista Mendy, William Ludovic Brandon, Maxence Lacroix and Melvin Bard.
Midfielders: Aurélien Djani, Claudio Gomez (PSG), Maxence and Mathis Christophe,
Forwards: Amine Gouri, Yacine Adli (PSG), Willem, Alexis Flips, Alan, Wilson Isidor and Lenny Pintor.
Honduras
Goalkeepers: Alex Rivera, Jordy Castro, and Carlos Banegas.
Defenders: Alexander Bahr, Santiago Cabrera, Axel Gomez, Cristian Moreira, Gustavo Vallecillo and Emilio Campos.
Midfielders: Gerson Chavez, Luis Palma, Alessandro Castro, David Cardona, Carlos Mejia, Everson Lopez and Joshua Canales.
Forwards: Patrick Palacios, Jorge Flores, Kenneth Martinez, Asaf Cacho and Reynaldo Bodden.
New Caledonia
Goalkeepers: Une Kecine, Gaizka Ipeze and Robin Escorne
Defenders: Raoul Wenisso, Kiam Wanesse, Josue Welepane, Sidri Wadenges, Bernard Iwa, Jules Omei, Hnautra Enoka and Josua Hlemu.
Midfielders: Neil Wahiobe, Jekob Jeno, Pierre Bako, Paul Wananjie, Cyril Nyipie and Gale Luewadia.
Forwards: Theo Bosshard, Vita Longue, Titouan Richard and Lionel Thahnaena
2017 FIFA U-17 World Cup Group F
Chile
Goalkeepers: Rodrigo Cancino, Julio Bórquez and Hugo Araya
Defenders: Gastón Zúñiga, Sebastián Valencia, Matías Silva,Lucas Alarcón, Yerco Oyanede and Nicolás Aravena
Midfielders: Martín Lara, Oliver Rojas, Mauricio Morales, Branco Provoste and Maximiliano Guerrero
Forwards: William Gama, Ignacio Mesias, Ignacio Contreras, Diego Valencia, Jairo Vásquez and Pedro Campos,Antonio Díaz
Mexico
Goalkeepers: César Iván López De Alba, Víctor André Alcaráz Díaz and César Rafael Ramos Becerra.
Defenders: Luis Alejandro Olivas Salcedo, Alan Maeda Luevanos, Oscar Haret Ortega Gatica, Adrián Vázquez Hernández, Sergio Villarreal Lozano, Carlos Alejandro Robles Jiménez, and Raúl Martín Sandoval Zavala.
Midfielders: Luis Javier Gamíz Ávila, Alexis Hazael Gutiérrez Torres, Carlos Eduardo Guerrero Zavala, Jesús Andrés Pérez Álvarez, Diego Laínez Leyva, Deivoon Alexander Magaña Rico and Marco Antonio Ruíz Zarco.
Forwards: Roberto Carlos De la Rosa González, Ían Jairo Misael Torres Ramírez, Daniel Guadalupe López Valdez and César Saúl Huerta Valera.
England
Goalkeepers: William Crelin, Curtis Anderson, and Josef Bursik,
Defenders: Timothy Eyoma, Marc Guhi, Joel Latibeaudiere, Jonathan Panzo, Steven Sessegnon, Lewis Gibson, Morgan Gibbs White and Tashan Oakley Boothe
Midfielders: Conor Gallagher, George McEachran, Angel Gomes and Nya Kirby
Forwards: Jadon Sancho, Philip Foden, Callum Hudson Odoi, Emile Smith Rowe, Danny Loader and Rhian Brewster.
Iraq
Goalkeepers: Mustafa Zuhair, Abdulazeez Ammar and Ali Ibadi
Defenders: Ammar Mohammed, Maytham Jabbar, Muntadher Abdulsada, Abdulabbas Ayad, Muntadher Mohammed, Mohammed Al-Baqer and Ali Raad
Midfielders: Habeeb Mohammed, Mohammed Ridha, Saif Khalid, Abbas Ali, Bassam Shakir, Moamel Karim, Mohammed Ali and Ahmed Sartip
Forwards: Alaa Adnaan Mohammed Dawood and Ali Kareem
The fact that India never had a U-17 team before being awarded the opportunity of hosting the 2017 FIFA U-17 World Cup, means that not many will be having very high hopes from the hosts, however, the moment they will enter the field to taken on the USA on October 6 at the Jawaharlal Nehru stadium, it will mark India's first appearance in any FIFA World Cup, which is, by all means, the perfect start to a new chapter in Indian football.
Let's wait and see how the story unfolds!!