Three cars retiring inside the very opening lap in a dramatic skirmish, Ferrari's superior race pace, Hamilton playing catch-up to Vettel and ultimately Verstappen landing himself inside the top three, though not posing any threat whatsoever to the frontrunners ahead- Spa-Francorchamps was lit up by searing pace and some gritty overtaking moves for 2018.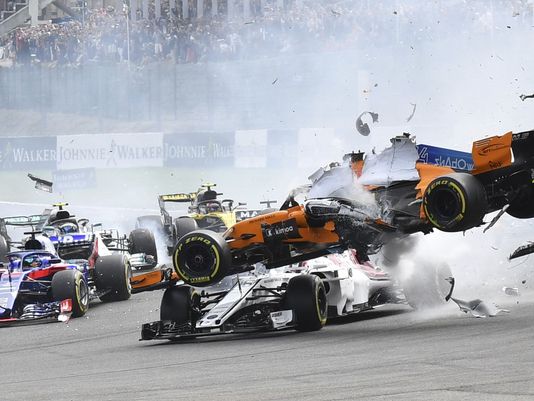 But this wasn't before an opening lap skirmish triggered by the Renault of Nico Hulkenberg, resulted in the German crashing into the McLaren of Fernando Alonso, which further collided into the rear of Charles Leclerc's Sauber, leading to three cars retiring inside the opening lap and Spa Francorchamps got away to an action-packed 43-lap contest.
A topsy-turvy, maniacally charged drive destined to celebrate the doggedness of the fastest car, was it even a surprise that the Ferrari of Sebastian Vettel won in the end? Perhaps the only surprise that there was, if any, was for those Mercedes fans who would've hoped for Vettel to yield a place he'd valiantly captured from Saturday's pole-sitter, Lewis Hamilton.
However, it wasn't to be.
But spare a thought for Vettel, who not many would've given a chance after arch-rival Lewis Hamilton clinched a vital pole, but not before putting together a painstakingly powerful qualifying lap on a damp Saturday.
There were massive gains in the race in the form of Max Verstappen who brought home his debut Spa-Francorchamps podium, a fighting third, ultimately a position that was so far off the two ballsy cars ahead of him that he may never have stood a chance to even challenge Hamilton, let alone there being a battle for second.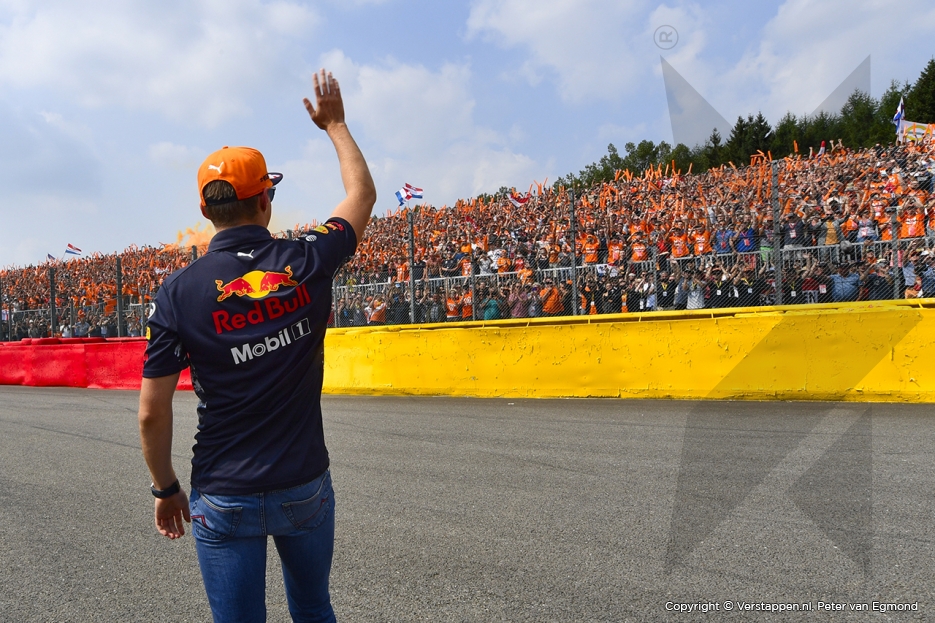 Though the Red Bull of Max was quick, it wasn't anywhere quick like Ricciardo's 2014 effort that earned the Australian his only triumph at Spa-Francorchamps.
Further behind Verstappen would be the driver of the day that not even the harshest critic would chide, Valtteri Bottas. At one stage, as Bottas had fallen down to fifteenth, before mounting an incredible counter-attack to jump 11 more places to grab fourth, there was but one commanding Finn who meant business.
The other, however, endured a mechanical DNF, having seen his race go from bad (resulting into a rear tyre puncture thanks to Dan-Ric in Lap 1) to worse, when he'd park his Ferrari into the pits having gone seventh toward the end of the grid. This meant there was only one Ferrari gunning for a strong finish and also the fastest machinery on the tarmac.
While the likes of Racing Point Force India nearly drew level with Toro Rosso on the constructor's for 18 points, Ocon and Peres holding onto their own for an excellent P5 and P6, respectively, but not before battling hard with Bottas, Renault's Carlos Sainz and Brendon Hartley all but finished inside the top ten. A late surge by Sauber's Ericsson earned him a vital point in the tenth as the two Haas of Grosjean and Magnussen collected a respectable P7 and P8, with Pierre Gasly holding onto ninth.
In the end, if you were to understand the sheer dominance of Sebastian Vettel at Spa-Francorchamps, a track that he pretty much owned following a lackluster qualifying, then it could be fathomed through the hugely varying margin of seconds by which he won ahead of Lewis Hamilton.
When Vettel passed Hamilton seconds after Turn One, a sharp right-hander, he was only managing to chip away.
Back then; he was trying to identify the sweet spots in his machinery that'd ultimately pave way for a commanding win.
But by the time the Virtual Safety Car proceededs into its out-lap, Vettel had managed a lead of barely over a second on Hamilton on Lap 5. Then, on Lap 15, Vettel would be 1.9 seconds ahead of Hamilton, before opening the gap further by a margin of 5.6 seconds in the middle-stages and finally crossing the checkered flag 10 seconds ahead of Mercedes' Lewis Hamilton.
Amongst the many images that captured the imagination of the fans in the heart of the Ardennes and possibly, one that shall be remembered for times to come would be the rather confused stare that Hamilton, gave to the imperiously quick Ferrari, (parked in the middle) the conqueror of Spa-Francorchamps this year.
Hamilton might have mastered a wet weather qualifying on Saturday ahead of Sebastian Vettel. But come race day, the legendary Spa-Francorchamps would be painted red by the dogged triumph of Ferrari's Sebastian Vettel.
What is intriguing is at a race-track where Max Verstappen enjoys a commanding fan-base, this being virtually his second home track thanks the Verstappen-fan army would be painted in bloodshot red.
All hailing the midhas touch of Vettel.
In winning his 52nd Grand Prix in a career where he's grabbed 20 more than Fernando Alonso, 44 more than Webber and 32 ahead of Ferrari teammate, Kimi Raikkonen, Sebastian Vettel reigned supreme when he wasn't exactly tipped for victory.
Interestingly as F1 returned from the mid-season break, not before Hamilton's thumping charge at the former Iron-Curtain at Hungaroring, Vettel ensured he'd reverse the tables come the 2018 Belgian Grand Prix.
And one's got to ask, wasn't that important. Consider for a second another thumping win for Lewis, as was expected after the racing stalwart grabbed his 78th pole, his fifth overall at Spa, how difficult might have Vettel's task been to cut the gap to Lewis up in the lead?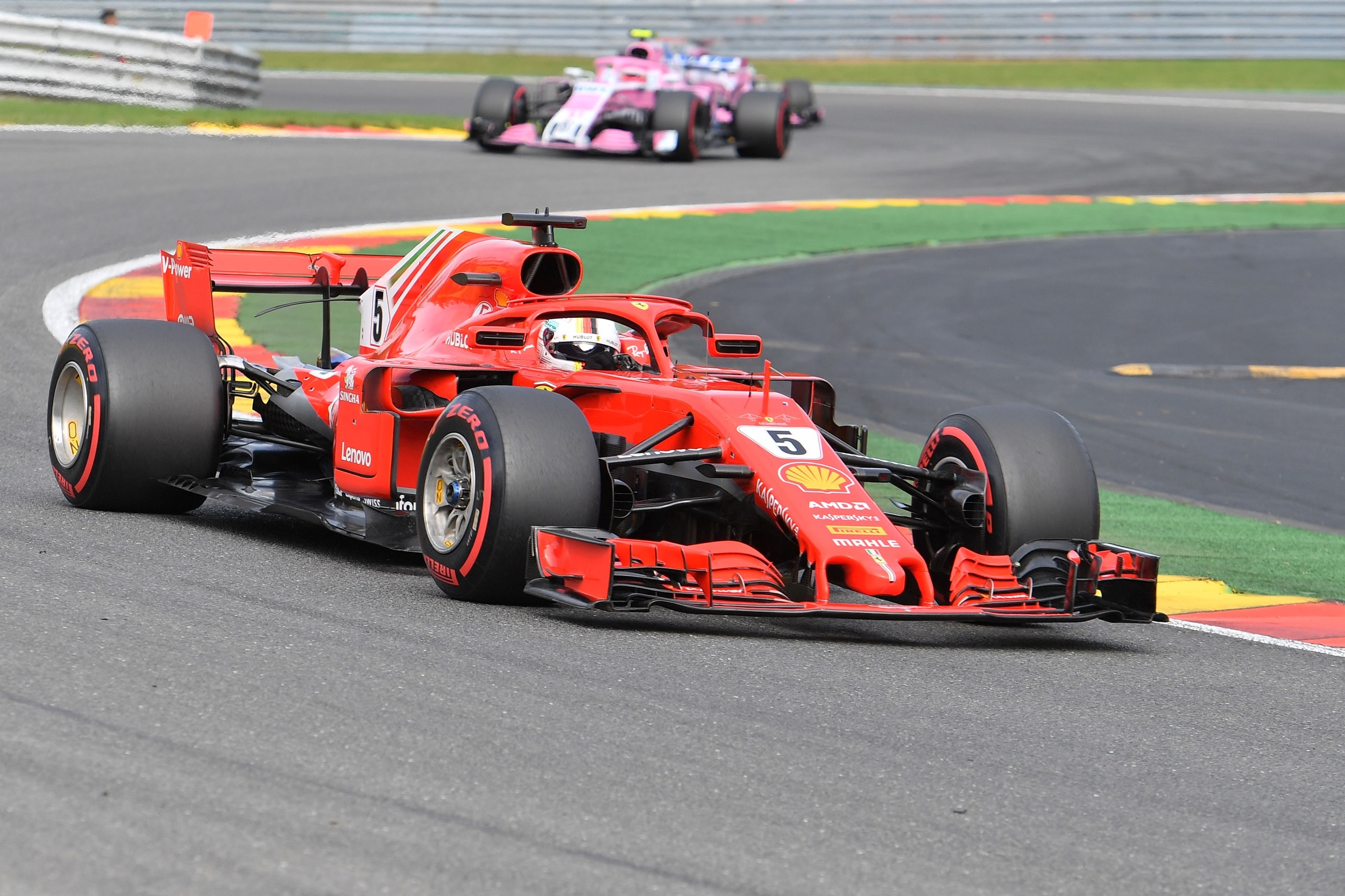 Thankfully though, Spa-Francorchamps produced a rain-free contest at a track where perhaps just an ounce of rain may have done enough to upset Vettel's searing pace. Had that happened, it would've taken a lot from Ferrari to upset Mercedes' rhythm.
Truth be told, in notching up a great win after successive disappointments at Hockenheimring and Hungaroring, Vettel's victory was emphatic. After all, he's only won on two previous occasions at Spa.
The 2018 Belgian Grand Prix would also be remembered for Ferrari finally getting to improve their visibly-vapid record at a track where it last won back in 2009, nearly a decade ago, when Raikkonen edged past Giancarlo Fisichella to take his last Ferrari victory. He hasn't won since in a red car. And this time around, returning to Spa, where he's previously clinched four wins, he'd fail to even finish the race, after falling prey to the opening lap fiasco that only amplified the Ferrari's mechanical malfunction.
As the racing caravan moves to Monza, the home of Ferrari, another Vettel win would drench Italy and thus, the Formula 1 contingent under the exuberance of red.
Just how ominous would that be for Mercedes? On the other hand, a mighty bounce-back from Lewis Hamilton would earn him a second win on the trot at Monza, following his 2017 triumph.
This would reignite the 2018 title-fight, pushing it further to the knife's edge.
Well, for now, let's focus on what lies ahead!