Current leader of the new season, Lewis Hamilton won the 2019 Bahrain GP, a race he never quite thought was in his grasp.
But then, haven't we heard that destiny favours the brave?
Standing on the second step of the podium at Sakhir was his Finnish teammate and on third was a man who had not only scored his maiden F1 podium but in clinching the qualifying battle- just a few hours ago- has come the 99th Formula 1 driver to do so.
What a feat- right?
Charles Leclerc- one wonders, who would forget that name!
But in a fashion that perfectly befits the sorry end to a fairy tale, the 21-year-old Monegasque driver, so utterly in control of the race couldn't win.
But the man who stood tall at the electrifying night race took notice of the young Ferrari driver. Lewis Hamilton, after all, was once a young speed gun. Wasn't he?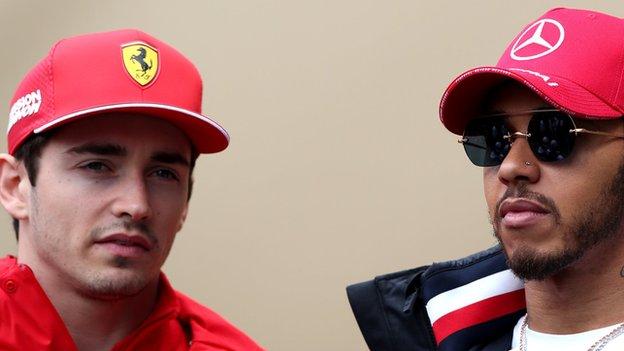 And in his appreciation of Leclerc, almost a decade junior to the five-time world champion, Hamilton's gone on to state, "I can see myself in Charles Leclerc."
In a news report carried by a leading journal, the 2018 World Champion mentioned his appreciation of Leclerc, third on the drivers standings, ahead rather interestingly of his much-experienced teammate, Sebastian Vettel.
He shared, "When I got to Formula 1, I wanted to win as soon as possible and beat the champion I was racing against. So it is very similar."
That's not all. Hamilton, who won Formula 1's 1000th race with sheer dominance also added, "I see much of myself in Charles and he is doing a great job so far."