One of the biggest complaints that Formula 1 witnesses are that races often become a one-sided reflection of the season. Hamilton won at Azerbaijan and Spain, while Vettel had won at Australia and Bahrain earlier. This was a change in the tide. In the middle, there was Ricciardo, who proved that the 2018 season wasn't just going to be a two-sided narrative, by placing his Red Bull right on top of China and Monaco.
So, obviously, with the leaderboard brimming in confidence but equally with 2 wins apiece, there might have been conjecturing and guesswork as to who'd prevail at Canada.
In here, lay a realistic intervention of some Math, with a belief that it would do the foreplay to continue Mercedes' domination of the proceedings. But even as the numbers don't lie, Hamilton holding an impressive, even lordly 6-wins at Canada- including 3 back-to-back wins since 2015-17, starting from pole- F1 racing proved yet again that one mustn't dwell into the numbers alone.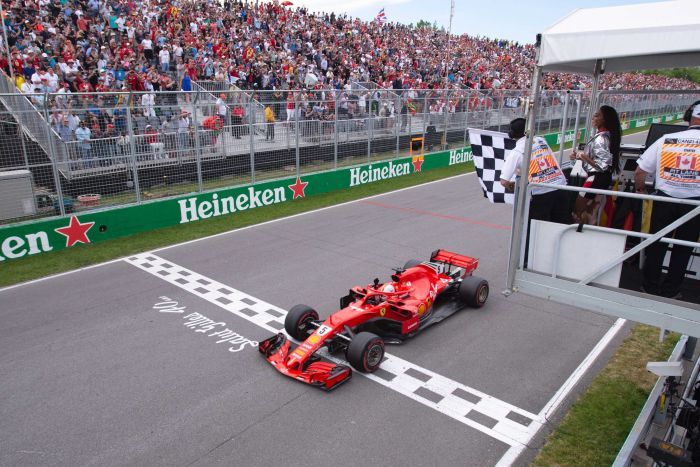 And one also saw that, on race day, things can go differently from the statistical narrative. Vettel, who clinched his 50th career win and arguably among the safest drives finished a faultless race having leading from pole, closely followed by Bottas and Verstappen to complete a reflection of the qualification on Saturday.
As Canada went green on Sunday, Vettel pulled away well at the start to keep Bottas busy, who was chased by Verstappen, thankfully not proving to be a "Mad Max" this time around, for the battle for third. Meanwhile, within seconds of the start of the Grand Prix, Raikkonen, who began behind Hamilton saw himself attacked by Ricciardo in an ebullient Red Bull and dropped down to sixth.
This would mean that inside the opening few seconds of the race, key battles would ensue between Max and Bottas for second, which wouldn't change in the end, and Hamilton versus Ricciardo, which eventually became a triumph of Ricciardo, who secured a safe fourth.
Meanwhile, there was no dearth of action further down the grid as clearly for Brendon Hartley's fault, the Toro Rosso would creep into the Williams of local-favourite Lance Stroll, the two cars enduring a stunted and, eventually, sad Canadian Grand Prix. In stark contrast, therefore, to Ferrari's dominance, the Grand Prix failed to invoke anything special for the Canadian pride, this being the 40th anniversary of legendary driver Gilles Villeneuve's first-ever race win.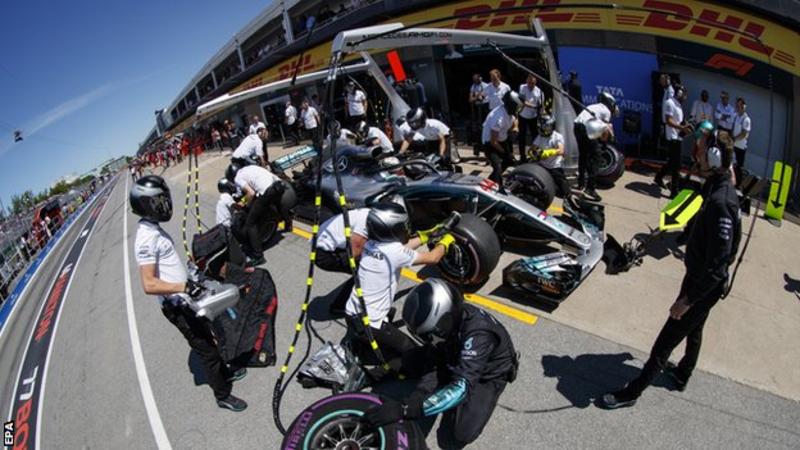 While Vettel kept nipping away from the hold of Bottas, who enjoyed a safe, one-stop strategy despite a slow 3.2 second stop before the first half of the race, he wouldn't impose a threat to the untouchable Ferrari of Sebastian Vettel. cool and quick through the race, despite some anxious moments resulting into lock-ups toward the end, Vettel seemed collected and proved deserving of his win. Even as the same couldn't be said for Ferrari's "other driver" Kimi Raikkonen, who, despite pitting for a fresher set around Lap 33, emerged behind Hamilton, who'd started from P4.
This would mean that Raikkonen's only task till the checkered flag would be to enforce an error from Lewis Hamilton, who, despite enduring "engine troubles in the race" would keep himself busy in trying to catch up Red Bull's Ricciardo, who emerged unscathed in being challenged by the Mercedes driver for close to 40 laps. In delivering a near master-class in brave defensive driving, Ricciardo's flair matched up to the great experience of Hamilton, for the lack of a better word- a master at Canada.
With the drivers looking safe and secure to hold on to their respective places up front, there were vast improvements down the grid. In delivering Renault a valuable P7 at Canada, Nico Hulkenberg, yet again proved that why, despite not having a podium finish against his name, he is among the driver's to watch out for. Although, Alonso couldn't inspire the same confidence in his McLaren, the hitherto well-balanced machinery sabotaging "El Nino's" chances of securing something impressive in what was a serious number: 300 Grand Prix entries for the Spaniard.
Even as there were some nervy moments toward the end of the track, with Force India's Sergio Peres running wide into the grass, only managing to evade crashing into the passing cars of Magnussen and Haas, the race was relatively sedate in the closing moments. And one feared, had it not been for a near anti-climax thanks to the checkered flag gaffe, the same being waved one lap prior (in Lap 69) thanks to the decision of FIA in allowing it to be waved by a supermodel, F1 fans would've been held awake for a possible blunder.
But it wasn't to be. But the conclusion of the 2018 Canadian Grand Prix leaves the Driver's Championship, once again in control of Sebastian Vettel. Even as in the German's hand is a tiny, even ignorable lead of a single point over Lewis Hamilton. And lest it is forgotten, Valtteri Bottas, in delivering Mercedes their only podium spot this weekend has allowed himself a jump into 3rd in the standings. This means, Kimi's fellow Finn, is now 2 points ahead of 4th placed Ricciardo, looking firm with 86 points.
While Ricciardo enjoyed a sterling fight with Hamilton, would he be ruing this as an opportunity lost, considering he was well-placed on 3rd prior to entering Canada? Even as Ferrari have gone on to register a win ahead of Mercedes, could this be a fire-starter of sorts or may result into a flash in the pan?
The volley of questions continues but the grandest earners at the back of the Canadian Grand Prix, it could be said, are Red Bull. As a force in unison, with Verstappen earning his 2nd podium place of the season and Ricciardo finishing inside top five, they could bring down the 54-point gap to Ferrari given Raikkonen's indifferent recent form. Should Ferrari consider themselves a superior force, Raikkonen may have to lift his game ahead of some terrible mediocrity he's displayed given the botched-up final qualifying session at Montreal. Else, it may well be Comeuppance for the "Iceman."