A common saying is, 'great things happen to those who wait!' But then there's also this saying that 'destiny favors those who persist.' Although, truth is, in winning, you somewhere need a combination of the two. And in the fear of sounding philosophical, let's just put it that way, one can only help you to an extent; and that for as long as there's this will to succeed, nothing can pull you down.
On that thought, suffices to state that on Sunday, Max Verstappen willed to win; he had the will to attack and achieve, and he didn't wait for things to happen or for some miracle to strike. He went out there, took his chances, of course, being backed by the team, and came out all guns blazing.
Just that on Silverstone, on August 9, 2020, that champagne would've tasted even sweeter. In a sport where you are all the time trying to chase glory, rare are those moments when you end up doing what many would regard as 'improbable' or perhaps 'out of reach.'
Similarly, rare are moments which herald you on the cusp of something truly magnanimous. Although, on paper, Max Verstappen's victory in the concluding race of Silverstone's double-header was his first of the season, and his ninth overall, that he beat not one but two Mercedes cars and that too in the 70th anniversary Grand Prix was an achievement utterly incredible and worth raising a toast to.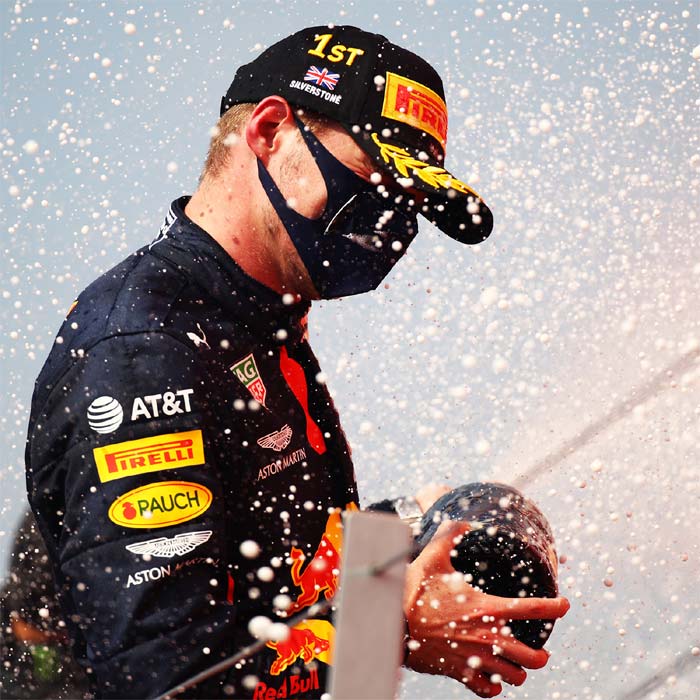 Duly acknowledged by six-time world champion and current season's defending champion Lewis Hamilton, who didn't take long to state, "Credit to Max and the Red Bull team," Verstappen's victory perhaps taught us the one key lesson that maybe the other teams on the grid would keenly listen to or follow.
For starters, Lewis Hamilton, and his Mercedes- with all due and rich respect- aren't unbeatable. Just that in order to do that, and lest it is forgotten beating Mercedes given the dominant form they've been in could only been likened to pushing the mighty African elephant over the edge of a cliff with bare hands would take not only excellent race pace but one epic strategy.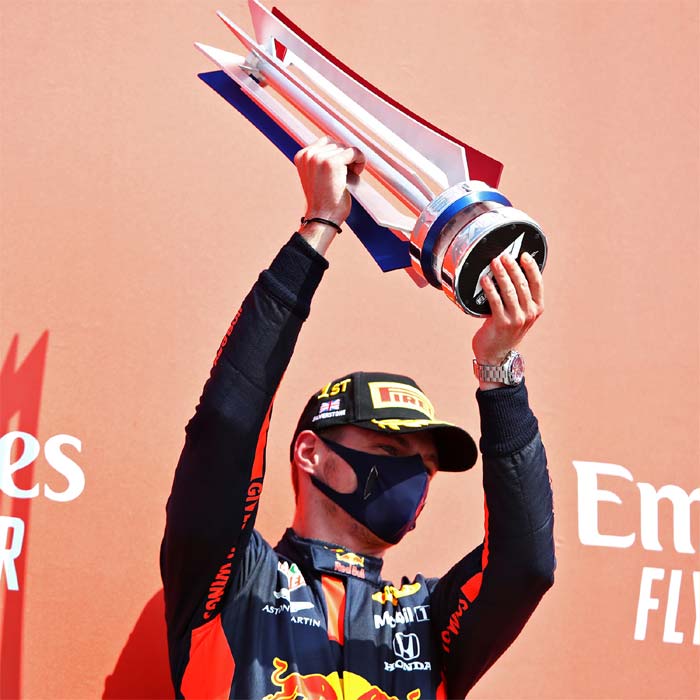 To put it succinctly, the kinds that the winner of the F1's 70th anniversary Grand Prix demonstrated in conjunction with a fantastic albeit lucky strike orchestrated on part of his team where it came to strategy.
Anyone who suggested prior to the start of round five of the current season that Sunday's race would also eventually boil down to the team and driver that handles pressure and the tyres well wasn't joking.
On his part, Max Verstappen looked after the tyres really well, after beginning on the hard compounds, which he'd control to perfection into a long stint. But on the part of his team, Red Bull must be credited for deploying a bold call; a strategic decision which may well have fallen foul of critics had it not worked. But then, this is a sport where you make bold calls and demonstrate bravery- don't you?
In making sure that Max stayed out for a longer first stint, Red Bull pressed on early advantage which eventually played excellently into their hands with Max not pitting before Lap 27, by which time he'd opened an excellent 18-second lead out in the front.
Though when he did pit, which wasn't before Lap 27-end, the stop going well over 3 seconds, Max, on fresher rubber had enough pace and power to attack Bottas, in second. His next target, after catching Saturday's pole-sitter was the man of the moment and the driver with three race wins against his name in five contests, held so far: Lewis Hamilton.
But Hamilton's compounds weren't going to last that long, especially after the team had until then with only a handful of laps to go, decided on a gamble with their one-stop.
As a result, perplexed already by what he'd experienced last weekend as a result of overworking the rubber, Hamilton boxed with only ten laps to go, which was enough for Verstappen to transform his lead into a position of absolute ascendency.
And by the time, Lewis, although the fastest of the drivers with only 3 laps remaining finally approached to tackle the marauding Red Bull, Max Verstappen was only a few corners away from taking the checkered flag.
After bagging a sensational albeit thrilling second just last weekend, on the very track that hosted Sunday's mega-clash between the Bulls and the Black Arrows, Verstappen would've surely cherished winning the 70th anniversary Grand Prix. A moment to savor, a moment to find one's name as a table-topper amid a really momentous occasion.
Also Read: Advantage Valtteri Bottas For 70th Anniversary Grand Prix
Credit to Verstappen for pushing relentlessly all throughout. But just imagine what might have happened to him had he not attacked right from the start as he did; eclipsing Hulkenberg down in turn two seconds from the start?