Mercedes team boss Toto Wolff has finally broken his silence and spoken on the matter of Lewis Hamilton's salary. Or should one say, Lewis Hamilton's supposed salary? Nonetheless, a lot has been said pertaining to a subject nearly everyone seems to have an idea about or at least, a ball-park figure!
Ask any fan out there and he'd offer an estimate. Bollocks. It's crazy. Wild even.
The fact is that 'just how much is Lewis Hamilton's salary at Mercedes', a team with which he's raised five world titles, is the staple subject of every F1 discussion.
Could this also be a highly-searched question posted at Google- well, you bet!
How much do they pay Lewis Hamilton? Enough for the Stevenage-born to buy a personal jet or a lordly Irish castle a month? Or the amount of salary afforded to Lewis can make him obtain some part of the Solomon islands every year, so that one day he has a Lewis Hamilton-nation agains this name?
All of this is ceaseless and even lame conjecture. When one resorts to taking a wild shot, then it just doesn't end anywhere right?
So finally, let's hear it from the horse's mouth; no, not Lewis. But his boss at Mercedes, who obviously won't offer anything rubbish as a response to a question that concerns nearly everyone in the world.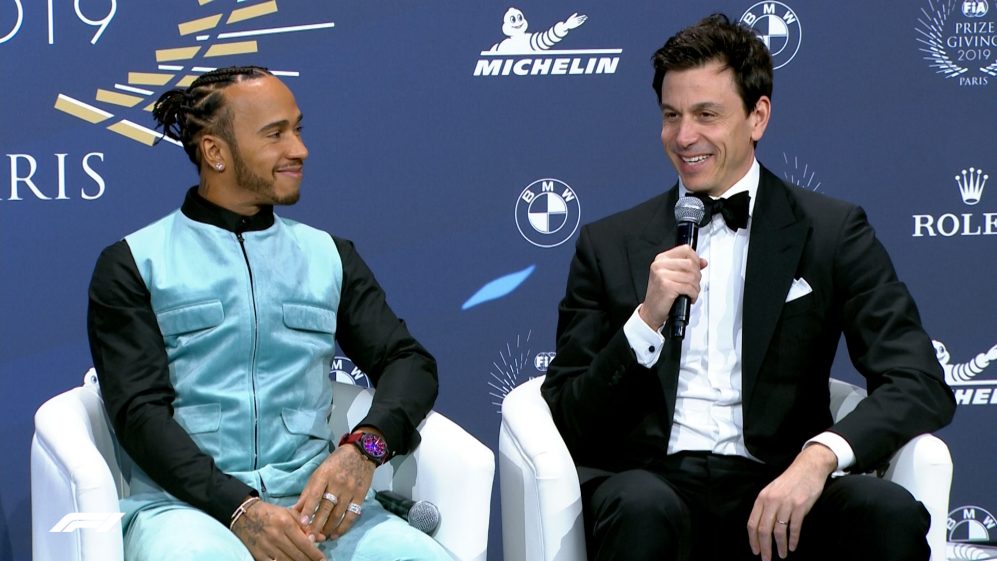 The Austrian, who's quite simply raised the bar for all teams on the grid given his astounding success clubbed with Hamilton's grizzly exploits shared:
"All the things that are out there about contract negotiations, whether him demanding a hilariously high salary or me saying it's only 50% of that, they are all made up."
Incidentally, before we progress ahead, it's important to note that recently the conversations about Lewis Hamilton's salary at Mercedes found online hype and dominated normal discussions owing to a media report by (English publication) Daily Mail that shared that the amount is estimated to be a whopping 50 million euros per year.
Let that sink in.
But Toto Wolff also added some clarifications in his answers and said, "We haven't had a single conversation about money.
It's sometimes weird to read this stuff in the press when you know it's just total nonsense.
Lewis is very aware of the financial realities of the auto industry and about Formula 1, and in the same way, I'm very respectful of his achievements and his class.
Therefore it's going to lead to I think a satisfactory outcome for all of us."
In fact, such a massive salary estimation also seems highly unlikely and even un-pragmatic given the testing times the sport as much of the world is going through where each passing day, we are reminded about collapsing economic systems, which is where the term recession comes alive.
Moreover, in lines with the 2021 budget slashing that all F1 teams will have to comply with, where's that kind of money to pay a driver, irrespective of him being a great six-time world champion?
Meanwhile, the Mercedes supremo also offered his insights about the new budget cuts and happened to share:
"If you cap the team at 145 million with a downward slope, you need at a certain stage to also cap high salaries. But I don't think we should lose the superstars of today."