Where do you think might the Italian racing marquee finish in the battle for 2019?
Here's a fact. The midfield this season would already find the likes of Renault, Haas, Racing Point competing with Alfa Romeo. What could make this packed group rather interesting would be the likes of McLaren and Scuderia Toro Rosso adding their own dash if they can to spice up the grid.
But in order to do that, Toro Rosso, who've just unveiled their 2019 challenger, STR 14 may want to remember the previous season.
Well, it wasn't the best, truth be told.
Then Toro Rosso garnered all of 33 points.
Not impressive. Rather not even mildly impressive. In fact, to those who don't even bother checking beyond the top three on the podium for the winner and the two runners up take it all, Toro Rosso's standing was the damp squib of 2018.
Scuderia Toro Rosso managed to stand second from the bottom on the Constructor's standings, not the most comfortable or envy-inspiring position, albeit one that enabled the outfit to finish 26 points better (or above) the bottom-placed Williams.
Implicit in this run was Pierre Gasly, the Frenchman whose 29 points helped salvage something face-saving for a side for which noted drivers of the class of Sebastian Vettel and Daniel Ricciardo have competed in the past. But while Gasly did much of the scoring, including that belter of a run at Bahrain (P4, having qualified P5 on the grid), one can't shower praise on Kiwi driver Brendon Hartley who could salvage a lowly 4.
But that said, 2019 is here and Formula 1 is about to make (hopefully), a gob-smacking return. And that's when you realize that for heaven's sake, there's still over a month to go.
Toro Rosso has become only the second team this year to have unveiled the car.
So while fans will have to contend with either spending time doing re-runs of the past season or doing rabble-rousing on social platforms for this wait can be taxing, the Honda-powered (Italian) team would be hoping that the Toro Rosso 2019 F1 car can do wonders.
To that end, introspecting their 2018 F1 car wouldn't be such a bad idea- or would it? With Honda as their engine suppliers,  STR, apart from managing some fighting finishes at Mexico, USA, Belgium, and Hungary (Gasly got P6), suffered the ignominy of several race retirements at France, Canada, and, Austria.
So that automatically fuels interest in a question as to what does the Toro Rosso 2019 F1 car look like and has on offer?
With Honda continuing as their engine suppliers for 2019 STR will function with a common gearbox and rear suspension with Red Bull. This is something that didn't happen previously when they were using Renault power.
That said, here's a quote from an integral part of the racing marquee-
"Nothing has changed in terms of the design process of laying the car out," said Toro Rosso's deputy technical director Jody Egginton.
"We just have a few fewer variables to play with. However, within the framework of a fixed amount of available resource, this can provide an opportunity as it allows more focus on other areas of the car concept which in turn can bring performance."
To add further, the rear end of the car is to be provided by Red Bull while many internals of the gearbox are the same that have been used previously.
Moreover, there seems to be optimism in the sense that the general belief in the outfit is that there's going to be a new room for aero-development which is all thanks to mass reduction benefits.
Moving on, what can one expect from the 2019 driver line-up, a complete departure from the Frenchman-Kiwi pairing of 2018?
In 2019, Russian 'Torpedo' Daniil Kvyat returns to F1 racing. Having last raced at the 2017 US GP, it'll be exciting to fathom what might the only Russian driver on the grid- now that- Sirotkin from Putin-land is history (at least in Grand Prix racing) can do?
Will he unleash the fiery cannons or missiles of the kinds we've seen in the past, of which Sebastian Vettel (Ferrari) may not be such a huge fan? Remember the 2016 Russian Grand Prix?
On a serious note, Toro Rosso signifies the homecoming in a way for the Russian driver who made his debut with the Faenza-based side in 2014. While there's little doubt about Kvyat being a natural in an F1 car, magnified by the fact that the 24-year-old clinched a P9 at Australia, an effort he'd replicate at Great Britain and Belgium, he'd know that as the side's lead driver, he'll have to do the bulk of the scoring.
So who's the other bloke? Thai-British driver Alexander Albon debuts in Formula 1, at the back of 4 wins and 10 podiums in Formula 2 Championship (2017-18).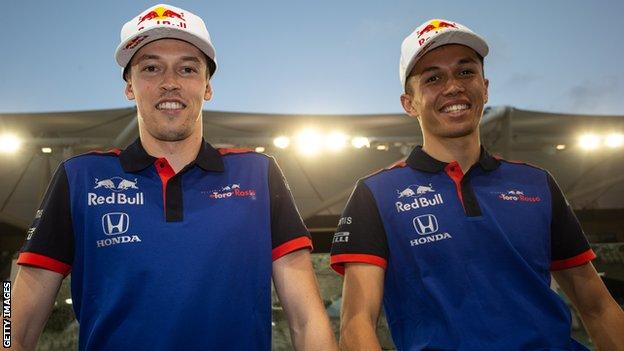 Finally, can Toro Rosso aim for a higher place on the grid in 2019 having suffered a 2018 season that can be only called forgettable?