Knock-knock: "Who's there?"
"It's time!"
"It's time? It's time for what and who?"
"Time for Hammertime baby!"
Truth be told, the way Lewis Hamilton has dominated the proceedings in Formula 1, nearly every Grand Prix has turned out to be Hammer-time. Okay, that's a bit too much, right?
Well, not really.
So even as Ferrari and Red Bull have been able to dominate a few races here and there where the previous few seasons stand, it does appear the only races that Hamilton didn't were the ones where he either faltered or encountered a mechanical or technical snag.
But what makes Hamilton's reign- how else are you going to put it- special is that he's competing with a driver who's no less if not better than his own craft, and in a team that's finally beginning to come into its own.
Then, even as the Scuderia is faltering, as it did in 2017 as well as 2018- what could one possibly put it down to, apart from team falterings? Does the Hamilton factor not play a part?
In a sport that demands grit of the same enormity as the prowess of a machine, it makes for an interesting discussion to examine whether whose reign has been the strongest?
Was it Sebastian Vettel in his Red Bull era- 2010- 13 World Championships or is it Lewis Hamilton's time- 2014, 2015, 2017, and 2018 world championships?
Still, regardless of what one might say, the rise of Lewis, from being a racing prodigy from Stevenage, who, with the assistance of his doting father and family took baby steps but at a fluent pace to Formula 1 prominence is impressive. It is also inspiring to those who understand the tenacity needed to win and the patience needed to rise through the ranks.
Everyone knows, the 2018 World Champion, now a five-time winner, is now going to hunt down Michael Schumacher's tally. But for that, Mercedes-fans would note, the challenge ahead is only going to be more interesting than it ever seemed.
For not only is Sebastian Vettel of Ferrari going to try- at least, Ferrari fans would hope- his level-best to come in the way of Lewis and grab what seems pending- a fifth driver's title- but the Briton will also have to be wary of Max Verstappen, Red Bull to up his game and perhaps act as a thorn in his path.
And in that regard, Hamilton will draw inspiration from the fighting spirit that only a driver of his caliber can bring to the fore. He'd want to, for instance, remember drives such as the Grand Prix at Silverstone, 2018 where despite being spun out by Kimi in an erroneous move, which saw the Briton fall to the back of the grid, Hamilton bounced back to claim third.
He'd also want to remember the exhibition of familiar grit,
That said, let us rewind back to the past and examine which are the best races of Lewis Hamilton?
2007 Australian Grand Prix
It's not always that a driver, making his debut, finishes on the podium. The likes of Raikkonen and Alonso didn't. The likes of Ricciardo and Verstappen haven't managed that.
But then, Hamilton fans would note, that is why not everyone is a five-time world champion like Lewis.
But with all due regards to these amazing drivers, Lewis, true to those powers of concentration that have become synonymous with his driving today presented his very best in his debut at Australia, 2007.
In a contest won by Ferrari's Kimi Raikkonen, one of his multiple wins that year, Hamilton clinched a fighting third, just behind the McLaren of Fernando Alonso.
A race called electrifying by fans, Hamilton, who qualified fourth, an impressive feat for a rookie, demonstrated pace and at one point in time, even led the race as Raikkonen, who pitted emerged behind the Briton.
In the race, the inexperienced Hamilton gave Heidfeld a run for his money and showed one just what he was made of.
2007 Canadian Grand Prix
The 2007 Canadian Grand Prix was one of the best races of Lewis Hamilton for the simple reason that it would be his first ever race win.
For starters, not every driver is able to win a race in his debut season. That Hamilton clinched a win in his, amid the likes of Raikkonen and Alonso going all guns blazing, defined the Briton's mettle.
The 2007 race would always be remembered for the superb tussle that Hamilton, pole-sitter, and Alonso, starting second were involved in, with the race-winner defending brilliantly from the Spaniard at Turn One.
A Grand Prix that would be remembered for Fernando making one mistake too many in his unsuccessful bid to pass a lesser-experienced teammate catapulted Lewis to the attention of the wider world given the driver's steely nature that enabled him to win.
2008 Brazilian Grand Prix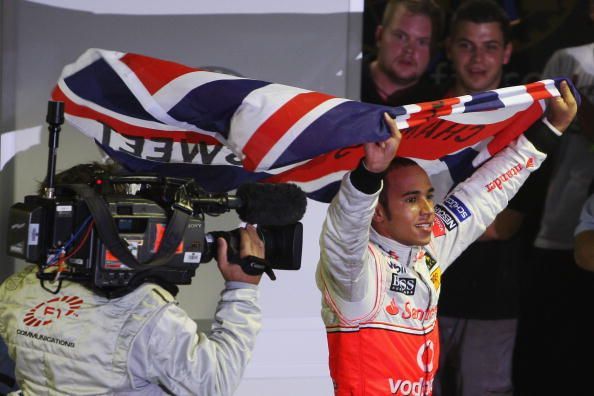 Tears for Felipe, the race-winner and an unlikely but brave win for Hamilton, the 2008 Brazilian Grand Prix was Formula 1's version of ecstasy and agony, a quote that's an evergreen part of the literary firmament.
How often is it that by coming five, being several spots off the podium that a driver wins a Grand Prix?
In so doing, under typically inclement wet weather, Hamilton, who fought off his competitors on the grid magnificently well would emerge P5 and would, garner his world title, that too, in the land of his hero: Ayrton Senna.
On the other hand, it was all tears for Felipe, who, at one point of time, had finished the checkered flag the first, with Hamilton still having some catching up to do.
2013 Hungarian Grand Prix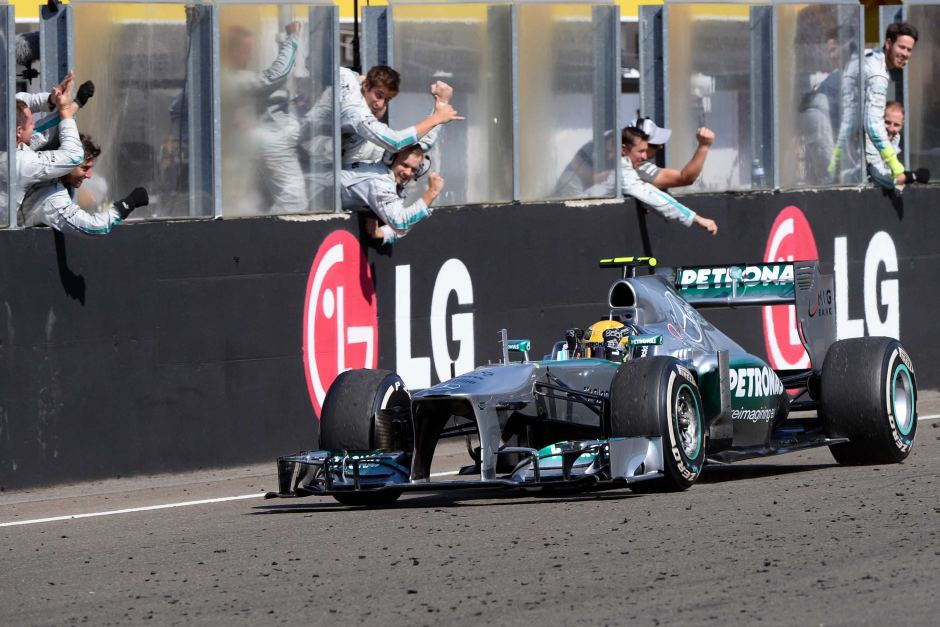 You know it's Hammertime when the newspapers scream in adulation a headline that reads: "Hamilton roars at Hungaroring!"
Back in 2013, the final race before the season break was an excellent exhibition of Mercedes' ability to show real pace, something that hitherto, was only restricted to qualifying contests.
But five years back, in a year synonymous for Vettel's final triumph (thus far), presented one and all with a Grand Prix that was to be Lewis' first-ever win with Mercedes, a team that has now become a formidable and seemingly invincible alliance.
2018 Italian Grand Prix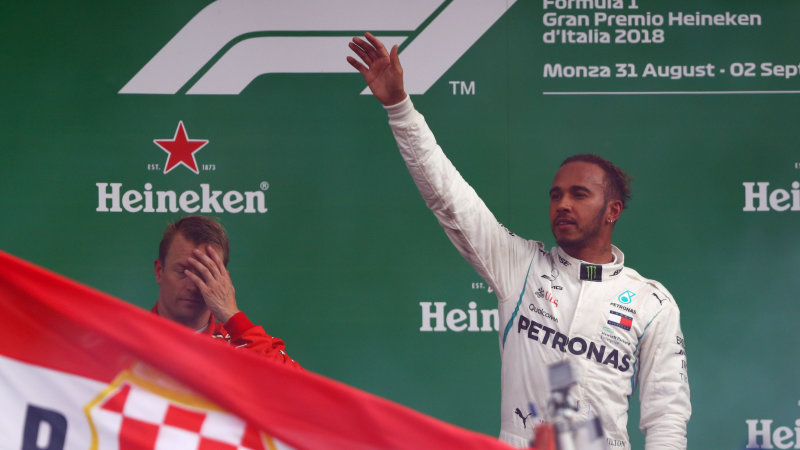 If there was a race that brilliantly put two of the fastest men on the grid in head-to-head combat on the track, then it was the Italian Grand Prix, at Monza.
Even as Raikkonen secured the pole, his first since 2017 Monte Carlo Grand Prix, and in so doing, seized the thunder by setting the fastest ever lap in Grand Prix history, Lewis, who started third, behind Vettel managed to win the race.
And how did he do so?
Well, that's called Hammer-time, baby!
At the start of the 53-lap contest, Kimi defended well from the mounting attack of both Vettel and Hamilton. Shortly after, Hamilton would pass Raikkonen to secure the lead of the race but would soon see the 'Iceman', unflustered as ever, return for round two.
On Lap 8, Kimi would grab the race-lead and would hold off Hamilton brilliantly till Lap 45, which is where Hamilton would strike.
With just 8 laps to go, Lewis dived down the inside of Kimi, struggling with tyreware at around the chicance and would grab the lead to take the checkered flag.
For that cool and calculated exhbition of driving, the 2018 Italian Grand Prix, yet another Mercedes win in Ferrari-land has risen to become among the best races of Lewis Hamilton.