There are drivers that resort to shenanigans in basking in the glory of attention. Then there are those like Fernando Alonso- who the shutterbugs coming running to. For some, like Alonso, just the mere presence is enough to ensure a spike in attention. Then, what to say of the on-field moves? We are talking not just about a bloke who has been a double-world champion in the past. But rather, we're addressing a man-carnivore who knows how to create magic inside the car. If there were any doubts about Fernando Alonso having past his best, then those were crushed to a tumultuous demise when the Spaniard secured the fastest lap in arguably the worst possible car in 2017 and secured a P6.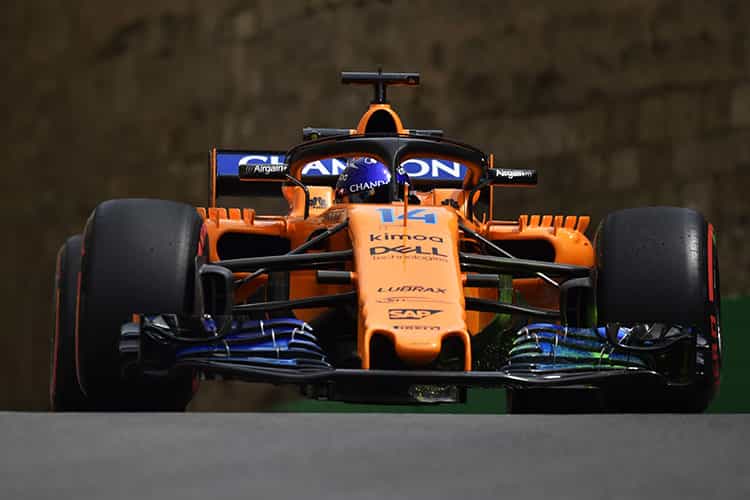 And he did that at the Hungaroring.
Little explanation needed in why the Alonso legend endures even as to some EL-Nino is past his glory days at the McLaren and Ferrari and perhaps there's little to doubt that.
Recently at the 2018 Azerbaijan Grand Prix at Baku, Alonso was at 'it' again. In a race where there was no dearth of action, Lap 1 producing sparks and debris sprinkled on the turf like pepper on a pizza serving, Alonso's drive in securing a P7 at the completion of the 51 laps was once again lauded. And truth be told, it's not hard to understand why.
Inside the first three laps, Alonso's McLaren's hopes of finishing further up (against the P7 it eventually secured) were dented as he paid the undue price of a contact between a Renault and Williams car. Running over debris resulting from their collision meant that the former double-world champion had to literally limp into the pits struggling with a front tyre puncture. Where others, you felt, might have been distressed in seeing their race hopes receive such a flaring blow, Alonso, continued to fight. It is regarded that the the manner in which Alonso crawled into the pits, putting his waning McLaren for repair was stuff one could expect only from an experienced hand. By the time car.no 14 arrived into the pits, there was hardly any rubber on the front tyre. Not to mention that the car had suffered a few blows in the process of getting back to the pits.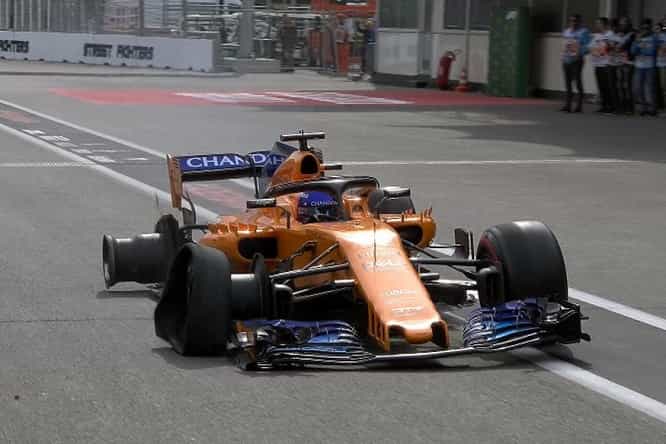 However, the damage to Fernando Alonso's McLaren- extensive by all counts- included more aberrations in a complete F1 car that one would have liked. At the back of the car, major components making up for the design all the way to the diffuser had gone missing. Shockingly, in front of the rear tyre, two vital aerodynamic shapers were missing. Team Principal, Eric Boullier even shared that on account of the damage, Alonso's car suffered from a loss of 20 points of downforce. But despite having such odds heavily stacked against his favour, the driver renowned for being an ultimate fighter lapped half a second faster- it is reported- that his teammate, Vandoorne, competing in a compact, faultless machinery.
From thereon, a reinvigorated McLaren engaged in a battle for supremacy albeit with the back-markers- Renault, Williams, Scuderia Toro Rosso and Haas to make most of a contest that would frequently get embroiled with contacts and safety car deployment. By lap 40, wherein both Red Bulls- of Daniel Ricciardo and Max Verstappen- had taken themselves out of the race (another controversy that's continuing to establish 'whodunnit' among the two Red Bulls) Alonso was breathing on the Force India's tail. With hardly 10 laps to go, there was everything at stake, lest it be forgotten the fight for valuable constructor's points.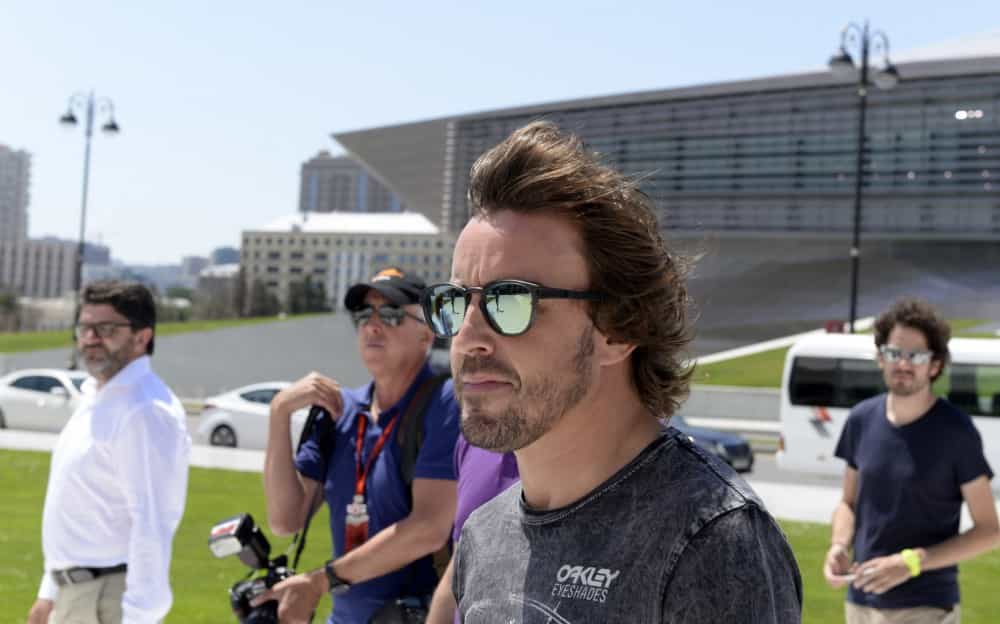 And Alonso did not bow down to pressure. It is an established fact that Alonso, akin to other drivers of the same pedigree hasn't been a stranger to similar disconsolate situations and has continued to strive for excellence regardless of the condition of his car. Most famously in 2006 Italian Grand Prix, his Renault suffered broken rear bodywork, this threatened to comprise Alonso's race. But instead of being disgruntled he continued to fight as he did, over a decade after the tumultuous events at Monza.
Today, the team acknowledges that it is largely for Alonso's incredible driving abilities amplified by a never say die attitude that the team are fourth on the constructor's standings, behind Red Bull. And the man responsible for their ascendency- considering in last season, they hardly looked a packaged team in the first place- continues to dig for gold where hardly seems any. But that is Fernando Alonso- a fighter second to none. A legend as good as any.