Jim Morrison in his album 'The Soft Parade' says, you cannot petition the lord by prayer. Well, that logic may never seem real to fans of Michael Schumacher, for whom, it's not about Schumacher being the God of F1 racing, but that prayer and wishes may actually heal him some day. And that, that someday could come soon. One sincerely hopes it does! But even if it doesn't, it cannot shake the foundation of excellence Michael himself helped establish, one that, to this day, is used as a yardstick to measure the potential of others who decide to contest in the fastest and among the deadliest sport of the world.
Prayers and practical effort on one's part can set miracles alive.
Can it not?
Ahead of his birthday, Michael Schumacher's family released an official statement saying they were doing everything 'humanly possible' to 'help Michael.'
Then, there are his fans- practical and emotional that they may be- who are doing everything humanly possible to keep the meaning behind the term #KeepFightingMichael real and relevant.
This is when many of them may silently be wondering whether Michael would be back on his feet anytime soon but cannot let go of the faith that only a man of his incredible abilities warrants from the act of kneeling to the Almighty to resuscitate a man, who was once, the fastest man in a Grand Prix car, one who didn't know what the meaning of a loss was, one who was perhaps born to dominate and win.
As Michael Schumacher turns 50 but perhaps 50-times greater in our love and appreciation for all that he has achieved- 91 race wins, 7 world titles, over 1600 points, and a standing that is, colossal in the sport- we attempt to unlock the Schumacher enigma through the Top 5 Michael Schumacher moments:
Winning ahead of Alonso, at Magny-Cours, French GP 2004
In winning a sensational Grand Prix at France, an event that saw Michael emerge as the better driver in a tussle with a familiar rival those days, Fernando Alonso of Renault, the German won a race that is cited, even today as being a great see-saw in F1's modern history.
A win that was birthed out of a combination of great focus and team strategy, Schumacher held the fort ahead of Fernando Alonso in a closely-fought battle for France wherein, despite beginning second on the grid, he'd fall down to eight, before making his climb up to beat Alonso, arguably faster for the better part of the race.
Claiming his final Grand Prix win, China, 2006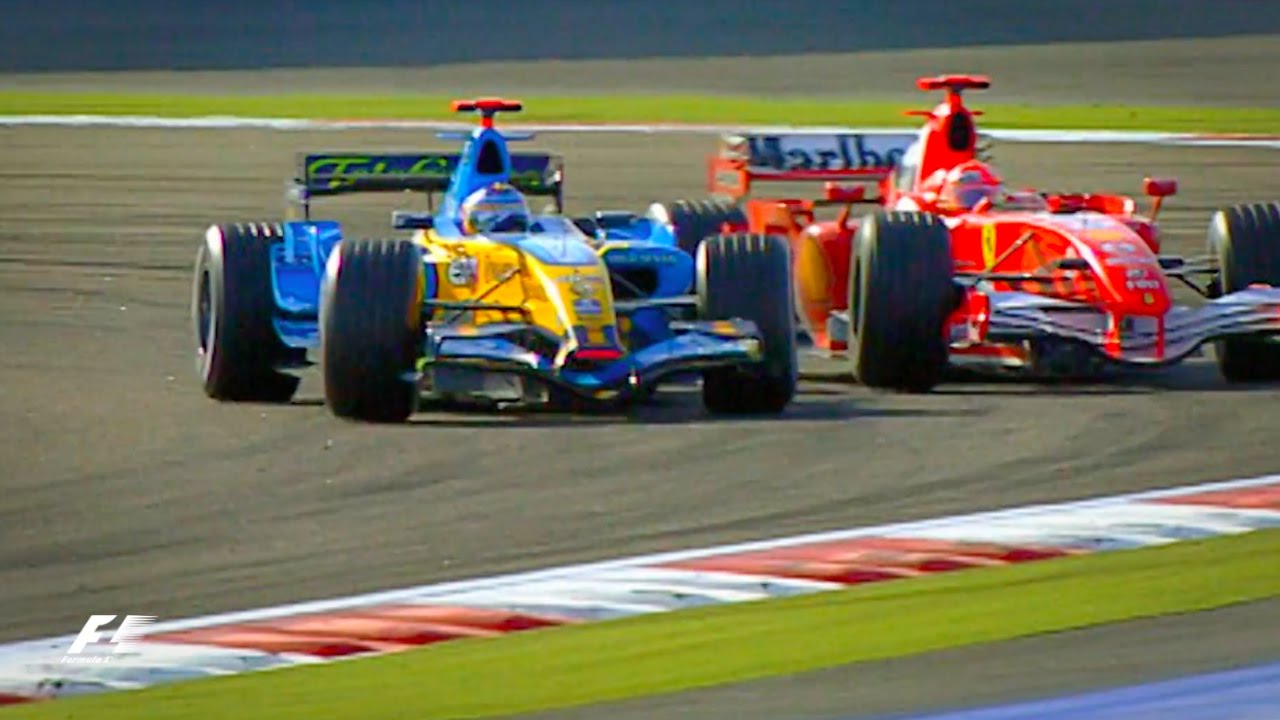 At the completion of the 2006 Italian Grand Prix, it was confirmed that Michael Schumacher had driven his final-ever F1 race. But before the race in front of the Tifosi's, Michael conquered China akin to an avid climber tasked with scaling the Great Wall.
At the 2006 Chinese Grand Prix, Michael held the upper hand at the conclusion of an enervating and thrilling contest against the Renault of Alonso, his arch-rival that season.
In executing two brilliant moves on both Renault drivers- Fernando Alonso and Giancarlo Fisichella- Michael, using the Michelin-tyred Ferrari had the last laugh in a race where he didn't originally stand a chance at winning, having begun only sixth.
Interestingly, even before he would reach the halfway stage or look threatening to the other drivers, Michael was busy chasing Button, whom he passed on Lap 14 for fourth.
Furthermore, he'd have to overcome a 25-second gap to 'El Nino' for first, a void he'd bring down clinically through sheer pace starting Lap 19 when he'd get close up to Fisichella.
Post this, on Lap 31, Schumacher would pass Alonso but struggle to get the better of Fisi.
And it wasn't until Lap 40 where Schumi emerged in real contention for a win, where emerging from a pit, despite being ahead of the German, Fisichella's Renault, on cold tyres would struggle against the pace of Michael. As a result, he'd run wide at the first corner, with Michael finally grabbing the lead with 16 more laps to go/
Eventually, Michael wouldn't budge under pressure and kept both pursuing Renaults at bay.
The fightback at the Austrian Grand Prix, 1998
A race that took place over two decades ago but that is fondly remembered- now a glorious wrinkle in time – saw Schumacher, then, at his peak, demonstrate typical ruthlessness and grit to demonstrate a great battle at Austria.
He didn't win the race but showed us just why was he so highly rated.
For starters, what made this race a fantastic battle for everyone involved- most noticeably, Hakkinen and Coulthard of McLaren-Mercedes- were the constantly changing weather conditions as seen during the qualifying.
What makes the Grand Prix among the top 5 moments of Michael Schumacher's career is the doggedness Michael showed in fashioning a comeback, wherein he made it to the third step of the podium, despite having begun from the second row, in a contest where Hakkinen quickly took the lead, leaving Michael to play catch up.
In the first half of the race at Austria, the German chased down the Finn, and in the process, ran wide.
But that was just the beginning.
He'd later run wide again in his pursuit of Mika Hakkinen. And this would be the moment that would trigger something special, rather herculean in Michael, as he'd spend the remainder of the race in forging a comeback, having lost a part of the front wing of his Ferrari in that failed attempt on the Finn.
However, what made an arduous task- gunning for a podium finish- nearly improbable would be a forgettable Ferrari pit stop that took longer than usual for Michael's car to exit the pit lane.
This long wait than usual in the pit precisely made the Deutscher's task more difficult, as once he came out on the track, he'd be nearly a lap behind Mika.
Fans would then see the Michael Schumacher who truly proved the meaning of the adage, "Never give up," as he'd continue his charge to the front of the grid but would finish third.
Lifting his seventh & final world title in 2004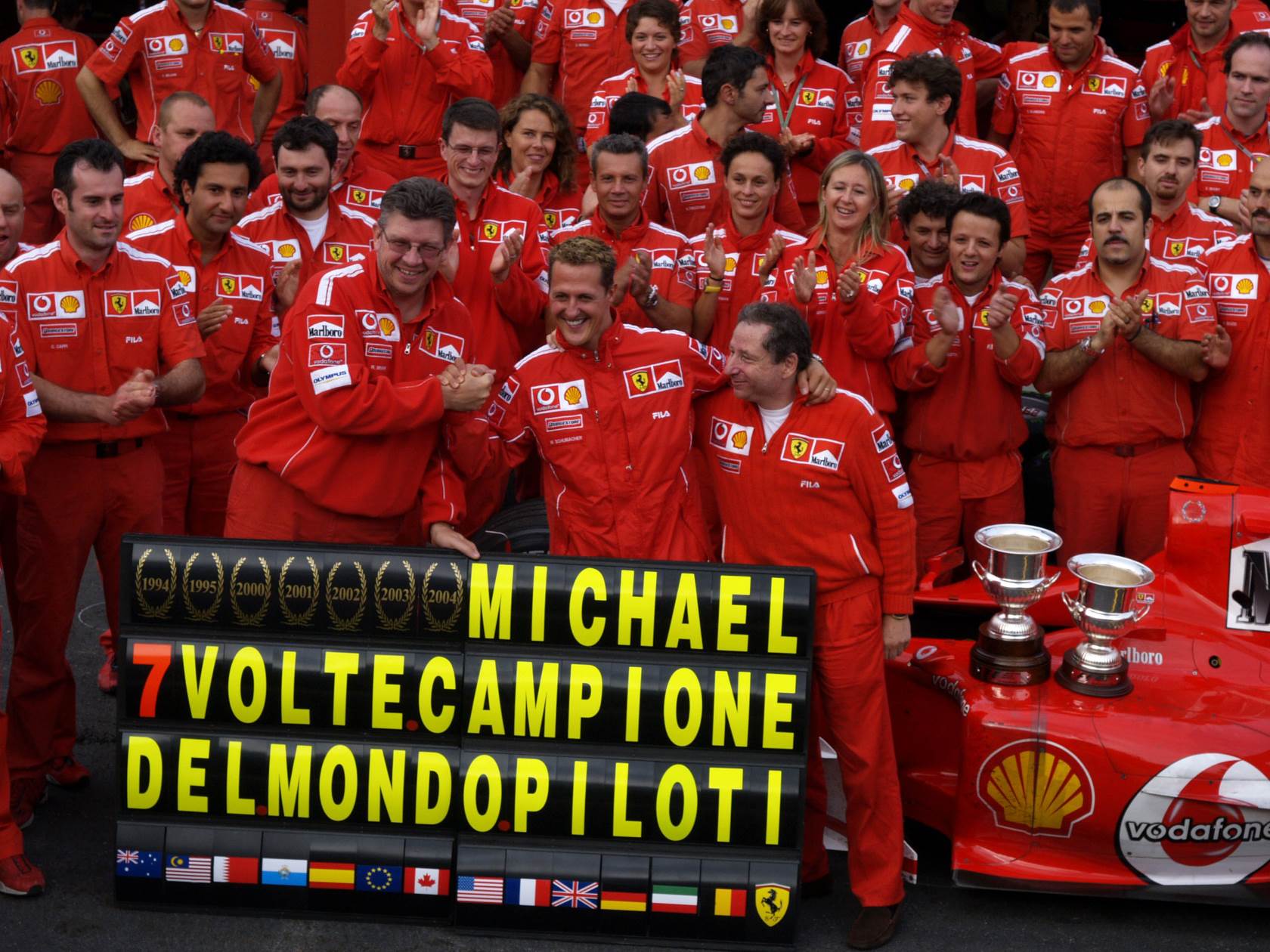 The 2004 F1 season would be the final championship-winning year for the Hurth-born.
During this sensational year, Schumi, as he's popularly called, would win 13 in 18 races and in so doing, begin the season on a dominant fashion, winning five back-to-back Grands Prix that year and proved just what he was to his opponents who dared to face him on the tracks, the likes of Alonso, Button, Raikkonen forming a troika that couldn't control the Ferrari driver's charge.
1996 Circuit de Catalunya gives F1 the 'Regenmeister'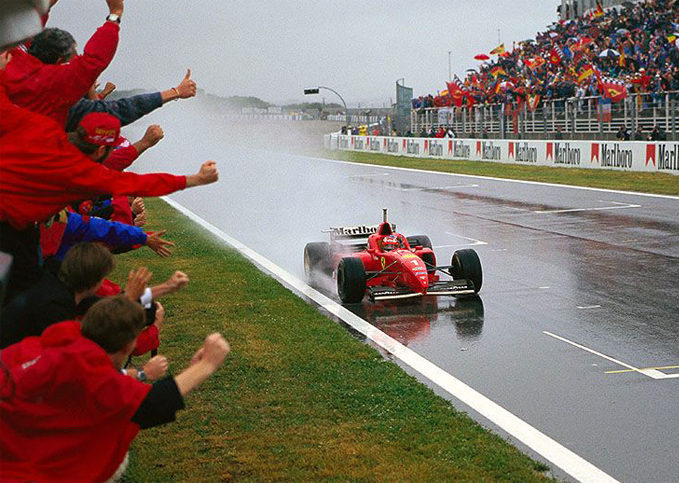 Senna was also known as the Regenmeister. He was, after all, an undisputed champion driver under the rains. So while there wasn't another who could be credited with beating Ayrton in his 'game', Schumacher was no less thrilling as a master maneuverer of driving under the rains.
And if there was a race that proved the driver's abilities in lines with the above, then it was the 1996 Spanish Grand Prix.
The battle for Spain, if it could be described so, saw the German take his first win for the Scuderia stable, despite driving in conditions that were actually 'treacherous' for the sheer magnitude of rain that covered Circuit de Barcelona-Catalunya that weekend.
Schumacher, who started third on the grid, would drop down and face the ignominy of challenging others under what was purely wet conditions, but would eventually drive down and outpace nearly every driver on the grid.
In beating Jean Alesi of Benetton and Jacques Villeneuve of Williams, Michael kept his cool where it was possible to be washed away under the pressure of driving amid immense uncertainty. He also managed to the set the fastest lap of the race, a 1:45:517 on Lap 14.