While Lewis Hamilton or Valtteri Bottas might have Tested a Formula 1 car even before the Racing Point contingent arrived at the famous home track of the British Grand Prix. But in testing the 2020 car, which means the machine of the season, Racing Point have become the first team to finish the testing of a current (season's car) car in this post-lockdown world in Formula 1.
In what can be called a massive relief of sorts for the famous racing team, Lance Stroll became the first driver in this post-lockdown phase to take his RP 20 for a spin around the very track which also interestingly featured on the maiden season's calendar and in fact, marked the start of the first-ever Formula 1 race.
Having said so, one simply cannot doubt the feeling if that could be called rather euphoric from Racing Point's perspective (powered by a Mercedes engine) in making the return to the track and hitting the ground with the current season's machine.
For thus far, both Lewis and Valtteri have been able to take their respective 2018 machines out for a test drive at Silverstone in marking Mercedes' return to Testing post the enormous lockdown break.
That said, here's what famous sports publication ESPN had to say on the current trending story from the topsy-turvy world of Formula: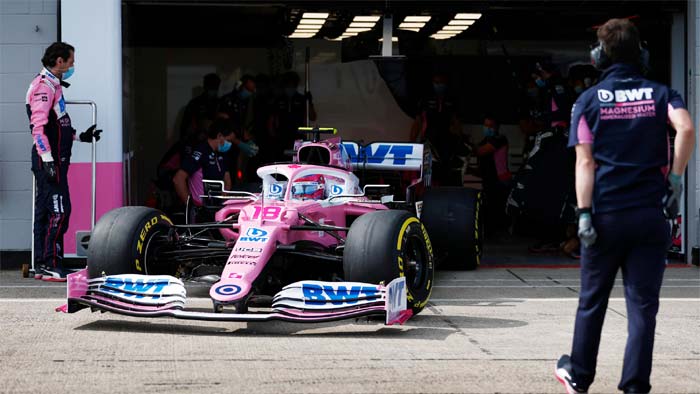 Lance Stroll, son of team owner Lawrence, was at the wheel at the British circuit, which will host two races in August as part of the revised 2020 season. The full race schedule beyond eight European events has yet to be formalised.
Silverstone is located in the same town as Racing Point's F1 factory. The team used one of its two promotional filming days to complete the event, which was limited to 100km of running.
Moving on, as one is practically counting days for the start of the truncated year's curtain-raiser at Austria's Spielberg, there are a lot of expectations of Mercedes, Red Bull, and possibly Ferrari again to put up in what could hopefully be a three-way fight to the checkered flag.
And while Mercedes and the Prancing Horse will fancy their chances, one simply cannot rule out Max Verstappen's red-hot recent form at Austria, also the home race for his Red Bull team.
After all, no other driver has happened to win the Austrian Grand Prix on the last two occasions except Max Verstappen. Is a third win on the cards?
Well, for that, we might have to wait as that's the only thing we can realistically do. But for now, all eyes await the start of the free practice and qualifying battle for the very first race of the season, which understanding the enormous break, has been an onerous challenge of sorts.