Formula 1 is akin to that happy-go-lucky child that begins searching for a new lollipop or candy to kill time when the existing stack runs dry and hence, one finds the kid opening the rumor-box to find candy in it! But what lays inside is only the specimen to add some fun to the silly season!
From the onset of 2010 to the conclusion of 2013, there was one man and pretty much one car out there that had dominated headlines and that too, with an iron-fisted approach. You could say, much like the clinical domination of the 'Hammertime' as seen in Mercedes from the onset of the 2014 season.
That lad was Sebastian Vettel, a four-time world champion. No other driver, either in the sport's modern history or that in its spectacular, halcyon days had gone on to win four-back-to-back world titles in a Red Bull.
But the Heppenheim-born talent, one who only a few days back turned 32 albeit minus the usually naughty and playful grin was here to shackle records and upset the established order. This is when, it must be said, driving against him were the likes of Fernando Alonso, Kimi Raikkonen, Lewis Hamilton- to quote a few.
So dominant was this streak in the German driver's career that more than half of his race wins (52 of them) came at Red Bull, in those tumultuous years of the V8s and the V6s.
And then, the Mercedes-besotted fan may note, Ferrari happened to Sebastian Vettel. After four consecutive seasons and therefore, multiple failures at winning a title with the famous Prancing Horse, it began to be speculated that by the end of 2019, Charles Leclerc may be the senior driver at Ferrari and Vettel would move out.
But a point remained. Where would Sebastian Vettel go? And only recently have we begun to read, and re-read several reports flirting with the idea that the German may be back to his old outfit. This idea came to life when in the not so distant past, in the two-week break between the just-concluded Austrian Grand Prix and the imminent British GP, Christian Horner remembered the "Vettel era", a time full of one-sided dominance.
Here's what Vettel's former and Verstappen and Gasly's current team principal had to say: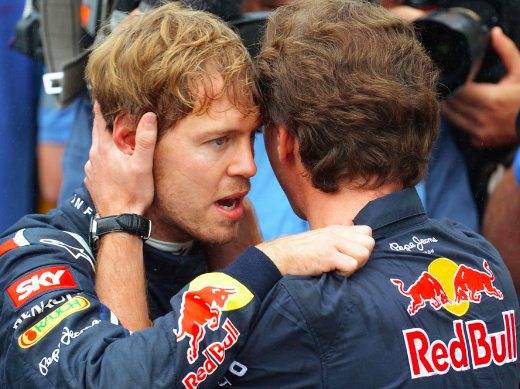 "We have great memories of Sebastian's time with us. He is part of our history. He won four titles and many, many races together with us, including Red Bull's first win in Formula 1. We have a special relationship with Sebastian. Although he is now with Ferrari, he still comes to see the mechanics very often, he knows most of the faces here and is still a friend of the team. He was very happy for us at the Red Bull Ring."
That said, within minutes of several motorsport publications running Horner's statement on Vettel, there came about a fond suggestion that maybe, Vettel's planning to return to Red Bull.
And hence, the line of conjecture: Is the Ferrari driver planning a reunion with the Milton Keynes outfit?
Well truth be told, where it stands currently, and quite possibly in the imminent future, the above suggestion is about as ludicrous as the criticism leveled against the usage of the Halo.
It's inconceivable if not impractical that Vettel would be re-teaming with Red Bull. Here's how.
For starters, there's no chance that Ferrari (where they stand right now), with Raikkonen already gone to Alfa Romeo and a young and daring but an inexperienced Leclerc in place are going to leave Vettel out in the cold.
Perhaps a solid attempt- rather make it re-attempt- at upsetting Hamilton's grand plans of gaining a seventh title, provided the Briton goes on to win the current championship, will be launched in 2020.
Under no circumstances will Christian Horner let go off Max Verstappen from the outfit. Apart from seeming the only real threat to Hamilton's dominance on the grid is the most obvious man-in-charge at scoring at Red Bull.
Despite not having a car that's championship winning, he's just won a Grand Prix, something that Ferrari, despite having two able drivers- one among the them quick and the other experienced- failed to do. This will, in turn, push Ferrari to unleash their drivers once again in 2020.
Moreover, Red Bull, it could be noted, have moved several steps ahead in the team's orientation. The days of Max and Daniel as one unit ended a while ago. 9 races have happened since the much-debated and widely-noted partnership between the Aussie and the Dutch.
Vettel's struggles in 2014 were evident. This was a year where he'd sandbag heavily vis-a-vis Ricciardo. The days of the V8s and the V10s dusted, the hybrid turbo powered era has seen only Mercedes respond massively to the sport's changing contours.
Even the likes of Ferrari, despite having a quicker machine on more occasions that one can imagine, failed to pick up a title.
So while Sebastian Vettel returning to Red Bull may not surprise those big on nostalgia, is it gonna happen in the current scheme of things? One cannot say so. Moreover, will Horner be accepting of the new power struggle with a former world champion back to an outfit where Max's the key man? Don't think so.
To conclude, it could be said that rumors such as this one are, at the most, an effective antidote to the vacuum that Grand Prix racing produces in the intermittent period such as the fortnightly break between the races.