It was to have been a special year for Robert Kubica. 2019, was, after all, slated to be a year that would've belonged to the comeback kid, to borrow a colloquial expression from pop culture.
Instead, Robert Kubica returning to the Williams stable in 2019 has been anything but enterprising, enthusiastic or memorable. And you needn't be an F1 pundit to understand how or why.
Think of a bad dream. In fact, think of a nightmare. Because there's possibly no other way in which one could describe the current season for the famous Polish driver.
Any suggestions that Robert Kubica, who's yet to score, is overstating his dreadful run can be understood by the fact that, so far, despite competing in 9 races, the 34-year-old driver hasn't yet opened his account. What's worse is that as seen in Grands Prix of Monaco, Canada, and Austria in the recent times, Kubica has finished even behind his rookie teammate.
Here are some stats that the returning F1 driver may not be proud of.
At the famous Principality of Monte Carlo, the inexperienced George Russell, driving in the barricaded circuit for his maiden run finished fifteenth (P15) while Kubica struggled with eighteenth. Moreover, a dismal fate would ensure that Kubica won't go empty-handed without it at Canada's Montreal circuit where Russell managed a sixteenth (P16) on the grid as Kubica struggled at the far end with a lowly eighteenth (P18).
And while Kubica did leapfrog his teammate at Paul Ricard, home to the French Grand Prix, one saw a familiar struggle return to haunt the Polish lad at Red Bull's home race at Spielberg where while both Williams drivers struggled, Russell still managed a P18 vis-a-vis Kubica, who found himself at the rear-end of the entire grid on the twentieth.
But all that said, what's saddest for the struggling Williams pilot is that in a year where he may have wanted to make something special in the battle between keen midfielders- competitive and talented setups like the Alfa Romeo, Renault, Toro Rosso, and McLaren- Robert Kubica has been nothing less than a damp squib in his Williams.
To that end, it's spoiled a precious opportunity for him to actually "announce" his comeback because once the news about his F1 return was confirmed, it was being said that the experienced driver, someone with 264 entries prior to marking his return was going to collect useful points.
Frustrated and distraught, whilst also constantly jostling with rumours that suggest that either Williams racing could go defunct altogether or that he could be asked to leave, Kubica had to say the following about the forgettable run he's endured so far: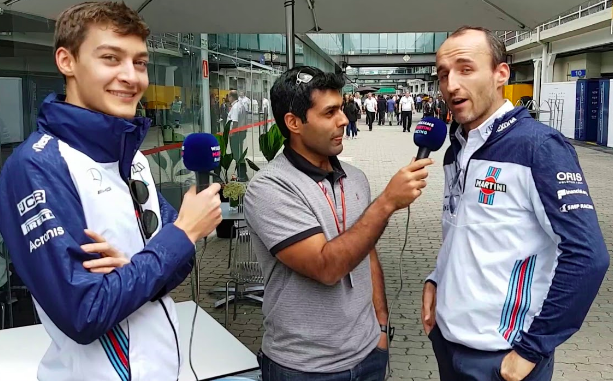 Frustration is not a correct word, because in the end it is still better being here than sitting on the sofa and watching Formula 1 on the television.
"Definitely I would be more happy if I was fighting higher up and having less problems.
"But all in all, in these last months, unfortunately this difficult situation puts a lot of shadow on what I achieved and how big [an] achievement it was for me to be back here.
"This is something which I also forget, because Formula 1 is a fast sport and everything happens very fast, so you somehow live day-by-day.
"You forget that in the end I achieved something which I was working on for many years."