In lighter vein, there couldn't have been a better instance of F1 living upto the global precedent of sports embracing the dominant principle of "Diversity+ Inclusion" for growing in numbers than the Chinese Grand Prix which embraced Red Bull mightily, who'd hitherto failed to secure a podium in the previous two rounds, let alone a race win.
No sooner than he arrived in Shanghai did Daniel Ricciardo and his blend of globetrotting supporters began to think that perhaps a victory in its own right would be finishing the race in the first place. The Chinese Grand prix of 2018 wasn't expected to be fanfare for Formula One's most effervescent smile, it was near certain. A huge engine blow up, from minutes of start of FP3 on Saturday wasn't a hundred percent good news.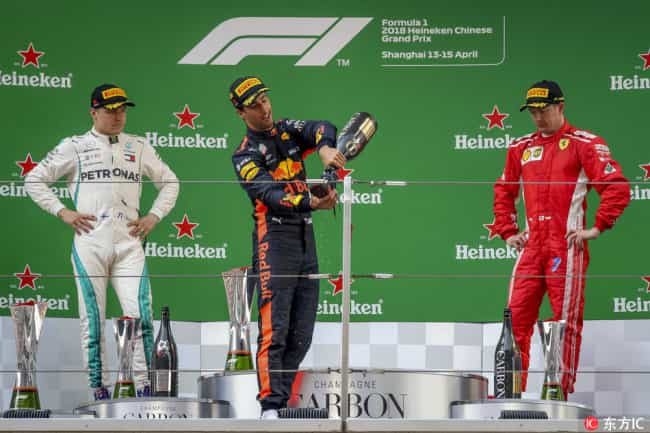 Then, from the onset of having odds being as heavily stacked against his favour akin to a platoon's solitary surviving gunman being outnumbered by insurgents, seeing Ricciardo lead Chinese fans to do the 'Shoey' was a joy few other sights could've matched. Maybe not even a forthcoming candid Lewis' confession had he been on the podium, "You are the best fans Shanghai." And perhaps not even a rare Kimi chuckle, that might have appeared on a full moon night five summers ago.
Not that there was any dearth of drama even as a Finn occupied the third step on the podium. But you could say, regardless of being a Merc, Ferrari or Red Bull fan, one couldn't have asked for a more dramatic race, sparked by no dearth of drama and action as the 2018 Chinese Grand prix that began with Ferrari holding the edge and ended with Ferrari and Mercedes being outplayed by the honey-badger from Red Bull.
And that said, one couldn't have asked for a more dominant display by car number.3 in consuming everything in its wake here in Shanghai. Or for that matter any challenge that posed a threat to its occupation of the top step of the podium. It could be said that so enthralling were the 56-lap proceedings here in Shanghai's commercial magnanimity that even the podium finishers formed a sequence that hailed or echoed a Red Bull assault. Ricciardo, Bottas and Raikkonen forming a semblance to the abbreviation of Red Bull Renault. Not too much of a surprise then that the first race Daniel Ricciardo's team ever won came here in Shanghai back in 2009.
But ironies be put aside, when was the last time one saw a Sebastian Vettel- current championship leader- go on to win a race having begun from P6? If one needed an instance to prove that Ferrari's dominance thus far could be shackled or tampered with, then the Chinese Grand prix was the proof. Double-stacking in pits, strategic wonders and, furious pace- Red Bull proved that they are at par, if not ahead of the two usual suspects of the season in front of the grid.
And if one needed an instance of learning just why Daniel Ricciardo- currently 5th on the drivers' standings- is considered a master of late braking, then the Chinese Grand prix could serve a guide to universal reference. In overcoming the arduous challenge of driving feistily through the 16-corners of the 5.45 km track, Ricciardo's devoured his opponents like a shark hunting swimmers, revellers in peak-beach vacation season. His first victim being Raikkonen in the latter half of the duel saw the Finn unable to exact anything from his SF 71H as the Aussie came from way behind, dived inside making use of the slipstream and shot past with the Ferrari seeming like sitting duck.
Next up and arguably the best move of the race saw Ricciardo storming down the inside of another Finn- this time, race leader Bottas- and dive sharply into the outside of the dominant Merc right at the edge of a tight right hander as the role reversal in leadership positions came about giving Red Bull the decisive edge in lap 46 with just 10 to go. From there on, it was to be a one-sided run to the checkered flag with the precedent of the eventual win being set 10 laps from the race finish.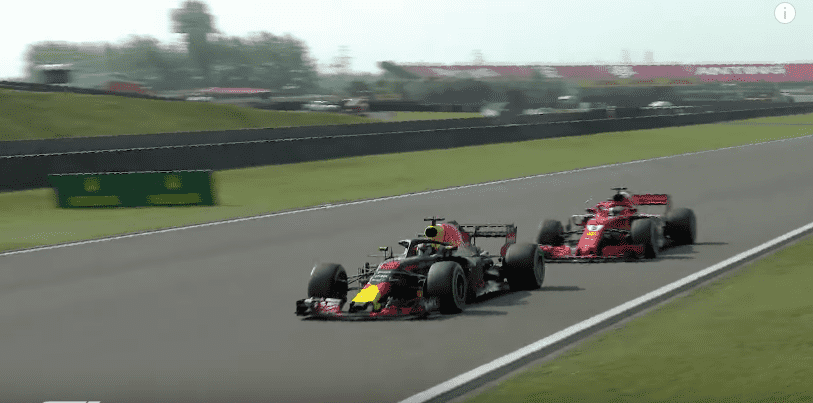 All that said, it can't be discarded that the mayhem caused by Max Verstappen- no wonder described by fans as Mad Max- toward the closing stages helped turn the fortunes of the Chinese Grand prix. Not before his clipping Vettel in a move that very nearly wasn't did the race seem to be going in favour of Mercedes and Ferrari. While it did lead Verstappen to earn a demotion in the race that meant he rendered his own undoing, not to forget his actions altering the direction the 2018 season had been heading to, it also unfortunately resulted in Vettel dropping back down the grid to come under the attack of Alonso.
While the Shanghai Grand prix did produce both- ecstasy for race winners and a consolation podium apiece for Ferrari and Mercedes- the biggest takeaway as fans would be it producing a thriller in a season that had so dominantly been heading the Scuderia's way. Could this be the sign of things to come?