2015 was a significant year in the journey of Formula 1. While at the outset, it was 65th year of the highest form of Grand Prix racing as we know it today, if one were to delve a little deep, it would be fond that it was a significant season for some of the younger drivers of the sport.
In fact, two of the finest and most promising talents had marked their debut at the highest annals of Grand Prix racing back in 2015. Today, they are well set and driving the fastest form of motor-racing to new peaks.
In 2015, a year synonymous with Lewis Hamilton's maiden world championship with the Mercedes Formula 1 team, the likes of Carlos Sainz Jr. and Max Verstappen made their debut.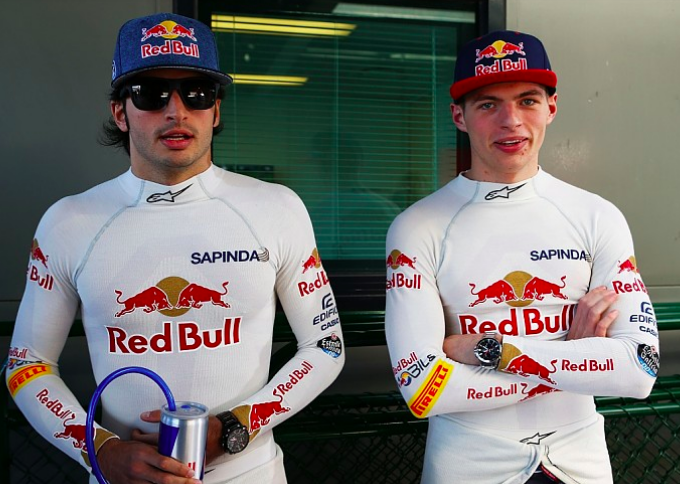 And that's not all; the Spaniard and Dutch driver teamed together at Scuderia Toro Rosso and boy, one saw their contest reach some exciting levels in their very first year as a pair.
Today, half a decade since both Max Verstappen and Carlos Sainz Jr., we have one man who's taking Red Bull to great heights and the other is all set to make his highly-exciting and much-anticipated Scuderia debut (for 2021).
But that said, let it not be forgotten that in Max Verstappen and Carlos Sainz. Jr.'s hands rest the future of the sport. Both highly-skilled drivers who are driven by a common aim- to go fast behind the wheel of a car- are primed to raise the next generation of Formula 1 racing with their distinct driving styles.
And where the recent announcement of Carlos Sainz. Jr.' future move to Ferrari is concerned, it can be said that there are some who are excited by the prospect of seeing the Spaniard race in red overalls.
That being said, here's what a noted former driver had to say about the idea of seeing Carlos Sainz. Jr. contesting with Max Verstappen. Because if you were to think of it, then it's not hard to find that in recent times, despite racing in a vastly improved McLaren (his current team) Carlos Sainz Jr. didn't have the car to battle it out with Max Verstappen in a much stronger Red Bull.
Isn't it?
Although, the context of that bit of rivalry could very well change come the next season.
On this aspect, here's what Pedra de la Rosa had to say about Carlos Sainz Jr.-
Carlos was very close to Max Verstappen and they consider him to be one of the best or perhaps the best F1 drivers at the moment."
That's not all. The famous figure in the commentary box also shared:
"Sainz is better than some people think."
Furthermore, he would also regard that the Spanish driver can very well challenge his Danish counterpart and that could make thins interesting on the grid.
He would further say, "Spanish drivers are going to make Verstappen very tough."
Pedro himself has driven from teams like Jaguar, McLaren, and Sauber. He also said that "all stars line up" for Sainz who is young but experienced. "If I were Mattia Binotto, I would seriously consider having a Lecler-Sainz partnership", the Spanish driver said earlier this month.