Calm, collected and above all, a driver of a high pedigree- if there's a man generally all wish well for, then it's the experienced German Nico Hulkenberg.
He gathered a very strong and respectable fifth the last time he drove around the famous Hockenheimring, home of the German Grand Prix. The P5 at the end of the checkered flag meant that his Renault had fared very decently back then.
This year, coming at the back of some impressive races, he was expected to finish strongly at his home race, a venue where lest it is forgotten, the Emmerich Am Rhein-born hasn't failed to score a point ever since the 2013 German Grand Prix. And he really may have wanted to add a few to his tally, having gathered 17 so far, standing eleventh on the driver standings.
Truth be told, it did appear for a while that Nico Hulkenberg would finally get to do something he hadn't achieved in 168 Grands Prix: manage a podium, something that's remained elusive in his career so far.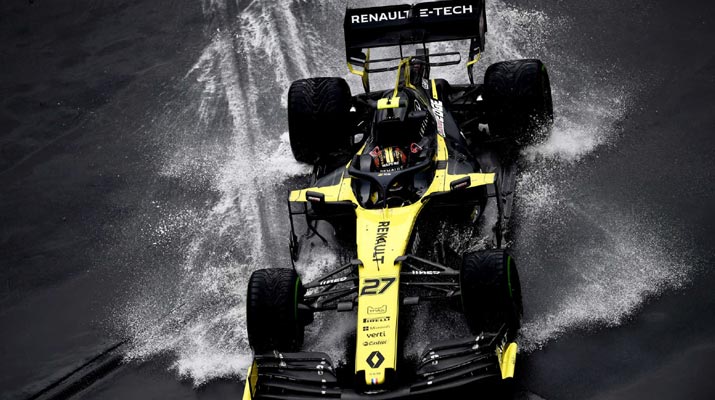 And it did appear that in the 2019 German Grand Prix, one of the craziest and unpredictable races that we have come to see in a while that Nico Hulkenberg would finally laugh in the face of his critics and detractors.
From the onset of Lap 35, as the battle between Nico Hulkenberg, P4 and Kimi Raikkonen, P5 intensified, the Finn seemed determined to put everything he possibly could have in cutting down the big gap to the German ahead.
But even as Kimi would've fancied his chances, it didn't seem that Hulkenberg, who began pushing hard, would relent. At that time, the chances of the Renault driver finishing strongly seemed realistic with only 25 more laps to go.
Then for four straight laps, the order at the front of the race continued unchanged, as Bottas dominated the proceedings.
Nico Hulkenberg, who had driven with all the calmness and focus in the world on a track marred with relentless rains was giving it his everything. At one point, he was even up into the podium places. And then, on Lap 39 – just what did one see?
It was one of those twisted moments where all the hard work put in by a driver was completely outdone by the increasingly difficult driving conditions. While some cars struggled with a certain lack of grip, others barely managed to maintain sturdy race-pace.
But Nico's issue, on Lap 39, was down to his own inability to maneuver the car safely back into the track limits, once he spun out, spiraling out of control, having skidded away.
Hulkenberg spun around completely and contacted the barriers at Turn 16. This would be a position from which he wouldn't improve. What had seemed until the beginning of Lap 39 a very determined effort, the 'Hulk' finding himself in contention of a podium spot was left to the ruins. All the effort, having climbed up several places despite beginning from ninth on the grid was spoilt.
It takes a driver several ounces of sweat, countless minutes of focus and sheer precision to keep everything in control only for one tiny freak nan-second of uncontrol to spoil it all.
But this wasn't the only Renault that failed to collect any points. Quite early in the race, his Australian driver had retired due to an engine malfunction.
This is when Ricciardo had been battling well with the likes of Kvyat for eleventh.
Upon exiting his car and reaching the team garage, Nico admitted the following with a heavy heart
"I don't know what to say. Fantastic effort from the team, from myself. Then, I lost the car for one moment in the wrong corner in Turn 16," he said after the race.
"It's not normal asphalt. It's some kind of ice-skating track. Once I was there, I couldn't control the car.
"I would be accelerating rather than decelerating, and you saw the result – I slid into the wall.
"It's hard to swallow. Sorry for the team, they did a great job."