In the land of pasta and pizza, there could be probably nothing more sumptuous for a driver than to have a meal peppered with great speed and daring overtaking. Thankfully, that is what a track as splendorous and historic as Monza is known to provide.
But while it is unknown who will prevail at the 2018 Italian Grand Prix, there's a lot out there that 
The Italian Grand Prix is one of the two longest-standing events in the checkered history of Formula One. 
The 2018 Italian Grand Prix will be another enthralling instalment of a massively celebrated event in the top echelons of motor racing.
Together with Silverstone, home of the British Grand Prix, the Italian Grand Prix is the only event that has enjoyed a non-stop run since the inaugural season of F1, held back in 1960.
Being the home of the Tifosi, the 2018 Italian Grand Prix will once again mark the decorated homecoming for Ferrari- the contests' most successful and vibrant racing outfit.
Presenting contrasting fortunes for two of the most imposing teams in the sport at the moment, the 2017 Italian Grand Prix was marked by polarized fortunes for Mercedes and Ferrari.
While Mercedes were able to lock in an impressive 1-2 on the podium, led by Hamilton's charge ahead of teammate, Bottas, Vettel could only go as far as grabbing a fighting but modestly impressive P3.
It didn't help that Raikkonen failed to finish inside the top four.
Given both Vettel's superior showing at Spa-Francorchamps and Ferrari's failure to win last year, the 2018 Italian Grand Prix, therefore, promises to be an ever more fascinating contest this time around.
That said, what are the 5 things to look forward to at the 2018 Italian Grand Prix?
Vettel's current form
Having collected five wins this year, Vettel's form has been dominant at circuits like Australia, Bahrain, Canada, Great Britain and, Belgium. Through a string of impressive victories, Vettel has done his bit, so far, to ensure that Hamilton's doesn't get away easily.
But the contest is far from over.
The German would be aware of the fact that hasn't quite been at his best under wet weather. The current standings might have been different had Vettel held on to the track position at Hockenheimring.
At the end of the day, it was advantage Lewis and perhaps hundreds of thousands of hearts sunk seeing Vettel sliding out of track and colliding into the barriers.
That said, Vettel, held on bravely to a fighting finish at Hockenheimring where he'd aced the contest in 2017. Thankfully, he'd enter the mid-season break holding on to second but that he trailed Hamilton might surely have played on his mind.
Then, at Spa, Vettel provided a master-class in raw pace, aided by Ferrari's massive speed advantage over rivals, Mercedes. A win to begin the climax season was the way to begin.
That leaves us with an engrossing query. Can Sebastian Vettel produce another win at Monza?
Here's why it is massively important.
As it stands at present, Vettel currently trails championship-contender Lewis Hamilton by a margin of 17 points. At 214, Vettel would ideally want nothing more than to bring down Hamilton's gap at the front courtesy a fiery win.
Should it be another demonstration of Ferrari's imposing pace, it will also help Vettel dent Lewis' confidence a bit. In matters of mental advantage, that could play its own part.
But where stats stand, Vettel's overall run at Monza hasn't quite been as dominant as his performances at contests like the Australian Grand Prix or circuits like Sakhir.
The last that Vettel won an Italian Grand Prix was way back in 2013. Since then, only one team has exulted at the famous F1 venue.
Perhaps it suffices to say that at Monza, it's the Silver Arrows that have struck gold.
And that is precisely where Sebastian's teammate, Kimi Raikkonen will have his role to play.
Can Kimi grab his 100th podium at the 2018 Italian Grand Prix?
Regardless of whether a race is won by Hamilton, Ricciardo or Vettel, usually everyone is happy when Kimi wins.
The sad part is the 'Iceman' hasn't won a single race since his triumph at the 2013 Australian Grand Prix.
But despite that elusive win, Raikkonen's recent form, marked by five back-to-back podiums starting Silverstone, Le Castellet, Spielberg, Hockenheim and, Hungaroring has proved that he's still got the stomach for a fight.
What would be even more fascinating to see would be whether Kimi Raikkonen manages to grab that all-important hundredth podium in his career, a special landmark of sorts for any driver?
Should he catch that 100th podium, a rare achievement for any driver contesting in the topmost level of motor-sport racing, Raikkonen would extend his points tally in the driver 'standings, where he's currently third, behind Vettel.
Moreover, he would be mindful of the fiasco at Spa-Francorchamps as would hopefully his racing crew who went unpunished for clearly compromising his race.
Can Fernando Alonso make it count at Monza?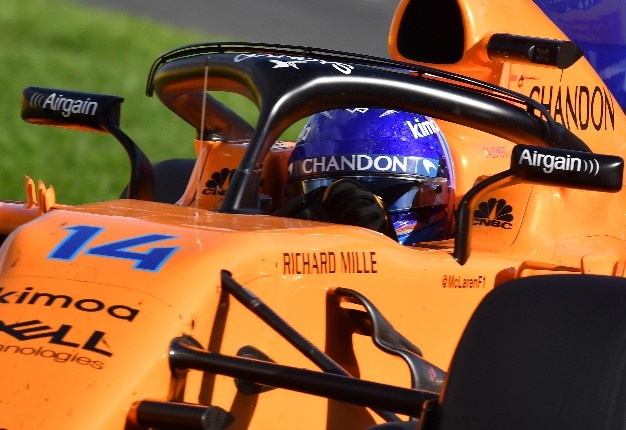 Fernando Alonso shall enter his last Italian Grand Prix at Monza this weekend. This is a track where he's been a two-time winner previously.
While a win is surely out of question, what will be important from Fernando's point of view would be to capture as many points as possible in competing in a McLaren that's often given the likes of Renault and Haas a solid run at France, Azerbaijan, Monaco and other tracks.
It wasn't an ideal contest for Alonso at Spa last weekend. But El Nino would want to make it count and remember some of his best times at the Italian Grand Prix, a fantastic evidence of which was his 2007 win.
Can Ricciardo finally manage a win since his win at Monaco?
The last Grand Prix that the ever-smiling 'Honeybadger' clinched came at the Principality of Monte Carlo. It was a dogged triumph, rightly labelled a vindication for Daniel, who failed to convert a pole in 2016 into a win.
Nevertheless, of late, Ricciardo's form since the conclusion of the Monaco Grand Prix has been visibly lacklustre.
For a driver of his immense skill and obduracy, qualities that have resulted in Ricciardo being hailed as a 'master of late braking' it doesn't help to note that in the last 7 races, the Red Bull driver hasn't bettered P4, his best finish, a troika of which he'd repeat at Canada, France and Hungary.
A win for Ricciardo would also up his morale in his battle with teammate Verstappen and would hold him in good stead to compete with Bottas for valuable points in the driver's standings.
But where Monza is concerned, a track suited to Red Bull's impressive straight-line speed, it's rather surprising that Ricciardo hasn't even bagged a podium let alone a race win.
Time to change the dubious stat here Dan-Ric?
What can Monza unfurl for the Vettel vs Hamilton show?
Questions run abound as to what might or what might not happen at Monza. Another win for Vettel would mean that he would assuage the threat Ferrari have been facing at the back of Mercedes' great consistency.
It shall further do Vettel's own form a world of good and would make him enter the Singapore Grand Prix, with a lot more confidence that what he would face in the wake of a Lewis win.
On the other hand, should Lewis do a repeat of the 2017 effort at Monza, where the Ferrari's proved no match to Mercedes's powerful show would indicate that the fight to the championship is only going to get hot and more intense?
Vettel and Hamilton being daggers drawn would also pay heed to an important statistic. Another win for Sebastian would make him tie his tally with Lewis', Hamilton currently with 4 wins to Sebastian's 3.
Against this narrative, should the likes of Red Bull- perhaps the wild-cards amid a Mercedes vs Ferrari show, courtesy Max and Daniel's wins this season- manage to steal another win, they'd leave the two frontrunners gutted.
In either way, fans and the racing community have in front of them all the makings of a titanic duel that could go anyway.
It's once again, all to play for at Monza. Lights out and away we go at the 53-lap contest. The famous parabolica, the imposing chicane and the nerve-twitching high octane contest where cars ace blast past at speeds in excess of 320 k/hr should be fun.