There are tracks that favor straight-line speed. Think Monza, think Abu Dhabi. There are tracks that are biased toward corner speed. Put Hockenheim, Albert Park, Hungaroring in there. Then there are tracks that seem to favor high downforce where you just hope the rear of the car wouldn't give up on you.
You think of Silverstone in this regard. A challenge that becomes an irrepressible duel given the 5.89 km-long track is peppered with 18 rip-roaring turns, including right-handers that pose a bit of a challenge at cars running in blindingly fast speeds to control the turbo-charged machines in this hybrid era.
It also happens to be a track where the game isn't just about straight-line speed or corner speed specifically; rather a feisty combination of the two. Quite like the way the contest isn't only determined by the speed charts, rather about the one's who manage both tyre-wear and that 'bang-on' strategy.
Perhaps that's where it spices up things so nicely.
With no fewer than seven decades of racing, this challenging circuit is punctuated with high-speed corners that are bound to test the wide-tires, wider-wings, and the cutting-edge suspension that the twenty cars lining up on the famous grid would consider a heck of a challenge to overcome.
Think of a entering a dungeon laced with darkness before experiencing light at the end of the tunnel?
Well, in the next few hours, come Saturday, all ten teams would want to push and go to the limits in extracting the pace and balance from their package.
But the pressure, truth be told, will be on those nine teams challenging Mercedes' authority on a track where, rather famously, they've enjoyed a nearly outrageous dominant streak.
Their last two triumphs, 2018 and 2019 indicate a winning span of the size of a mouse.
But don't let recent history fool you.
Barring Webber's dominant 2012 win (Red Bull) and Vettel's 2018 victory (Ferrari), an episode tied largely to the German making most of Hamilton's opening-lap set-back, it's been all about Mercedes at a venue that's considered the spiritual home of F1 racing.
This basically means, over the course of the past eight runs, the Silver Arrows have enjoyed a golden streak of dominance at Great Britain, winning on six occasions.
And that local-hero Lewis Hamilton won on four consecutive occasions at this former war-time airfield (2014-17) makes the stylish venue a daunting challenge that not many feel comfortable enduring.
Think of the twin Ferraris of Kimi Raikkonen and Sebastian Vettel that tried to outsmart their way to the front of the grid in the closing stages of 2017. While Vettel immediately retired owing to massive tire-burst, Raikkonen, somehow managed to crawl his way to a fighting P3.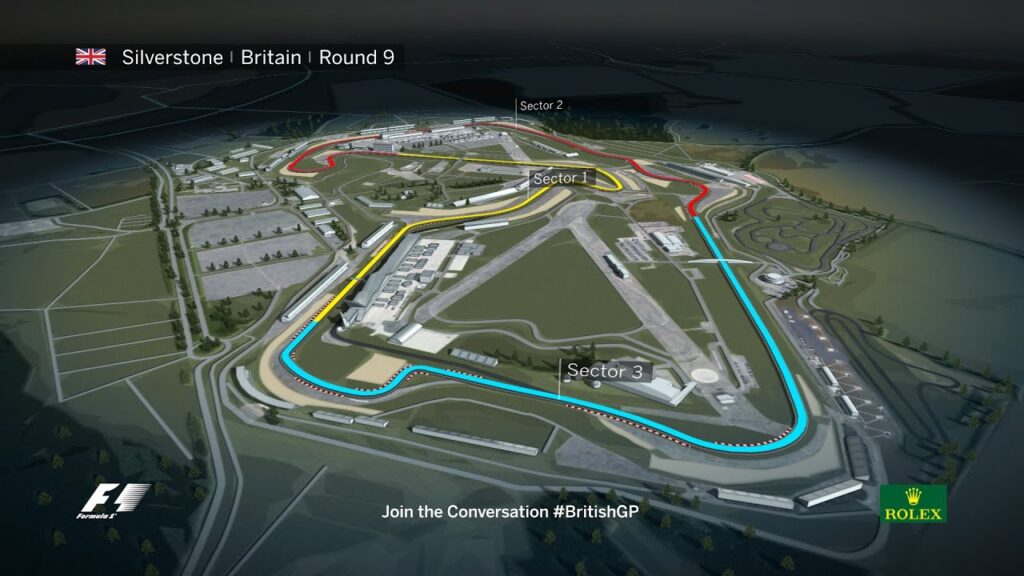 Looking at the Finn rather surprisingly albeit sans any discomfort as he stood at the top step was the man who is poised to storm to a win, if not two starting this weekend as Silverstone will happily blast away to its 70th race for F1 on Sunday, with the second race poised to take place immediately a week afterward.
A wickedly-competitive circuit, if you were to rewind back to 1987, then recollecting Mansell's excellent move on Piquet on the straights would offer an explanation as to why there's often both- agony and ecstasy at the home of the British Grand Prix, like in Williams' case, as one driver raced away to a glowing lap culminating in a thrilling win, the other had to concede the track position, whilst both contested in the same machine: the '87 Williams-Honda FW 11, oh those V6′!!
But undoubtedly, heading into the race weekend, Mercedes would feel confident not only because of their car, proving once again the German team's absolute superiority but much of it would be down to the consistency of the Hamilton and Bottas duo.
In regular F1 lingo, it may no longer be unsavoury to call this duo Usual Suspects; a fiery but coolly focused pairing that habitually occupies the front-end of the grid, and at the end of many a contest, the headlining position.
That barring 2018's Vettel win, Hamilton and Bottas have won every single contest starting 2014 should offer their rivals a vast idea of who's going to have a lot to say come 2nd August, 2020.
Maybe, that is why sights such as a last minute glimpse of brilliance (of the kinds we saw) from Lando Norris at the curtain-raiser (of this truncated season) at Austria should be just the kind of antithesis that would add more melody to what is usually a Mercedes-orchestrated proceeding. No?
That Silverstone isn't only just Lewis' but Lando Norris' home race too should offer the excitement to one of the grid's finest youngster's to raise his game on Sunday. Don't forget George Russell- time to finally break in with a points-finish? How about a P10, George?