Four straight driver and constructors title will make Mercedes a team that's really happy but one that doesn't quite feel the elation until it bags another crown in its stable. 2018 begins and might possibly end with Mercedes being the top draw in the dynamic, adrenaline-spiked world of Formula 1. Can they go even better in 2018 and become the only team in half a decade of the sport to bag 5 driver and constructor titles? It's a possibility that will not only be the key facet anticipated by fans but also one that would keep their numero uno rivals- Ferrari- to the tenterhooks.
Already, the feeling from the winter testing at Barcelona is that Mercedes have got of to a stellar start- the new car going as fast as it possibly should. Remember, in the realm of the "Silver Arrows" it's never a question about what "could", but in fact, what will transpire.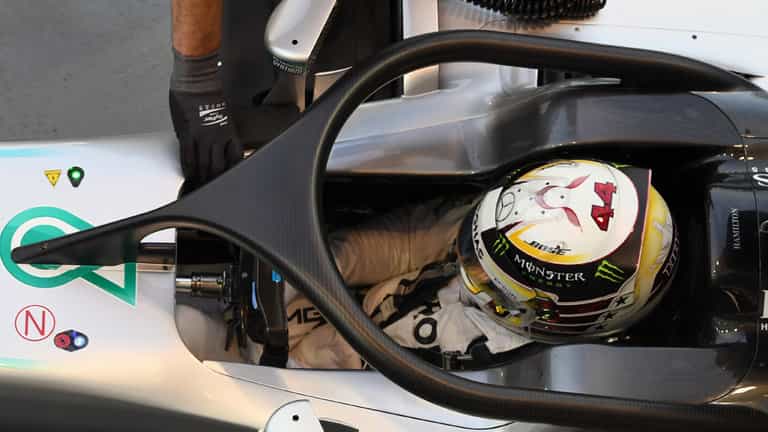 Among the 2018 teams, Mercedes completed the most number of laps. Their astonishing number of laps 1040, being 111 laps more than those clocked by Ferrari. This also means that spectacular racing outfit have given themselves 500 km of more testing distance than any of their rivals- whether Ferrari or Red Bull.
An important factor that has therefore transpired from the entire gamut of winter testing is the incredible reliability of the Mercedes car, which might ultimately be the edge that puts their opponents to the brink. It's not easy to forget that back in 2017, both Ferrari and Red Bull were dealt major blows by their car's reliability issues that hurt the teams in important Grands Prix of Silverstone, Sepang, China and others.
That said, all previous doubts about their qualifying pace, which couldn't be gauged simply because the team didn't go for a qualifying simulation were put to rest with Hamilton clocking the fastest time in Friday's free practice. Can he outpace Vettel at Australia is the big question right now. Bottas too would be expected to mount the pressure as Saturday's all-important qualifying round comes about. We've seen what he's capable off on the ever so vital sessions on Saturday's, driving into Sunday's the race-win advantage.
But where you talk about the car, particularly from the previous seasons, a thing stands out. Having the dynamic combination of great reliability coupled with an excellent aerodynamic package- that has induced superior pace- even through tricky corners and extended straits has offered Mercedes an irrepressible edge that neither Ferrari or Red Bull have been able to thwart. There are few doubts whether this won't be the exact same scenario in 2018.
Which will effectively mean, it will be enormously challenging to shake off Mercedes from the top of the podium. But this is exactly where there seems to be a minor thorn in Mercedes' path. Back in the Red Bull contingent, the car's been going fast as it has ever. This means, the familiar sight on P3 on the constructor standing seem to be much closer to the leaders than they were last year. With their trademark development speed kicking in later in the season, as it so often has in 2017 and 2016, could well stifle Mercedes' wholesome advantage.
But we will have to wait and see what eventually transpires. But all that said, the driver pairing- Hamilton and Bottas- seems to be as close-knitted and in a happy zone as it's been ever. Especially when one considers the combustible equation that Hamilton had with 2016 World Champion, Nico Rosberg.
There also seems to exist a very healthy intra-team rivalry. The two drivers seem to complement each other and don't seem driven to extremities to prove a point to each other. Mercedes' backers would particularly remember the spectacle wherein Hamilton, in failing to go past Raikkonen, challenging for P2 at Hungary, offered the place back to Bottas, after he'd requested the team to allow him through. This reaffirms the faith of their doubters; about Hamilton being his 'own man.'
But Lewis Hamilton- with his unmatched levels of consistency and brute pace- still holds the top end of the driver's spectrum. He is still, very much the threat that will both challenge and drive Ferrari and arguably, his greatest rival thus far- Sebastian Vettel. In what could possibly be another world title for Lewis in 2018, could well define the way his rivalry with Sebastian Vettel shapes up.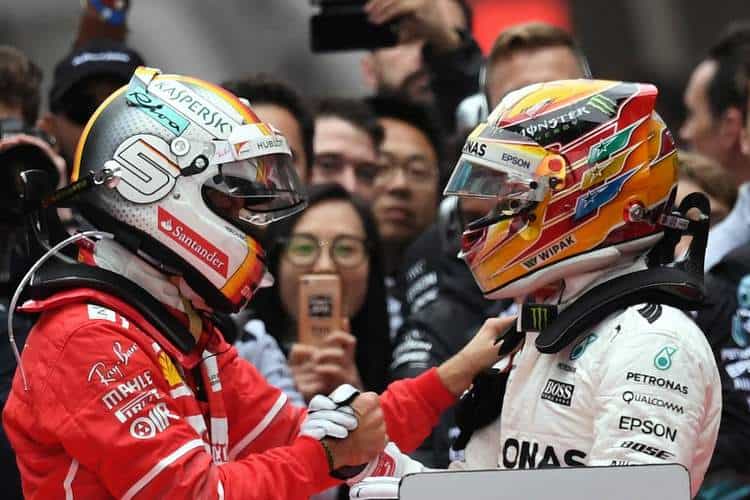 Till then, would we have the spectacular wheel-to-wheel racing this year as we saw at Spa in 2017 or the fiery bouts of temper at Baku- it's anyone's call.
| | | | | |
| --- | --- | --- | --- | --- |
| Drivers | Races | Wins | Podium | Standing |
| Hamilton | 20 | 9 | 13 | P1 363 |
| Bottas | 20 | 3 | 13 | P3 305 |