13 February 2019 might seem like any day but perhaps at the conclusion of the 2019-season, it could well be the date that unleashed yet another championship winning car for Lewis Hamilton.
That said, should that be the case, Ferrari's worst dream, Hamilton's rip-roaring machine- Merc fans would hope- is here.
Make way for the Mercedes 2019 F1 car – the W10.
New year. New look. Same target 👊#WelcomeW10! ✨✨✨ pic.twitter.com/hrIZLNdLO2

— Mercedes-AMG PETRONAS F1 Team (@MercedesAMGF1) February 13, 2019
That said, a team that has, for the lack of a better word, dominated proceedings akin to a ruler exulting with an iron-fist, is back.
In a season that could potentially unleash varying fortunes for the two leading men on the grid- another low for Vettel or a sixth world title for Lewis (thus far, the German's antithesis), or vice-versa- it'll be interesting to note that the Mercedes 2019 F1 car can offer.
It's here 🔥 What do you all think of the new livery this year?! 🙌🏾 I am seriously excited to be driving this car for the first time today! Stick around for more…✨ #WelcomeW10 @MercedesAMGF1 pic.twitter.com/lb2IkwK3TV

— Lewis Hamilton (@LewisHamilton) February 13, 2019
But for starters while the likes of Red Bull, also to unleash their racing beast on the same day would be curious to know their contemporary, would Ferrari be on their toes, some birdie in Maranello may think so.
Along with Red Bull, the Mercedes 2019 F1 car will be among the first cars to hit the track- where the usual frontrunners of the grid are concerned, the likes of Haas having already unveiled their 2019 challenger.
But a question is ought to be asked.
In this turbo-powered era of Mercedes dominance, is W10 the car that five-time world champion can use to defend his title? Or will Vettel and now with youngblood Leclerc will help Ferrari bounce back?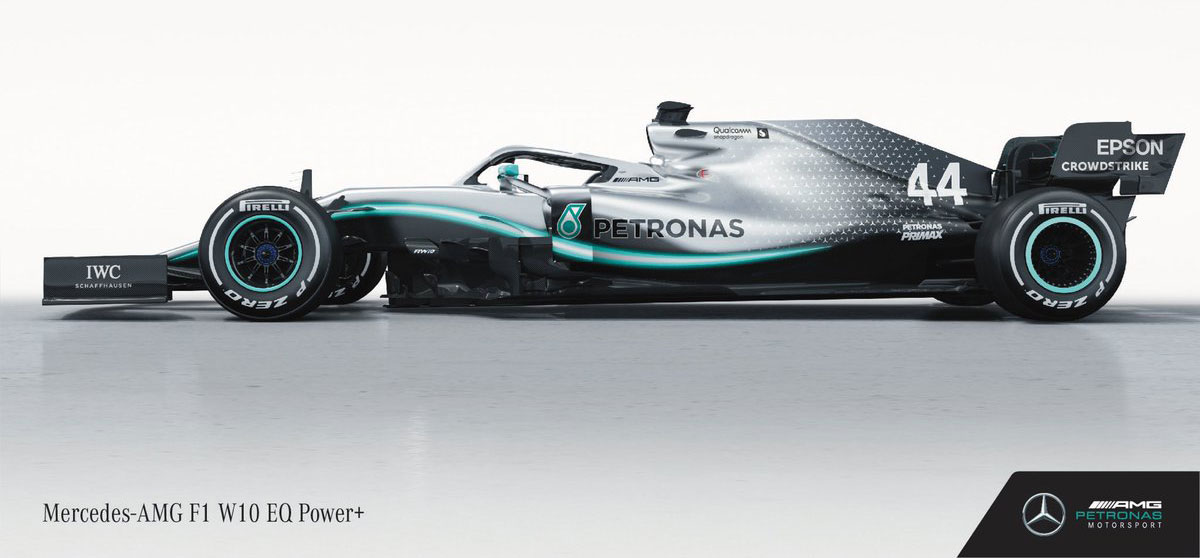 The list of questions runs endlessly.
But that 74 of the last 100 Grands Prix have been clinched by the numero uno stander on the constructor's rankings, the expectations from the W10 are going to be nothing shy of humongous.
Specific features or facts are as follows:
The car will be first tested by the winless Finnish driver of 2018- Valtteri Bottas (7 fastest laps, however) who can be expected to bounce back this season for in the changing vagaries of the sport, nothing's certain, right?
That said, with revisions expected to be made in the front wing, rear wing, probably, the other parts as well, it can be expected that the aerodynamic functioning of the car may only get better.
So what's it going to be, come March 2019?
What can Hamilton- easily the fastest and now, the successful man on the grid going to make out of this car.
Will the familiar Mercedes reliability rise to the fore and ally with Hamilton (Mr. consistent) to help Mercedes ace all?
Or will there be a sledgehammer that Ferrari will produce this season to silence their critics, some of whom may no longer be able to denounce their favourite subject of bashing: Lewis and his team?
While the slew of these questions has no formidable answers for now, what one does know given Mercedes and Hamilton's stellar alliance- as seen in the past half a decade- is that the duo will leave no stone unturned to garner nothing but the best. Right?
But in order to see whether that transpires for real, we will have to wait and watch. Lights out and away we go… in March!