July 2018, Silverstone, the home of the British Grand Prix.
We are in England; the country of Thatcher supporters, Theresa May haters, a nation renowned for being home to Harry Potter, Her Majesty's Secret Service and, Boris Johnson, along with his hairdo.
But it's all sad and sombre.
It's not hard to know why.
At the conclusion of 2018 British Grand Prix, Silver Arrows are fretting and the Red 'devils' celebrating.
The events at Silverstone may surely go down as amongst the greatest upsets ever caused in Formula 1.
No one was hurt, no physical injuries, no fatal accidents.
But not all injuries are physical in nature.
Someone's heart was broken and no, it wasn't a heartbreak of that sort.
Lewis Hamilton (The king of Silverstone, Emperor of motor-sport racing, Four-time World Champion, Roscoe's buddy, Justin Bieber's bestie, Robserg-basher, Brundle's crush and Niki Lauda's adopted son and future-star of the Prince biopic) was denied what would've been an enthralling victory.
But no one denies Lewis Hamilton a race win. Well, unless, of course, it's Ferrari. Bloody sour losers.
It is believed, so exhausted was the 2017 World Champion that he could hardly stand on the podium. But that he did, eventually for 47 seconds, (withstanding the odious personalities of Raikkonen and Vettel flogged beside him) by which time Martin Brundle had all but crowned the Mercedes icon the race-winner.
Hamilton displayed nothing but bravery.
Yet, something was amiss.
Some piece of his heart was burning. And, it wasn't acidity.
"Why on earth did this happen to me," rightly wondered Lewis, as did hundreds of thousands of Hamilton fans- self-included- but what had happened had happened.
Our brave man wasn't going to quit like this. He isn't the one to relent.
His words on the podium echoed universally, the anguish behind reverberated.
"Interesting tactics by them". These would be followed by "Who knows when the red cars might do it again?"
These were the words- loud and clear- like every single line a Zepplin fan remembers from the Stairway to Heaven. Of course, what had transpired on a glum Silverstone afternoon was hell for Lewis and Mercedes.
Where was the heaven?
If you thought, that Hamilton simply packed his bags and unceremoniously eloped in his private Jet after the press conference, then think again.
You have zero clues as to what happened thereafter.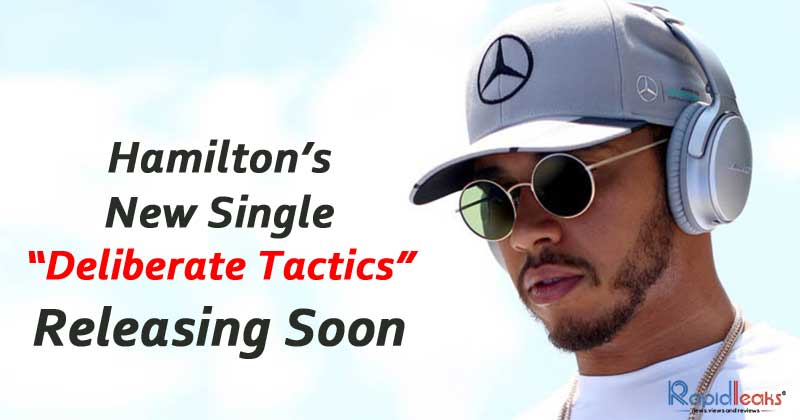 Lewis, it is now confirmed, headed straight to London. Off he went to the legendary Trident Studios, part of a strong cultural fabric of Queen's England.
It's reported that Hamilton would unfurl his creative side, let loose those dark demons.
The artist behind the wheels was the artist behind the microphone.
It was Hammertime, of a different kind.
For a change, chucking the simulator, Lewis Hamilton was in an engaging company. He was flanked by a sound-recordist, videographer, pen, notepad and his electric guitar; Roscoe would listen attentively in the background.
Putting on those dark shades, Lewis Hamilton unleashed his pop music side and came out with a track that would beat even Spa-Francorchamps or Suzuka for its sheer twists and turns.
Chances are, after hearing Lewis Hamilton's pain, the voice of dissent, the acrimony of emotion, even Kimi might burst into tears; tears of regret. That how dare he…
Well, let's cut the bull and let's jump into the groove. Rumour has it, Elton John and Justin Bieber fainted in admiration of hearing "Deliberate Tactics"
Here we go then DELIBERATE TACTICS- by Lewis Hamilton
Racing is not child's play, racing is no lie, racing is not just tears or bloodshed
Racing is my life
Pole's I have many, races, I've won too much,
but nothing beats the feeling of winning again, as such
I was born to race, yes born to race
But you Ferrari- you are a disgrace
I was brought up to fight, in fighting for podiums is my God-given right
But you scornful Tifosi,
You drivers in the red, you evil killers of track positions
You better not get out of your bed
I say this with dread,
I say this not on purpose,
To me, to my loving fans, it all seems
spoiling Merc' race is Ferrari sole purpose
I say to you dear o dear devil
I say this to thee
Come Germany, Japan,
Belgium, or even the next Azerbaijan,
Don't you Kimi, even you Seb, come near me,
There was once this little me,
Who stayed on Playstation longer than anyone you'd ever see
Every time I raced I was always Kimi,
Now, as I race man-to-man
I see whining children around me
There's no He-Man
And broken is my heart that my videogaming star
Is the one who clipped my wings,
Oh Roscoe stop playing with my guitar,
I warn you, Ferrari, today,
To watch out every single race,
Coz am fed up with those deliberate tactics,
You unleash race upon race
Tell your boys to be a man and prove it on the track
Don't touch me, come near and then show you can attack
Coz am fed up of those deliberate tactics,
You unleash race after race
________________________x x___________________
Virgin Records have told that FIA plan to launch Lewis Hamilton's new Grammy-worthy single at Grauman's Chinese theater in LA. And no invites have been sent, thus far, to the Ferrari crew.
Disclaimer: this is just a harmless, light-hearted read, not intended to hurt Lewis or any of his adoring fans, one of whom, I certainly am.
It's purely meant for being read in good spirits.