Land of the wind- it is called and it became land of sparks and tense nerves very quickly indeed. As always, there's anticipation when the phrase "Five red lights are off and away we go." But at Baku, you just don't know what's in the offing. And none knew- surely not even the podium finishers- as the red turned to green and the hitherto clear track found itself peppered with debris within seconds of a very feisty, very-thrilling 2018 Azerbaijan Grand prix.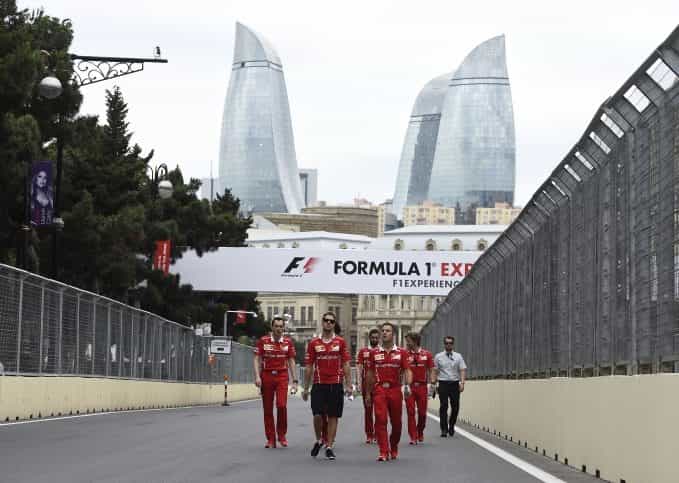 It wasn't too hard to know why there's never a dull day at the Azerbaijan Grand prix. How can there be, when you have contact in the opening lap at Baku- the second-fastest track on the F1 calendar?
Usual opening lap skirmish, usual suspect at receiving end
In closing the door immediately on Ferrari's Kimi Raikkonen- who challenged Esteban Ocon for seventh, the Frenchman collide with the front of the Ferrari on Turn One. This effectively meant that an unscathed run by the field in the run up to Turn One was splintered by debris at the left-hander. Raikkonen limped back into pits to repair a broken front nose as Ocon parked his car by the side of the track. Meanwhile at the head of the race, Vettel dictated terms, having begun cleanly and induced a two second gap over second-placed Hamilton who was followed by Bottas.
Meanwhile, impressive battles ensued at the mid-field with Renault outpacing the Red Bulls. Not only did Carlos Sainz Jr.- eventually the only Renault driver to collect points pass both Red Bulls of Ricciardo and Verstappen- but Nico Hulkenberg pipped the two contesting cars to dominate the show. Struggling for grip and traction, the Red Bulls lacked everything that the Renault's demonstrated- including better race pace. And by Lap 11, an intra-team battle between Ricciardo and Verstappen had begun with the Dutchman gaining on the Aussie.
Raikkonen fights back
Kimi Raikkonen, at this time, stuck into twelfth, made a couple of places up to tenth, passing Leclerc and later, the Force India of Peres to dive inside Top Ten for the first time. However, a collision around the opening few laps marred Fernando Alonso's race in a steady McLaren who had to literally hop into the pits to undergo repair. He would fight back later
By Lap 21, by which time Hamilton dived into the pits, Vettel had been holding off strongly from the Briton before coming in at Lap 30.This meant that Bottas was now in the lead. At this time, Hulkenberg, who had looked so promising hit the outside of a wall and registered a DNF at the very spot he'd retired in 2017. Laps 30-34 were relatively staid and docile at the front of the grid for the top three men. But at the midfield, being stuck for nearly 12-15 laps behind his teammate, Ricciardo dived into the inside of Verstappen in a fighting move on the extended Straights- with a length of 2 KM, Baku having the roaster's longest- to surge ahead.
However, from lap 35 to 40, Baku had something else in store for fans and drivers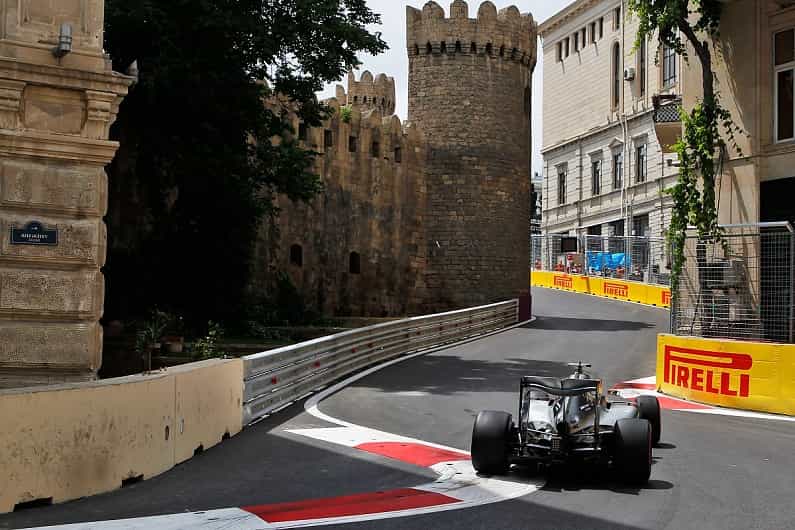 It could be said, the surprise element this time was completely unbeknownst, not even plausible in wild imagination. Firstly, Verstappen emerged ahead of Ricciardo, with both Red Bulls pitting nearly at the same time, the Aussie having pitted a lap earlier. This meant that Ricciardo had to again undergo the onerous task of passing 'Mad Max', something doing which he consumed 15 laps effectively.
On Lap 40, at the very juncture where the 'Honey-badger' ensured smiles galore for fans in the stands a few laps ago (having passed Max earlier) he rendered his own chances a decisive blow. Having committed to dive into the inside of Verstappen on the Straights, in a split-second, he decided against and ended up disturbing the tail of Max's Red Bull whilst thrashing his car's nose.
The biggest gainer from Red Bull's no-brainer were Raikkonen and Peres who gained a couple of places, reaching inside top six.
Race over for Red Bull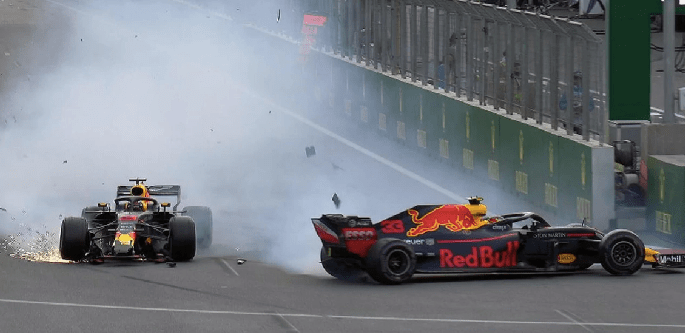 With the prospect of 'Shoey' completely dissipated, Baku made way for the safety car deployment, with only 10 laps to go.
Meanwhile, Vettel was still composedly following Bottas, awaiting the safety car to pull out. However, it would only extend its stay as approaching a sharp left-hander Haas' Romain Grosjean who seemed settled inside a Top Ten finish hit the wall. There was more carbon fibre and tiny shreds on the track and in midst of a race that had been already disengaged from smooth functioning, following the Red Bull skirmish.
Meanwhile, as the safety car pulled out, Baku unfurled further volatility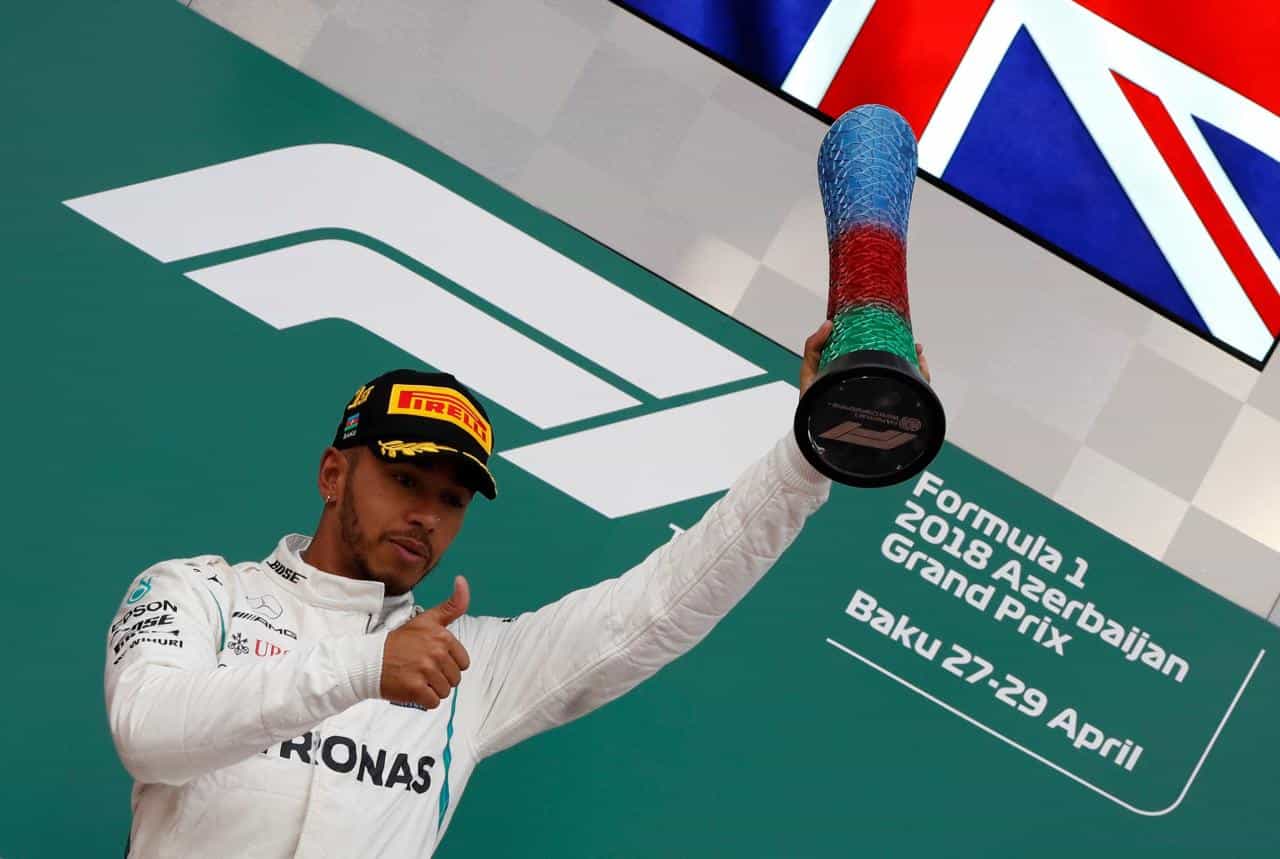 Inside ten seconds of the safety car's out-lap, Vettel, in pursuit of Bottas with just 4 laps to go failed to hold on to his second place. He first came under immense attack from an irrepressible Hamilton who barged in and then, resulting from a lapse of concentration- to be fair to the German- saw Raikkonen jump ahead. The order of the race completely revered again- Bottas led from Hamilton from Kimi.
Vettel, at this time, was caught napping, arguably absorbed by the onerous mounting pressure in having to chase Bottas in a circuit narrower akin to a sassy model's waistline. Then, just when it had seemed that Bottas was slated for his maiden win at Azerbaijan Grand prix, he suffered severe tyreware, the front left punctured having made contact with the daintiest piece of debris.
The Finn eventually retired, punctured by 'luck' as Hamilton clinched the leadership position- against situations that could've only been scripted in heavens- with Kimi diving into second. What was worse, for Vettel though, was Peres gaining on him and eventually passing him as only 1 lap remained from the checkered flag.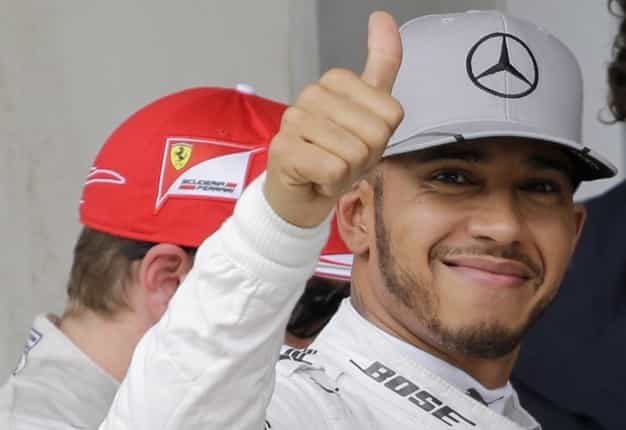 Quite like its predecessor, Chinese GP, the Azerbaijan Grand Prix, it could be argued, went an extra step in 'wiping the smile off Vettel's face', even if Hamilton had little role to play.