Lewis Hamilton has won here in the past, Max Verstappen has not. Lewis Hamilton has done it on four separate occasions, while Max is yet to step on the top step of the podium. But in interesting contrast to two very divergent fortunes, the momentum may still be with Max Verstappen of Red Bull here at Spa Francorchamps, not so much with Lewis Hamilton.
It's easy to decode the reason and not too hard a task. Spa happens to be the home track of Max, not Lewis. The Dutchman was born in Hasselt, Belgium and in the current sphere of the competition, enjoys a greater support out there than Lewis does.
How's that?
Home crowd- for one. Second- the bedazzling Orange Army with its legions of fans, all of whom are set to witness what shall hopefully be an incident-free, albeit action packed race that can throb the veins and raise the heartbeats.
But whether that happens or not, the king of the grid, Lewis Hamilton has already called out a clear warning to his Mercedes camp and it's not to take the Max Verstappen threat lightly.
The last, of course, that the 23-year-old won a Grand Prix was way back in Austria, having clinched both rounds. Since then, what's followed are a horrific string of results, both races, first at Silverstone, second at Hungary, inflicting about Red Bull significant damage to thwart the Mad Max's hopes to garner a thumping win.
As a matter of fact, at one point in time, one did see how fortunate Verstappen was to emerge unscathed in a high-octane Silverstone-bound opening lap crash at the Copse corner, perhaps the most damage-inflicting memory of his 2021 season, a year where it were Red Bull- not Mercedes- leading the charge.
All this missed chances and run ins with poor luck, Lewis Hamilton feels, would have rekindled the desire in Verstappen to fire up a brilliant Spa win, and produce a result that many would signal as Red Bull's second coming at the world championship.
Remember, at present, they are trailing Mercedes on both counts- Driver and Constructor title.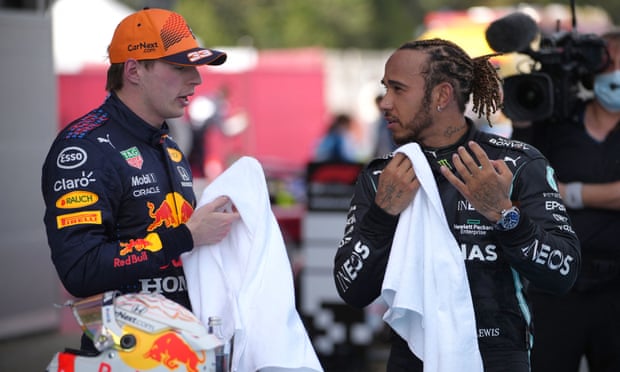 That being said, what did Lewis Hamilton exactly say in the context of Max Verstappen's Spa drive, which is yet to unfurl?
It's going to be close, it's going to be tough this second half of the season," he said. "The first half was one of the toughest. I expect it's going to be pretty much the same in the second half, if not more difficult.
"We have seen the speed and competitiveness of them in the past. Of course as we have gone through the season they have got stronger and stronger. It's been harder for us as we have gone on, we had a difficult patch but we have got back in terms of operating how we have in the past to a good place," exclaimed the seven-time world champion.
On the other hand, the following is what the Red Bull ace had to share:
"We are very positive," he would say. "We had a lot of good races, just the last two didn't go our way, out of our control. The team is looking forward to getting started again," concluded Max.
Remember, regardless of who wins at the 7-km long Spa-Francorchamps track, one of the most daunting venues on the calendar, it'll be absolutely great for just about everybody to witness an accident-free race. Lights go out on Sunday!