There are fast drivers, then there are consistent drivers. And then, there are those who align consistency and raw pace in a dominant fashion. Perhaps for all that he's done and not just in this turbo-charged era of Formula 1 that began circa 2014, you know where to place Lewis Hamilton. Right?
You don't become a six-time world champion driver for nothing!
In just a few minutes down the line, one of the most brilliant racers in the checkered history of Formula 1 Grand Prix racing shall be targeting a special achievement, one that has only been managed by the legendary Michael Schumacher thus far.
But then it requires you to possess immortal talent if you are to get involved with the all-time greats, isn't it?
Lewis Hamilton will be targeting the record for bagging most race wins at a particular racing venue.
So far, only Schumacher, as indicated, has managed most race wins on a single track or Grand Prix event. The iconic Ferrari driver grabbed 8 wins at Magny-Cours (France).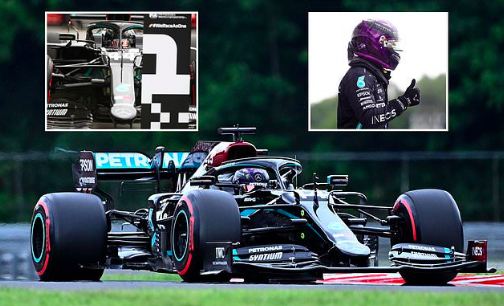 Should Lewis Hamilton, who starts his 2020 Hungarian Grand Prix challenge from pole, manage to snatch out a race win, he'll be tied with the great Schumacher. In fact, when on Saturday, Hamilton zipped along the 2.722 mile track, punctuated with 14 turns, he grabbed the pole position.
And that wasn't for the first time. Truth be told, no driver on the current grid has gathered as many poles at Hungaroring as Hamilton, whose tally currents glows with 7. Another win, which actually looks quite the possibility should poor luck have its way, would take Lewis Hamilton to the top step of the podium, a place he's all too familiar with.
Have we forgotten about his 2007 exploits?
How many drivers win a single Grand Prix in their maiden year of F1 racing?
Back in 2007, the year of his debut, a young 22-year-old driver not used to much success scored four Grand Prix victories. One of them came right here in the heart of the picturesque land-locked Cental European nation.
The story back then was the same as what we fans find today in 2020. On both occasions, Hamilton was on pole and went on to win.
What's also going to help Lewis this time around is the little bit of positivity that stems from stats. On the last five ocassions, the winner of the Hungarian Grand Prix has been the driver who's grabbed pole position.
On Saturday, the Briton drove away to capture his 90th career pole. Man, what an achievement that is.
But a single statistic doesn't tell you anything, unless and until you compare it another number. Then, it becomes the yardstick for excellence.
The driver with the most number of poles against his name, following the multiple world champion from Stevenage is Brazilian icon Ayrton Senna, with 68 poles.
What a gap that is. 22!
But cut to the big moment of the race, Mercedes will certainly be holding the upper hand not only because of in-from driver Lewis Hamilton. But also down to the fact that the Finn Valtteri Bottas begins his 70-lap challenge from second on the grid, another driver who's trying to fight for the world championship.
So, who'll it be at the end of the checkered flag? It's lights out and away we go.
Suggested Read: Bienvenido de nuevo, Fernando Alonso. A Titan Returns
Suggested Read: The Man Who'd Be King One Day: Daniel Ricciardo