When Lewis Hamilton decides to put his mind onto something, he generally ends up achieving what he wants. And truth be known, multiple events in the recent Formula 1 seasons have demonstrated just that.
A prime example of the above being the rather unforgettable 2020 British GP, where despite struggling with tyre degradation of a kind no F1 driver would want his worst nemesis to ensure, Lewis Hamilton managed to win the race.
That it was his home race event, and on top it, a venue often described as the spiritual home of the sport was made the victory more special, just as the fact that in the latter half of the 52-lap contest, Lewis Hamilton was practically contesting on barely two tyres.
What stood out in what was then his third consecutive Grand Prix win of 2020 was the fact that the great Briton had made no bones about his desire to win at Silverstone.
But then here's the truth about Lewis Hamilton. He's not someone who likes to win only on the track; he likes to win hearts off the F1 circuit as well. A recent evidence of which was the 37-year-old's kind gesture towards a boy who happens to be a Ukrainian refugee by the name of Roman Burko.
Upon learning young Roman's desire of getting into motorsport but also of the despairing background that where it stands at present, the Ukrainian native has had to flee the war torn country and move to Poland, Hamilton decided to step in.
The driver with the most F1 victories ever decided to be the reason to bring a smile to a young soul ravaged by the acrimony of war.
And just how did Sir Lewis Hamilton do what he ended up doing?
The eight-year-old kid found to his great pleasure a gift parcel sent directly by none other than the 2020 F1 World Champion. And interestingly, the parcel was a gift bundle that not only included a signed cap by the great F1 hero himself but also, a replica model of the Brit's helmet, along with Mercedes Monopoly. And that's not all; Lewis Hamilton also found time to send a signed note to Roman.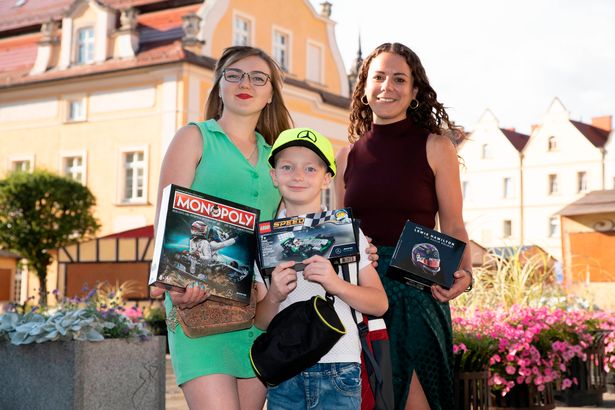 "It was amazing to see him. He did not talk about what he has seen – he says I don't need to know. He had extreme fatigue and said they have been using stimulant injections to keep awake. Roman was very happy to see his dad. He didn't want to go back – it was hard," exclaimed young Roman's mother, Ivanna in a recent interaction with the English newspaper The Mirror.
In a recent article written on the Republic TV of India on the developing story, some interesting excerpts came to life that clearly explain the timing of the noble gesture done by Sir Lewis Hamilton.
It's precisely why the seven-time world champion who has a realistic chance of overtaking Michael Schumacher as the most successful Formula 1 driver ever (by virtue of driver titles) did something wonderful (and timely):
It is understandable that no gift will be able to make up for the stress and the suffering of Roman's family. However, the gift bundle from his hero will certainly make the situation more bearable for the eight-year-old.
To conclude, in a world where everyone can be just a self-centered Formula 1 driver, it is heartening to note that someone like Sir Lewis Hamilton is using his stature as a world champion to truly act like one.
For what good is that success or accumulation of wealth if it is not used for a greater cause, which as seen in this instance, was towards bringing smile to a face that had gone forlorn in the current scheme of things in Ukraine.