The winner isn't the one who wins it all; rather he's the one who gives it (his) all. And that winner is Lewis Hamilton, now a five-time Formula 1 World Champion.
In a season where in front of the Briton's might, German driver Sebastian Vettel's craft seemed reminiscent of a GP2 driver- what else would've been the outcome of 2018, one wonders?
Lewis Hamilton has become a five time world champion.
A headline that defines the world's most expensive sport right now, or a one-sided verdict Lewis Hamilton's flair fetched the carnival of speed, or is it perhaps the most utterly deserving outcome of a season that at the back of events at Hungaroring, right after the Hockenheim- disaster for Sebastian turned toward Lewis Hamilton?
Lewis, it could be sufficiently said wasn't just the more mature of the two drivers gunning for the title but also an enforcer of error on the part of his German rival, a man, who upon winning the season opener at Melbourne, followed by the win at Bahrain- did seem unstoppable.
That Lewis Hamilton is a five time world champion is probably readable and audible even at Uranus.
It's quite possibly, the result is being read by the most endangered forms of aliens who never made their way into Area 51.
And perhaps this is the only way the 2018 Formula 1 season would've planned out. In a season where Lewis Hamilton, now a five-time world champion alongside greats like Fangio, did everything right in stark polarisation to his arch title contender Vettel, pays testimony to just why the triumph in motor racing eventually belongs to the one who keeps cool under duress.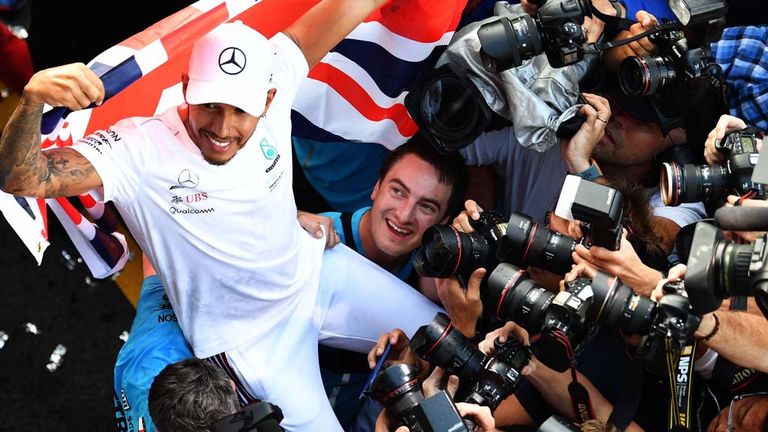 To think that Hamilton didn't have tense moments this year would be making his win rather lame and easy.
At Baku- he was never in sight of a win. You possibly sensed some raw nerves given the way Vettel passed him in his podium run at Austria and quite literally blast past him at Spa-Francorchamps.
In at least four different events toward the conclusive part of the season, post the break, did Hamilton state Ferrari's superior pace and the straight line advantage as produced by a stellar engine upgrade.
But that nothing that Vettel exhibited- arguably most feistily through his Belgian effort- was able to dissuade Hamilton pays homage to why the 2018 winner stays true to his favourite moniker- Still, I rise!
A steely win at Singapore, wherein he finished over seven seconds ahead of Verstappen, followed by a magnificent triumph at Japan which was followed by a Bottas-aided win- critics though would never credit him for the sensational move over Vettel- at Sochi, shows us Hamilton clawing back into action at a time where Ferrari's dismissive pace at Spa might've sunk its rivals' hearts.
That Lewis Hamilton, arguably stunned by Kimi's fiery Monza lap was able to take the lead eventually albeit in the dying stages of the Italian Grand Prix perhaps makes his 2018 effort a Michael Jackson-like Thriller isn't exactly an overstatement or is it?
You could be pardoned for thinking that Hamilton was perhaps a bit circumspect or possibly playing mind-games with Ferrari where at nearly every qualifying show starting Hungary did he laud the Italian stable's engine. But that he'd also show the rest of the grid the way to break through the tunnel of pace showing pure skill, backed by quintessential persistence helps one understand that Hamilton is a different animal altogether.
A racing pro he certainly is, a driver who moves akin to a monk possessed by the zenith of spirituality he often seems. But that he turns into a Samurai in that Silver Arrows racing suit, is something that Vettel would do well to remember come the start of the 2019 season.
For once again there'll be a chance to clinch something the world's 20 fastest men crave to grab. For once again there'll be an air of ebullience surrounding the Vettel vs Hamilton saga that'll elevate the status of the sport. But perhaps most importantly because it's the rather dangerous precedent that the five time world champion has rendered to the Hamilton versus Vettel show; fast becoming a one-way street that'll matter the most to Ferrari.
But well, the man who chivalrously rushed to congratulate Lewis Hamilton, everyone's favourite five-time world champion would also factor in that there's less sense and possibly equally less privilege to play second fiddle to the sport's poster boy, a norm most Ferrari fans would dread. Ain't it?