Lewis Hamilton entered the Hockenheimring 8 points shy of championship leader Sebastian Vettel. But that didn't explain why he felt distraught. Not only had he lost his home Grand Prix, a few days ago at Silverstone but had endured quite possibly his worst qualifying run in over a year as he attempted a strong session on Saturday.
Given his hydraulic failure, it didn't help Lewis Hamilton's cause that he'd begin P14. The visual of a visibly shaken four-time world champion pushing car no. 44 behind along with marshals might have given Sebastian Vettel fans a great laugh. But for the 2017 World Champion, it was swallowing a bitter pill.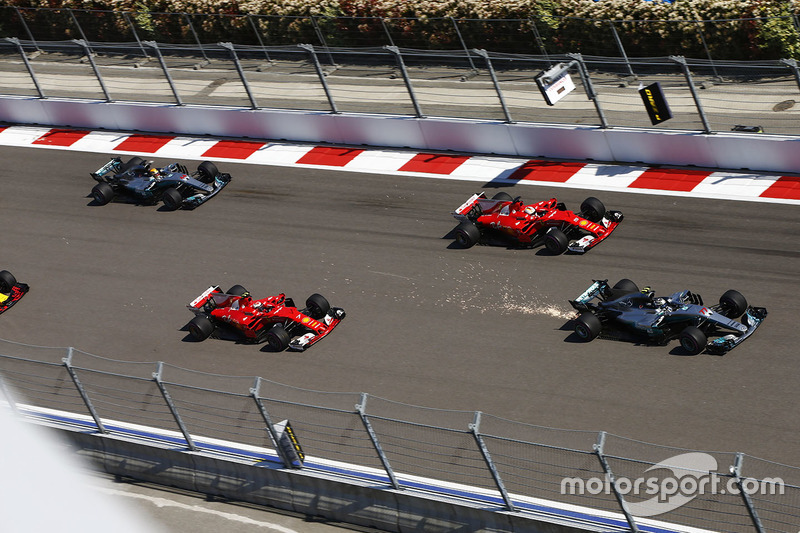 Hours before the start of the 2018 German Grand Prix, Hamilton posted on social media about his determination to face a rough weekend. He assured his globe-trotting fans he'd die but not give up. Importantly- he shared love powers all and wished his detractors well. He had no malice toward anyone. By the end of the 67th lap- even his harshest critics- would know why Hamilton said he won't give up.
At the end of a fascinating Grand Prix, arguably more exciting than Monaco any day and certainly more enjoyable for Mercedes fans than the Austrian Grand Prix, Hamilton crossed the checkered flag 4.5 seconds earlier than second-placed Valtteri Bottas. If this isn't a feat then what is?
As Lewis Hamilton leaves the Hockenheimring, he's 17 points ahead of arch-rival Sebastian Vettel. Not only that, he is in control of the 2018 driver's title. How many would've predicted such a massive turn-around?
Perhaps it's a moment for us- fans and curious observers- to celebrate F1's undaunted spirit once again. A predictable outcome- nine in ten would've told Vettel was going to win at Hockenheimring-was overturned. Yes, some hopes were dashed to the ground and some were raised. Motor-racing once again upheld the victory of the bravest. It gave a certain assurance to the one who had but an outside chance of chasing glory.
To take nothing away from Sebastian Vettel's sensational 55th career pole, in a drive where he had all but won his 52 Grand Prix, it was just one of those weekends where Hamilton had to win. Anyone with a tad bit of faith would suggest, the Universe had it designed that way. So he did.
But here's something special in Hamilton's victory. And it's more than him having set the fastest lap time or being voted the driver of the day.
Perhaps, it's one of those rare moments to make way for faith and understand the massive impact it holds in our lives. What if Lewis Hamilton hadn't tried to go through from nearly the back of the grid and make his way up in the field?
Here's how Lewis Hamilton's race panned out:
Immediately as the five red lights turned green, the top three starting from Vettel followed by Bottas and Raikkonen, second and third respectively, the track-leader began opening a gap. Hamilton, following a ruined Saturday, began making this charge from fourteenth.
And what do we see next?
On the opening lap itself, Hamilton would pass Force India's Esteban Ocon on Turn 1 to move up into thirteenth. By the end of Lap 3, Hamilton was already battling Fernando Alonso of McLaren for the fight for eleventh.
While at the front, Ferrari's Kimi Raikkonen defended brilliantly from Red Bull's Max Verstappen, whose purpose it seemed was to charge past the Finn, Hamilton was nearly into the points by Lap 4.
The Briton would then pass Sauber's Charles Leclerc in a pretty straightforward move. It was like seeing a hare battle a crocodile. But implicit in Lewis Hamilton's Hockenheim charge was the fighting spirit- something that's perhaps hard-wired into his game.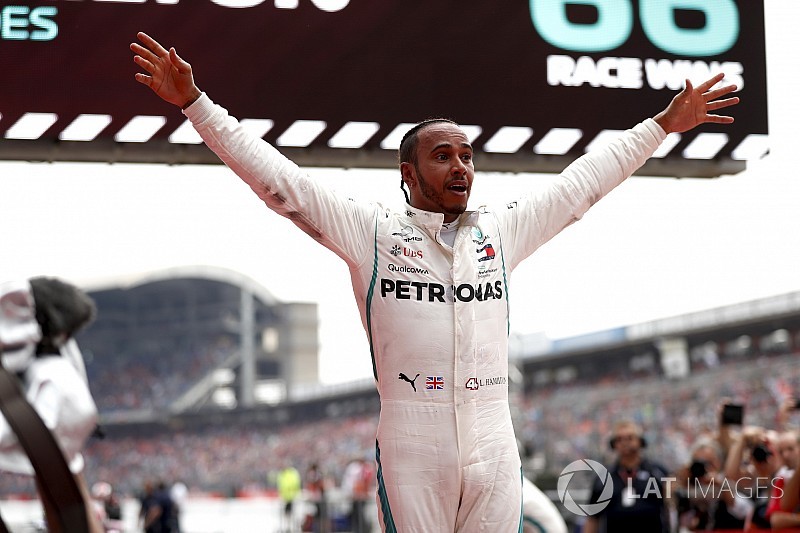 His next great move would come on Renault's Carlos Sainz Jr. who'd be left stunned. Right before entering the hairpin bend at Turn 6, despite having not got a great exit on Turn 5, Hamilton would dive on the outside of the Spanish driver to claim ninth. By Lap 6, he would already leapfrog 5 cars.
The best, however, was yet to come. While the battle at the front continued rather unchanged, Sebastian Vettel opening a comfortable gap over Bottas by 3 seconds, Raikkonen keeping Verstappen, then fourth, at bay- Hamilton was rising in his Hockenheim challenge.
When you consider just how many cars Hamilton jumped, passing them bravely, aligning focus with pure skill, you'd consider his 2016 win at the same track a child's play.
At the start of Lap 8, Hamilton- then P9- was 19 seconds adrift of track-leader Sebastian Vettel. Toward the end of this lap, Hamilton passed the Frenchman- Romain Grosjean- to jump another place up into eighth.
A few laps later, by Lap 15, Raikkonen, who'd boxed, would emerge in front of Lewis who was then on sixth. However, Vettel, at the front was unmistakably quick, his gap to his arch-rival Hamilton by Lap 23 up to 22.6 seconds.
Despite Hamilton breaking into the top-five, his task was still to break into the final podium places, which meant, he had to leapfrog two more places. After making the overcut work, doing a longer stint for 25 laps, Hamilton boxed and by the time Lap 32 begun, Raikkonen had benefitted from Max and Bottas' pit, holding the lead ahead of Vettel.
Lewis, at this time, was already up into third. From thereon, it could've been anyone's race. And when Vettel spun out, going wide before a sharp left-hander, toward the closing stages, Hamilton sensed blood. It would be his opportunity to give away; and he's not that giving a competitor, is he?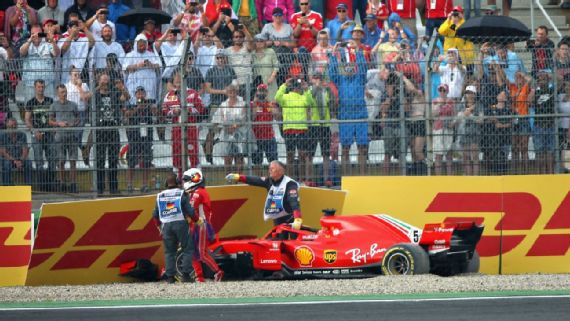 While it can be argued that Hamilton was assisted in a rain-affected run in midst of the sprawling greens of the Rhine Valley, what can't be doubted was that he possessed a stomach for a fight. When the going gets tough, they say, the tough get going.
In F1 lexicon, when the going gets tough- Lewis Hamilton gets going. When racing resumed after the out-lap of the virtual safety car, Hamilton got a further boost, with Bottas told to hold 'his position', then P2. Raikkonen would find it hard to pass his fellow Finn but the Briton maintained a cool head to clinch an unlikely victory.
In so doing, he's returned the favour to Vettel. That Vettel won at Silverstone; Hamilton's territory, Lewis came back to win at Vettel's territory.
Sad that Sebastian's fans may be, Hamilton's thrilling and fortunate win at the 2018 German Grand Prix proves that fortune favours the brave. That with under 14 laps to go, Vettel spun around the track at skidded, going wide on the rough outside the track boosted Hamilton's chances is something none would deny. None should.
But that in order to get up to the fighting places, Hamilton gave it his everything proves why he's world championship material. With another race to go before the season pauses for a mid-season break- one can already sense that both the German and English driver will be hungry for a win. Vettel, mostly to bounce back from the ignominy of having thrown away an easy chance for a home-triumph. Hamilton, bolstered, by an emphatic triumph at Germany that hardly looked his.
This is Formula 1; it's grief for someone and at the same time, rejuvenation for another. It's defeat for someone but a thumping win for another. With neither drivers having won their home Grands Prix, which driver will ace a neutral track next? Come soon Hungaroring.