Less than a week ago, before it all went wrong for his Alfa Romeo, he scored a strong P5 during the qualifying. It was not only an impressive qualifying result for the man but also for the team that scored its best quali performance in eleven Grand Prix efforts.
Personally, Alfa Romeo's top man had scored his personal-best qualifying effort for the year.
Then later, on race-day, he was all set for another strong finish among the points, perhaps the chances of a seventh or even a sixth didn't seem all that difficult.
After all, there was the electrifying move on the Red Bull of Max Verstappen inside the opening lap. Later on, he somehow managed to keep none other than Sebastian Vettel's Ferrari at bay, as the battle for sixth intensified.
And what's more? He made two extremely committed moves on the Haas cars, passing both Grosjean and Magnussen at separate intervals during the German Grand Prix at Hockenheim, perhaps the last we may have seen unless some major title sponsor steps in to rescue a possibly outgoing track from the calendar.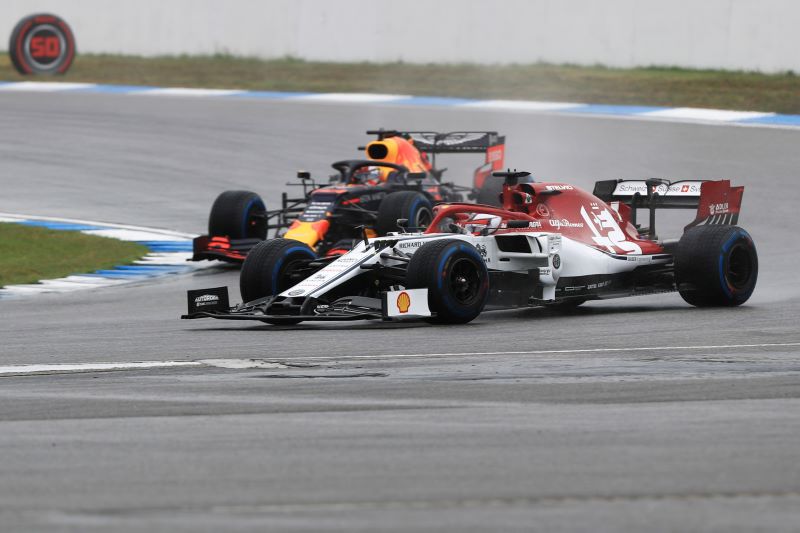 At the rain-marred, suspenseful and accident-packed German Grand Prix of 2019, Kimi Raikkonen was in full flow. There were no full-stops. Well, at least not when Kimi Raikkonen crossed the checkered flag, completing the 64 laps, to finish with a promising seventh. It was only later that his points were stripped of him and his Alfa penalized in lines with clutch infringements at the start of the race.
But there was no fault of the laconic Finn, someone who now wishes to maximize the opportunity that the fast-packed Grand Prix of Hungary promises.
In the past contests, Kimi Raikkonen's personal form at the famous Hungaroring has been anything but modest. In 2017, then with Ferrari, he helped Vettel deliver a strong Ferrari 1-2 ahead of the Mercedes dominance.
Kimi had himself scored a fighting second. Now as the Iceman returns to the spot where he's scored nearly a tenth of his overall career podiums, there is an anticipation for a strong weekend for his Hinwill-based outfit.
Now, wishing to make amends for a chance lost at Sebastian Vettel's home Grand Prix, Raikkonen is counting on the Alfa Romeo package to draw a good purchase from the Hungaroring.
So far, much of what Alfa Romeo have managed has been all thanks to Kimi's superior race-pace, the Frederic Vasseur-led team standing on ninth, tied with Haas with 26 points in the bag.
A legendary racing venue where the likes of Fernando Alonso and Michael Schumacher have won memorable Grands Prix, Kimi is of the view that another track where his team can maximize its performance is the home of the Hungarian Grand Prix.
"It will be another case of maximizing what we have if we want to stay ahead of the others in the midfield."
He would add further, furthering a typically understated resolve and optimism, "After Hockenheim, Hungary is another track where we can be competitive."
That told, while the chances of bagging a podium may be down to some uncertainty amid very challenging circumstances thereof, not that the Alfa is not capable of punching above its weight, take Raikkonen's efforts at Germany for example, what Kimi will remember would be the outcome of his last two visits to the Hungaroring.
Not once since 2017 has Raikkonen lost out on a podium here. Can he, at least, climb his way back to a P7 or P8 this weekend?