Ferrari President Marchionne has already declared that the team has shaped up the 2018 car pretty well. Earlier Vettel announced that he gave it his all before luck ran out with his car, paving way to Hamilton's sensational victory in the end.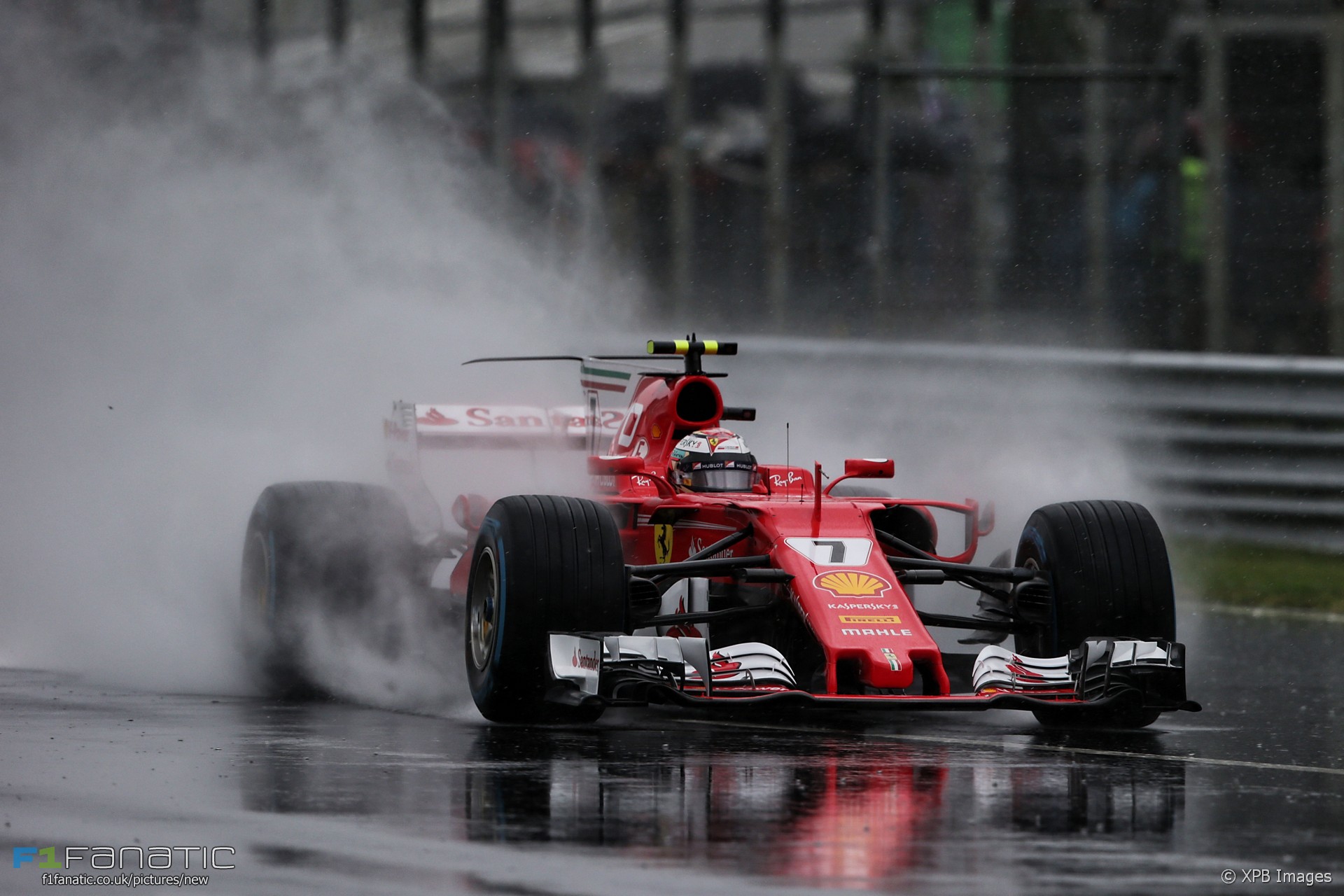 But where 2017 stands, it was yet another F1 season where the Prancing Horse from Maranello went down but not without giving a fight to Mercedes, the 2017 constructor's winners and four-time world champion, Lewis Hamilton.
Ferrari surely had their moments and it wasn't entirely a one-way street before the fiasco came calling at the events at Suzuka, Singapore and eventually, the grand prix at the United States. What began as a promising year with Sebastian Vettel clinching a sensational season opener at Australia, showing solid consistency with sterling results at Bahrain, Russia and Spain saw the German driver loosening the grip as the grands prix of Britain, Canada and Belgium came about.
In the end, Vettel could salvage 5 victories when compared to Lewis' marauding charge that was checkered by an amazing 9 race wins. But away from glamorous globetrotting headlines that saw Ferrari coming mightily close in dislodging Mercedes' from sealing the title bid, one man was quietly going about his job in the Italian team.
It was that man fans love to call the Iceman. While from the outset Kimi's failure to secure a win yet again gave rilers and critics enough to lament his form, the fact that the Finnish driver secured a decent P4 finish, in the driver's standings proved he's still got what it takes to race and compete for wins at the highest level.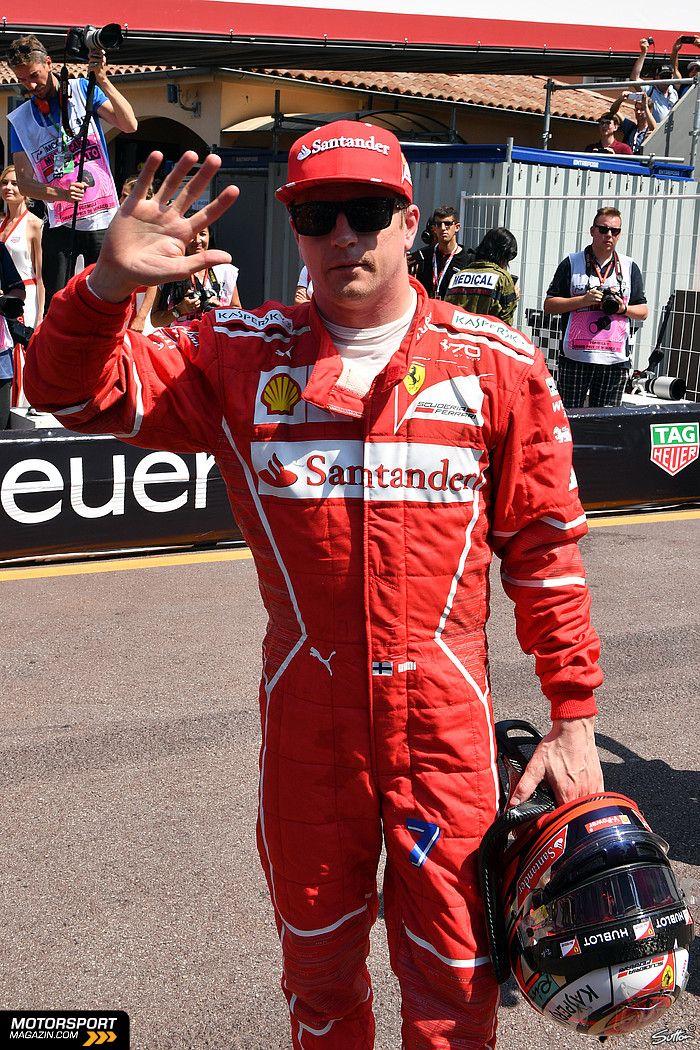 Not that what fans or critics say would bother Raikkonen one bit. But the fact that Kimi managed a fairly decent finish in the end, garnering 205 points, the most he's collected in his second wind at Ferrari saw him leapfrog his own results from the previous seasons: 186 points in 2016 and 150 in 2015. Well, that's not too bad, is it? Neither is the fact that the 2007 World Champion drove his Ferrari to secure 7 podium finishes in 2017, the exact number he gathered if one were to club his previous two seasons' results.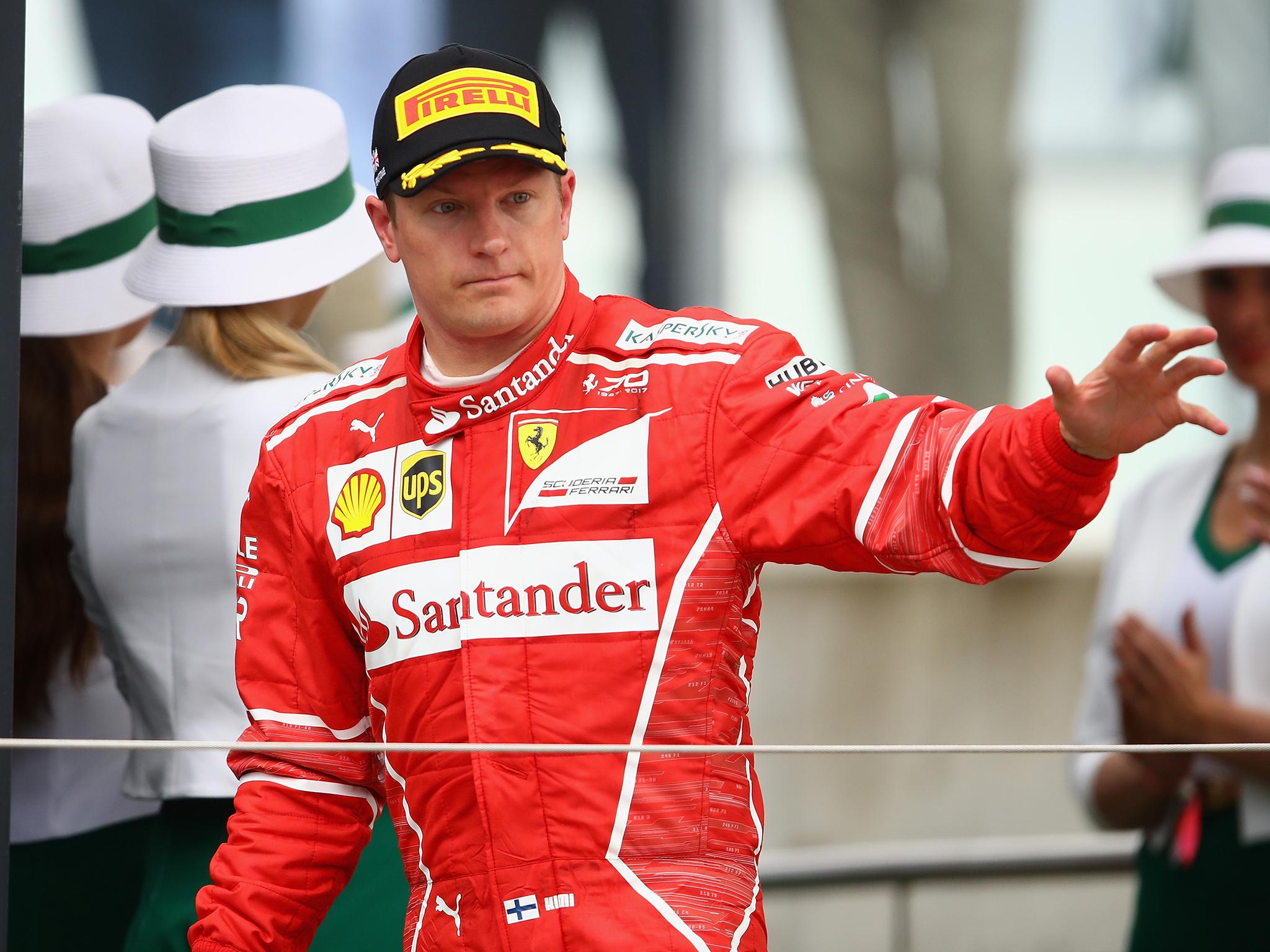 So whether Kimi is past his best or still has a lot on offer- in terms of raw talent, pure speed- is something that can be debated into the wee hours of the morning. But what one can't take away from Raikkonen are the 5 best races he contested in a competition of epic proportions.
As the year comes to a close, RapidLeaks present you 5 best races of Kimi Raikkonen in 2017:
1. A heartbreaking P2 in Monaco

For die-hard fans, the events at the famous Principality were akin to seeing a great driver being backstabbed by the very team he's come to race for. In securing his maiden pole position for Ferrari, ever since the Iceman made a comeback to the Scuderia in 2014, Raikkonen looked all set to secure his first victory since the 2012 Abu Dhabi Grand Prix.
But the odds in this case, were once again, stacked hugely against Kimi's favour. On race-day Raikkonen got off to a blazing start and held teammate Vettel at bay as he filed through the first corner of the 78 lap competition unscathed.
But all of that would change come 35. Called in to the pits, rather surprisingly, the leadership of the race would change as Raikkonen would trail teammate Vettel, who held the upper hand and until the checkered flag, with the overcut having clearly worked.
For years to come, while Kimi's race performance- considering a P2 is not too bad a result- would speak of his blistering pace at Monaco, the fact that he cut a distraught figure on the podium in 2017, in complete polarity to Vettel's wide-smiled celebration would haunt the Iceman's fans.
2. A surprise P3 at Silverstone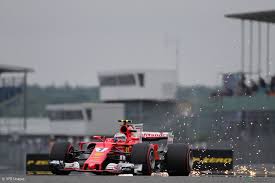 A race that completely belonged to Lewis Hamilton saw Raikkonen scamper home eventually to a fighting and a tad bit surprising P3 in the 51-lap competition.
Traditionally, Kimi Raikkonen hasn't quite experienced the greatest of finishes at the British grand prix, not least upon his return to Ferrari, but the 2017 Grand prix at Silverstone would be remembered for an utterly surprising tyre degradation and ultimately, flattening that nearly threatened Raikkonen's podium hopes, the Finn having secured a P2 in qualifying on Saturday.
After beginning well in the front of the grid, just behind Hamilton, Raikkonen bravely held off a charging Verstappen and teammate Vettel as the trio contested through the village and the loop section going to the main straits.
Till lap 36, Raikkonen kept up the charge and even though he trailed Hamilton by a fair margin, he had enough oomph in those Pirelli wheels to seem set for a second placed finish amidst an ecstatic assembly of racing aficionados. From thereon till lap 49, Raikkonen stayed in the hunt for a possible P2 before his left front tyre suddenly erupted and broke, leading Kimi to pit in the closing stages of the British Grand prix.
With Bottas, who had passed Vettel, facing a similar suspicious tyre issue, Raikkonen lost the advantage to his compatriot and would limp past the checkered flag for a promising third place finish.
3. A promising P3 at Sochi, Russia

The Finns doing well in Russia is no fluke. It might be only ironical that a Finn performs considerably well at Russia when from a historical standpoint, the Finns earned their hard-fought freedom from none other than the Russians; the Putin-land therefore, being a familiar territory for Raikkonen.
One of Kimi Raikkonen's best results in 2017 season came at Russia when the Iceman drove a calm and controlled race to secure a brilliant P3 at Sochi, in a contest that was dominated by teammate Sebastian Vettel just behind race winner Valtteri Bottas, who won his maiden grand prix of his career.
While the race was both relatively error-free as well as accident-free grand prix for the two Ferrari drivers, it was Kimi who set a blisteringly zany 1:36:844 ahead of quickies like Ricciardo, Hamilton and Vettel. The 2017 Sochi Grand prix was also one of the few races where both Ferrari drivers emerged on the podium together.
4. A thundering P2 at Hungaroring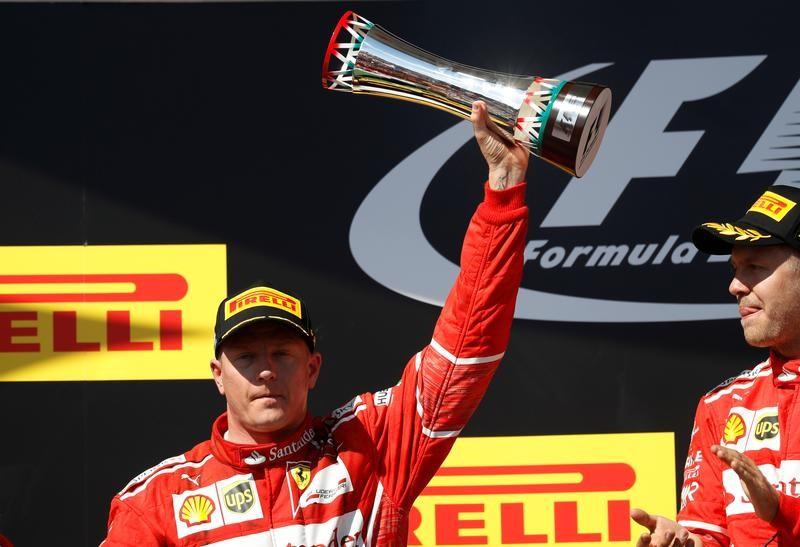 There's many reasons why Raikkonen usually performs well here at the celebrated Hungaroring. If the presence of a number of Finnish fans- their language sounding only a bit too similar to Hungarian being a reason- is a sure-shot cause, it's the classic layout of the Hungaroring, replete with high speed corners, challenging chicanes that suits the Ferrari's design layout and aerodynamic build.
Using it to a good advantage, Kimi delivered an excellent podium in his Ferrari, securing a feisty P2 in a race that saw a Ferrari 1-2 with Sebastian Vettel running past the checkered flag to register a thumping victory just before heading into the season break.
Controlling the race from the start, Raikkonen was stable and assertive, cool and collected in that SF-70H as he nearly got past Vettel in the first corner, a stiff right-hander.
But even as he was unable to rush past Sebastian, Raikkonen maintained steady pace onto the checkered flag and completely negated any trailing driver to go past his brilliant defences.
While both Mercedes drivers- Bottas and Hamilton- went on an all out assault on Raikkonen, they were clearly unable to breach past his defences as the Iceman kept his cool to stack up another vital podium finish for the year.
5. A hardly-contested P3 at Brazil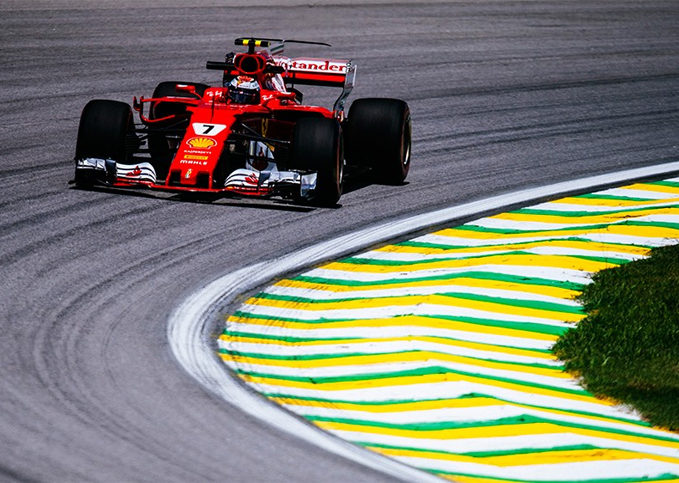 One of 2017's most memorable moments for Kimi came courtesy his securing a hat-trick of podium finishes in the action-packed grands prix at USA, Mexico and Brazil.
If the United States Grand prix evened out with a dramatic last lap drama that saw Verstappen being ruled out of his passing of Kimi with all four wheels of that Red Bull being outside the limits, the Interlagos unveiled two of F1's finest old-guards Raikkonen and Hamilton embroiled in a fighting finish to the checkered flag.
To be fair to Raikkonen, his clinical defending from a blisteringly quick Lewis Hamilton- seemingly charging on a breathtakingly quick pair of ultrasofts- paved way for a fantastic and somewhat nervy finish to a well fought 2017 Brazilian Grand prix.
With both Ferrari and Mercedes being nearly identical in straight line speed at Interlagos, Hamilton, who had a huge lock up on two occasions in trying to get past Kimi in the final stages saw the Ferrari driver keep the rear of his car in respectable distance from the front wing of Lewis WO7.
From lap 59 to the completion of lap 71, Raikkonen and Hamilton produced an enticing cat and mouse run amidst turbulent track temperatures in the heart of Brazil to lift fans with thumping excitement even as Vettel eventually won the dead rubber contest (considering a Ferrari win wouldn't upset Mercedes' title results).
Though surprisingly, Raikkonen labelled the duel with Hamilton 'boring' finding his Ferrari several corners behind race leader Vettel, one's not sure if his fans- who were treated to 2 fastest laps this year- would have complained.