When Alpha Tauri driver Pierre Gasly won the action-packed and incident-marred Monza Grand Prix in 2020, the relentlessly dramatic realm of Formula 1 inhaled perhaps one of the most beautiful moments in a long time. It could be said, one felt a moment of reprieve. It was justice being done to one who'd been aggrieved for a while. There was a lot Gasly had endured in the recent past leading up to the epic Monza weekend though none more insufferable than the passing of his close friend. But truth be told, what separates a good driver from a great one is attitude, not arrogance! And a lot of it concerns itself with a sense of large-heartedness.
Displaying remarkable composure as well as compassion, Gasly, who could so easily have participated in wild celebrations, rubbing his victory on the face of his opponents reserved a moment of quiet in the memory of his late friend, F1 driver Anthoine Hubert.
But was that the only episode where Gasly reserved emotion for another?
In the recent times, Pierre Gasly has offered his piece of mind on a driver who's busy contending with the best in the business, or in other words, the greatest current driver on the grid- Lewis Hamilton.
In reserving kind words of appreciation for his contemporary, Max Verstappen, Pierre Gasly offered encouraging words for the Flying Dutchman stating in no uncertain terms that it is but a matter of time before Max Verstappen becomes a Formula 1 world champion.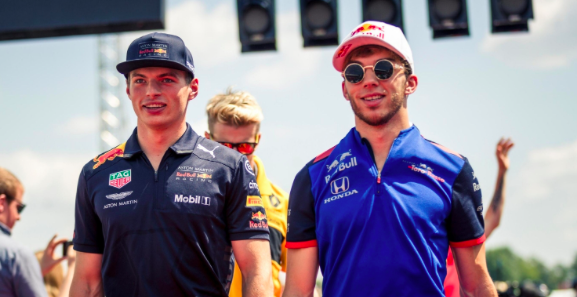 While on the onset it's simply a kind word of praise offered to a seriously talented driver, if examined pithily, one would realise it's something more; it's clear evidence about the fact that regardless of the ravaging challenges produced by the tarmac, a spirit of camaraderie is still very much a part of a sport where egos fly high.
Don't you think so?
And truth be told, there won't be many who would disagree with the mild-mannered Frenchman famous for his intricate pre-race Grand Prix preparations. Aged just 17, Verstappen was quick to make heads turn at the 2015 Australian Grand Prix. Since then, he's gone on to partner Riccardo, team alongside even Pierre Gasly himself, and now stands in incredible contention to challenge Lewis Hamilton for the 2021 title partnering Perez.
Though part of Gasly's observation on Max might also be stemming from the fact that this year, the RB 16B is a fantastic machine ready to throw a nasty punch to the W12 Mercedes.
In the most recent Grand Prix, as Lewis locked out the track position, capturing an incredible 99th career pole, Verstappen wasted no time whatsoever to defuse his enthusiasm, passing 'Hammertime,' in the run down to the first corner courtesy a ballsy move on the outside.
From that moment on, it was clearly a Verstappen versus Hamilton show until the checkered flag with the others merely participating as attendees who could do little to tilt the balance of the contest in their favour.
Also Read: Helmut Marko On Sebastian Vettel: Should Have Taken The Year Off In 2021!
And maybe it's Verstappen's attacking instincts, headlined early on in his career through valiant efforts such as the commanding Brazil drive of 2016 in the wet and the marauding charge to victory at Spielberg, 2019 that has endeared him not just to his globetrotting fans but even his contemporaries.
This is why Gasly, a former teammate of the Red Bull's bull-in-charge had the following to say-
"Max, for sure, clearly. He is already there and it's a matter of time before he's World Champion in a car that allows him to be World Champion."