Sometimes, it's not a bad idea to recollect what the 'Enlightened one' aka Gautam Buddh had to say in relation with the truth. After all, it is one of those saying that has, over the course of countless ages, become a powerpoint slide, a WhatsApp forward or perhaps even a bumper sticker expression.
The light of Asia also described as the "Shakya Muni," had said the following: "Three things cannot be hidden (for long): the sun, the moon and the truth!"
Taking a leaf from the priceless book of wisdom of Buddha can actually give us an idea of what Ferrari at the Singapore GP achieved.
And fact is that while the Maranello-based outfit achieved anything but a sterling triumph, truth is that they did all they could afer Leclerc conceded the track position, which wasn't the ideal thing to do.
Overtaking at street courses, anyways, is a hard thing to do. Then that Perez passed the Ferrari pole sitter in flying fashion and that too, inside the opening lap itself, was no small feat in itself.
At the completion of lap 1 with 60 more to go, all that the famous Ferrari driver could do was to do damage control.
Why damage?
The popular Red Bull driver, also known as the Tom Cruise of Mexico, had already inflicted damage on the Scuderia #16 by clinching the lead of the race. Frankly, from that point on, it was always going to be Horner's team's race to lose. Just that it wasn't to be, even as the most pious of the Tifosi would've hoped for Jesus to work a miracle in favour of the pole sitter at the 2022 Singapore GP.
Luckily for the bulls that never happened despite Leclerc pursuing Perez with all his might and force.
Eventually, all that the Prancing Horse could do in terms of gathering the very most from the spectacular night race was what it did at the end of the last lap (i.e., 62):
Yes, Ferrari at the Singapore GP weren't on the top of the podium. Yet, what the Mattia Binotto team bagged in the end was a 2-3 result- and which team would mind that if the chance of winning was santched quite early into the contest
That said, surely, a win would've been quite wholesome. How's that? In the past, thanks to awesome drives by Leclerc in 2019 and now, 2022 (both occasions where he bagged pole position), Ferrari came in a dominant position.
And even as many would think- and perhaps rightly so- that what if the race start dented a blow from which the team would never recover, is a second and third-place finish really all that bad?
Surely, Leclerc, who's so often lost out on near certain wins this year, think Le Castellet, Monaco, Baku (among the many), would've been gutted but one can do what one can do, right?
And in that light, a P2 result, despite having to chase arguably the faster of the two cars on a slippy Singapore wasn't that bad- or was it?
At the same time, Carlos Sainz, the man who took his first-ever F1 Grand prix win this year (Silverstone), gathered a fighting third. That's when he didn't seem, even once, certain to hold his position from none other than Sir Lewis Hamilton, who's has four wins here at Singapore in the past.
Against that narrative, that Sainz, who had begun from fourth on the grid and yet, managed to step onto the third step of the podium wasn't at all atrocious- or was it?
But that said, here's what Charles Leclerc had to say about his Ferrari at the Singapore Grand Prix of 2022, a contest, where truth be told, the Monaco-born would've felt a touch gutted having lost the race win:
"Our pace was really good today so it's a shame to finish second. We had some wheel spin at the start and didn't get away as well as Checo (Perez). That put us on the back foot. I pushed to put pressure on Checo but my front tyres got a bit too warm and he started pulling away. As I've already said, I want to use these last races to improve our execution of races and I think that we made a step in the right direction today!"
Having said that, Carlos Sainz, no longer recognized (and shouldn't, to be honest) as just Leclerc's teammate; but one who's a Grand Prix winner himself had the following to say on bagging another podium for the Scuderia: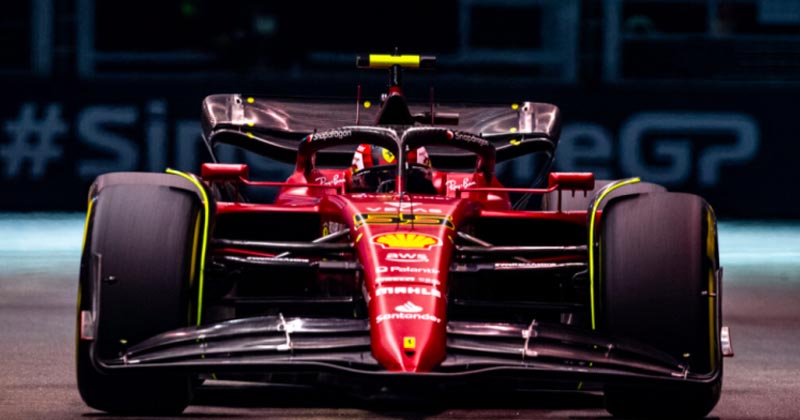 'It was quite a strange race for me to be honest. I had a good start and managed to get Lewis, but for some reason I struggled with pace in the first stint with the Intermediates and only towards the end of race did I manage to recover it. But by then it was already too late. We need to look into it because I've been quick all weekend and today I lost all feeling with the car.
While the driver's championship may be lost- for guess what, it is but a matter of time that Verstappen seals it- Ferrari must take a lot of heart from their Singapore GP drive of 2022.
After all, it's not always that drivers in red overalls end up on the podium in 2022, right?