Much of the 2020 Belgian Grand Prix, it wasn't hard to see, was down to Mercedes' outright prominence. It was something that was evident on the all-important Saturday qualifying battle with Hamilton and Bottas locking out the front row, yet again. And it's the way it remained upon the completion of the 44-lap challenge at Spa-Francorchamps, easily the most scenic and magnanimous of all tracks as Hamilton and Bottas finished one and two, respectively.
But was that the only notable highlight from the 44-lap race, an event that saw the famous Briton notch up a fourth win at the heart of the Ardennes?
Was there something of immense importance other than the two Mercedes drivers coming out right on top with Max finishing with his sixth consecutive podium at Belgium that must interest the die-hard followers?
Well, whether you noted this or not, it ought to be reminded, that the 2020 Belgian Grand Prix was nothing short of a fantastic race for the French Renault team. This is despite both its drivers not making to the podium.
So what really happened?
Interestingly, the celebrated Spa contest yielded a fantastic tally of 23 solid points for the Cyril Abiteboul-led side, a feat that hadn't ever previously happened in the team's 43-year-old F1 history.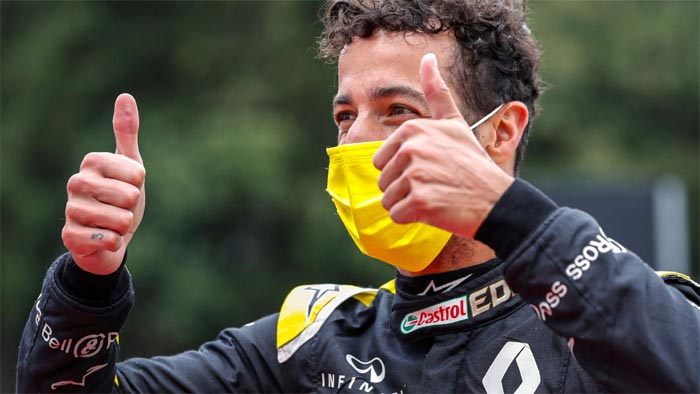 That's right! Not once since first entering Formula 1 back in 1977 British Grand Prix did Renault ever manage a collective tally of 23 points in any race. Thus, what Daniel Ricciardo– P4 in the end- and Esteban Ocon- P5- managed last Sunday was nothing short of incredible.
Isn't it?
In fact, the strong fourth and fifth, in the end, weren't the only reasons one was singing praises of the strong midfield force on the 2020 grid.
What was terrific in the end was that the R.S.20 also set the fastest lap of the race, Daniel blasting past the checkered flag with a dominant 1:47:4 toward the end.
And there it was: a feisty run by a daunting midfielder at the fastest track on the roster! But just how many saw this coming? At the end of the Belgian race, Renault also successfully shrunk their gap to fifth-placed Ferrari, the French team only two points shy of the famous Italian marquee.
Having said that, with 59 points, which is 39 ahead of a relatively banal-looking Alpha Tauri, even though the Honda-powered side are being brilliantly driven by Gasly, one can gather the Renault prominence.
Let's not forget that Daniel's P4, his best finish in 2020 so far, matched his result at Silverstone, earlier this year.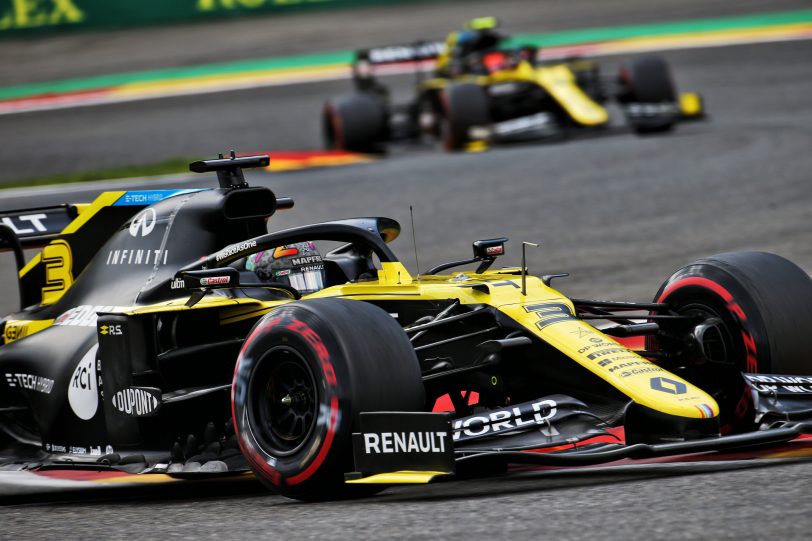 So very understandably then, the main question is- how have Renault produced a car that, on current form, seems mighty impressive, strong enough to now counter McLaren, sitting comfortably on third with 68 points?
Certainly, much of it is down to Renault's engineering prowess, enabling both drivers to hit out at its closest midfield rivals with just the perfect set-up and downforce that can critically respond to circuits that demand both- high straight line speed and tricky corner pace.
Therefore, Daniel, the shining star of Spa-Francorchamps, responded by offering some insights about his 2020 machine and said, "There is definitely something we picked up from Silverstone – like a sweet spot. I found it in terms of feeling in the car, 'right, this is where we need to run the car'. And we played around a bit here as well this weekend with it.
Also Read: Jenson Button Steps Up For Lance Stroll
"And again there was one session, I think it was in FP2, where I was like, 'okay we found the sweet spot.' So there is something fundamental which I think we've got a good choke hold on."
That wasn't all. The 'Honeybadger' also explained what the car offers in circuits with high downforce- "I think we can get it working on high downforce tracks," he said. "It's not typical to low downforce. We can run it on all levels, so I think it's just finding what works best with a high downforce.
It certainly brings the car alive. So yeah that's something which I'm pretty confident in, where the RS20 likes to be run."