For a driver whose facial expressions seem to often extend mankind's tribute to the concept of emojis, it's probably not a bad idea to visit some of the best Kimi Raikkonen memes!
In a few hours from now, something that Kimi Raikkonen fans had dreaded for the longest time, would in all likelihood come true.
For someone who first drove a race in 2001 and has, since then, gone on to collect 20 race-wins along with a record 100 podium finishes, racing life, it seems, is finally coming to an end for Kimi Raikkonen.
Nicknamed the 'Iceman' for his cool and collected mannerisms and approach to life, Kimi Raikkonen, over the last few seasons, has gone on to become one of the more polarised drivers, so to speak.
On the one hand, there's this lot that's eternally devoted to Kimi. It's a legion of fans for whom Raikkonen's speed and daring define the very meaning of motorsports. And then, on the other, there's this legion that happens to believe that Raikkonen is not as fast as he once was and that, he should call time on his career.
But where Kimi is concerned, who registered the fastest ever lap in the entirety of Formula 1 racing, following his flying Monza run in the qualifying could probably have his own thoughts.
That said, coming into his 5th straight season at Ferrari, in his second-stint, Raikkonen seemed aware of the rather lacklustre runs he'd endured back in 2015 and 2016. Starting from the season-opener at Melbourne, where he'd finish second in qualifying and gather a podium in the opening race itself, he'd go on to collect 8 more podiums thereafter.
So far, with 9 podiums from 14 races, maybe for his critics, it may still be that Raikkonen's current season has been pathetic. They know who they are and they probably also know the quintessential response Raikkonen would have at any thoughts to entertain them- Bwoah!!
But, that said, it's not easy to understand why there are so many who are dreading the end of the road for Raikkonen, who's already bagged two record laps for this year, including the record-shattering run at Monza and the DHL fastest-lap award at Austrian Grand Prix, held at Spielberg.
As the current feeling across paddocks is one marred by unflinching uncertainty about F1's 'Iceman', we thought it might be nice to visit some Iceman moments through some of the best Kimi Raikkonen memes.
Sebastian vs Raikkonen at the German Grand Prix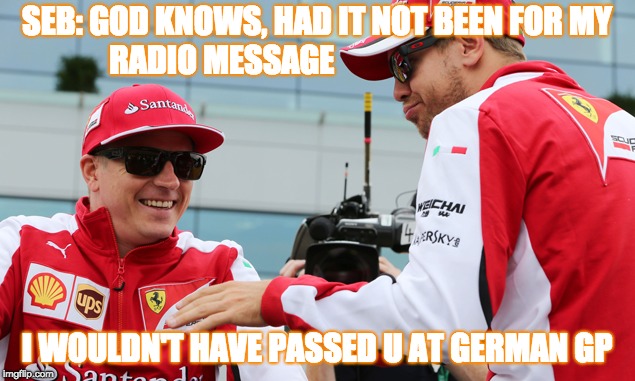 Kimi, who was asked to hold on for a longer first stint, stayed out, in a bid to make the Ferrari overcut work on rivals, Mercedes.
Therefore, at Hockenheimring, Raikkonen, held on to the lead, with Vettel having pitted.
As a result, Vettel, the pole-sitter for Saturday and obviously gunning to win the Grand Prix, in the title fight to Mercedes' Hamilton, was stuck behind Raikkonen.
Fundamentally, being on fresh rubber, he should have had no difficulties as such to pass the Finn. This is exactly where Raikkonen, on team radio, was told to let Vettel through, but not before the German complained to the team.
In the end, Vettel went on to spin out of the track and failed to finish his race, let alone challenge Lewis for a win. It was, but a Bwoah moment for Kimi!
Ricciardo and Kimi in the press conference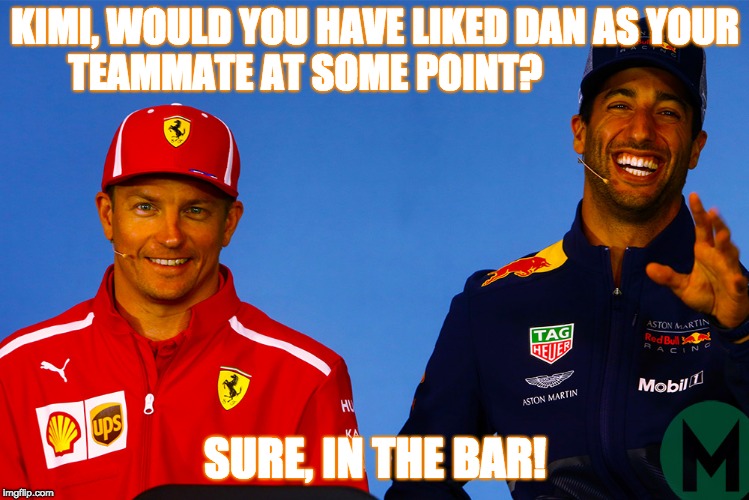 Daniel Ricciardo is probably the most chill dude there is alongside Kimi Raikkonen. He neither gets angry nor believes in mind-games. That makes both Ricciardo and Raikkonen two of a kind. Here's a take on what Kimi- a man of a few words, but one with a drink one too many- would say on racing alongside Ricciardo in one team.
Kimi Raikkonen's feelings on the media; not his favourite thing, is it?
Well, given how Raikkonen's races have constantly been sacrificed and spoilt by his own team, something you can expect from an outfit that prompted the media to make use of the phrase 'Domestique' when it came to Massa's second-rate treatment vis-a-vis Fernando, there's hardly a surprise that Kimi might end up saying this to Ferrari.
Sebastian Vettel's profound love for his teammate
Sebastian Vettel is the greatest and most sporting team man in the history of the contest. Sorry, we failed the lie-detector test.
One doesn't know for sure as to what made Vettel, upon evidencing Kimi's flying lap at Monza, say to the team radio, "We will talk about this later?"
Surely, he wasn't throwing free champagne across Monza, was he? And why would he? After all, Raikkonen has never helped him, isn't it? After all, events like the 2017 Monaco Grand Prix win didn't happen because Kimi was asked to pit. Isn't it?
Raikkonen isn't fast any more, it is alleged, well, he pulled a fast one on Seb
A simple one. You be the judge! He's beyond what F1 requires, or is he what Hamilton said, "Still very Icy cold and not seeming to age."
Kimi, it seems, cares a lot about Alonso retiring?
After all, in 2014 season, there was hardly a love lost between Alonso- 161 points and Kimi- 55, isn't it Iceman?
The fiasco at the Bahrain Grand Prix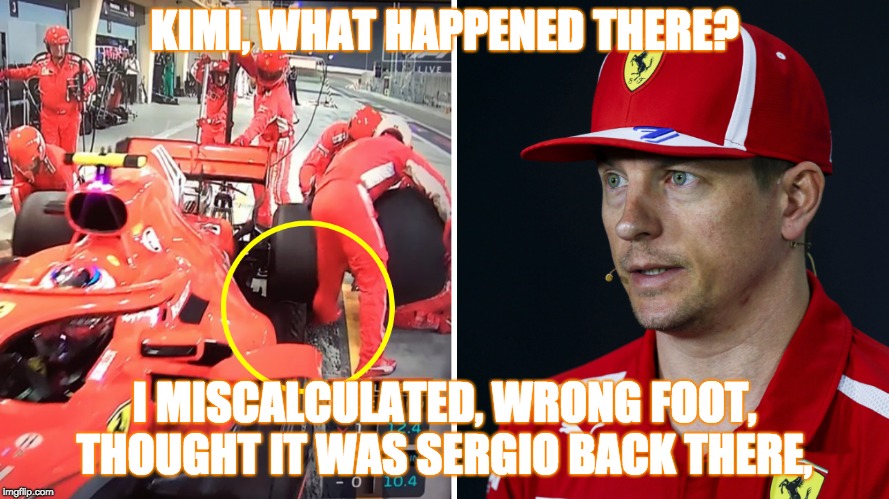 The late-great Marchionne birthed the term 'laggard' for Kimi! Well, sir, hope you were around to see how 'slow' Raikkonen's been this season.
Disclaimer: This is just a fun article and in no ways, means to disrespect any current, past or late F1 figures! This is a great sport and we admire it endlessly