Among the most enthralling and highly-anticipated grands prix in the entire calendar year is the Brazilian GP, held each year as the penultimate race of the F1 season.
Since its inaugural year, in 1972, where the Brazilian Grand prix unfurled a thrill-fest of skill and daring, ultimately won by Brabham-Ford's Carlos Reutemann, the race has attracted legions of globetrotting fans who descend into Sao Paulo with great anticipation to witness titanic battles in the race to the checkered flag.
Over the years, fans have grown in multiple numbers and flocked with intrepid passion at the Interlagos- the legendary home of the Brazilian Grand prix; a 4.309 km wide racing track in the heart of Sau Paulo.
In recent times, the sprawling track situated in the urban posh locality of a thriving Sao Paulo has witnessed not just a commercial spike in the fortunes of advertisers and marketers who cling to Brazil to witness nervy excitement on the tarmac but has also produced heaps of rivalries that have given the F1 fraternity a lot to rave about.
The famous duels between Hakkinen and Schumacher, Prost and Senna and, Alonso and Raikkonen and if you go in the not so distant past, then the nail-biting drives produced at the behest of the Rosberg versus Hamilton saga have catapulted Interlagos to the attention of the global sporting community.
A grand prix that Alain Prost made quite his own, diving past the checkered flag on a record 6 occasions and one where F1's glorious past has witnessed it all- high-speed collisions, mercurial driving under rains and tense moments- is also the home to some of the most talented drivers in the top echelons of motor-racing including Rubens Barrichello, Emerson Fittipaldi, Felipe Massa but above all, Ayrton Senna.
A dashing good looking stud, an indomitable racing star and unarguably, F1's most enigmatic driving talent of all time enthralled fans at the Brazilian Grand prix by winning the contest back in 1991 and 1993, the latter coming a few months year before the tragic events at Imola.
But the Brazilian Grand prix- an all-encompassing 71-lap contest that features some of the shortest lap times in the modern era of F1 racing of under 70 seconds isn't after all, a cakewalk for drivers. With plenty of elevation change, the Brazilian Grand prix is often known to produce scorching rains, when least expected and where intensity isn't a concern, then notoriously prickly showers that hamper natural traction for drivers competing in a wheel-to-wheel saga in the run to the checkered flag.
With both championships in 2017 having already been decided with Lewis Hamilton and Mercedes forging, yet again, a powerful alliance at the very top, ascending to the throne with great style and tenacity, there's still all to drive for where other drivers are concerned.
So what could be the expectations from different drivers and teams at the Interlagos come race day on Sunday, November 12, 2017?
1. Sebastian Vettel
Having secured no less than 11 podium finishes this season, signalling great form and intent all year in his SF 70 H, Ferrari's Sebastian Vettel, one would feel, lost out where Singapore, Japan and Mexico were concerned.
Where the opening lap collision between Vettel and Raikkonen dealt a massive blow to Ferrari's chances of dominating Lewis, who finally earned a deserving fourth title crown, the mechanical failure and eventual retirement at Suzuka and skirmishes at USA and Mexico dented Sebastian Vettel's hopes of dominating in the recent races.
So as race-day arrives, Vettel and Ferrari would be both hoping to go all out at the Brazilian Grand prix and secure some vital points and if possible, the top birth on the podium to remind fans and critics that their hunger hasn't dried out, despite failing to dissuade Lewis from earning his latest title triumph.
2. Daniel Ricciardo
The enigmatic Red Bull driver and teammate to one of the most keenly-followed among F1's talents, Ricciardo doesn't exactly boast of a sterling record here at Brazil.
In the past, the ever-smiling Aussie suffered severe tyre degradation in the last year's race that saw Daniel settle for a lowly eighth, despite having qualified with a decent P6 in qualifying. If you rewind back the clocks then in 2015, Daniel failed to collect any points given a sudden left rear suspension trouble in his waning Red Bull.
Now that Ricciardo arrives at Brazil having scored no more than a third and back-to-back DNF's from Japan, USA and, Mexico respectively, he will be curious to make the most of the opportunity presented here at Interlagos.
So can he secure a podium?
3. Fernando Alonso
McLaren want Alonso, it's clear. Alonso, above anything else, wants race wins but before that – podium finishes; something we haven't quite seen him earn since his second place finish at the famous Hungaroring in 2014.
But where the Brazilian Grand prix is concerned, Alonso boasts of a mighty record having grabbed 8 podiums at Interlagos, ever since he broke out at 'Senna-land' in 2001.
So even as a podium finish for Alonso might seem like a bit of an impossibility considering he is driving a highly stubborn McLaren, what his team would be hoping for would be for the Spaniard to get up close to the top 5 in the race.
Maybe, in that way we could have, once again, a tectonic fight between any of 2017's top ranked drivers and El Nino- who, apparently, has got plenty of fight in him, regardless of whether his critics saw him tame to near perfection Lewis at Mexico, a fortnight ago.
4. Felipe Massa
Emotions would be running at an all-time high for Felipe, the local hero here at Brazil. Having won 2 brilliant grands prix here in the past, if you remember the thrilling feats of 2006 and 2008, Massa, who has announced his retirement at the conclusion of the season would be driving his home race for one final time.
But he would be wise to seek some inspiration from his previous wins in a bid to add some excitement to his hopes of faring well at Interlagos where he would be driven to better a record that seems rather bland; the experienced driver having earned a meager sum of 34 points all season so far.
5. Kimi Raikkonen
The Iceman, the unflappable Finn and someone who would rather bite into an ice-cream than answer back critics who questioned his place in the prancing horse, having secured thrilling back-to-back podiums at USA and Mexico respectively, it's never a dull day with a bit of Kimi around.
Although Kimi's record at Brazil is decent- being somewhere in the range of respectable but nothing too overpowering, Raikkonen, who has aced dry runs in the past here at Interlagos would remember the famous Brazilian Grand prix of 2007.
Returning to the famous scene of his 2007 title triumph, Kimi, who beat teammate Massa, (who secured a venerable pole) set not just the fastest lap of the race but ultimately won the gruelling competition back in the day. He would want to better a rather lackluster faring in recent years.
If one recollects the grands prix of 2016, 2015 and 2014, then you'd find the Ferrari driver to have gathered nothing too breathtaking in his DNF, P4 and P7, respectively.
6. Esteban Ocon
Clearly the driver to beat all season at the Force India, laconic and never too willing of interacting beyond a limit, Ocon, who keeps to himself is anything but a shy character come race day. He's demonstrated just that all season during 2017, where the pleasant-looking Frenchman gathered a best place finish of P5 at Spain, a spot he would later repeat at Japan and Mexico where owing to great straight line speed of his Force India, Ocon was able to maintain a high level of consistency, in screaming past contemporaries such as Peres and most noticeably Kevin Magnussen and Romain Grosjean.
Although, at this time, it can't be said what Ocon might gather at Interlagos, but given his ability to effectively tyre-manage, in the light of rains, Esteban Ocon, one presumes, would do a better job than most guys who struggle for grip at Brazil.
7. Max Verstappen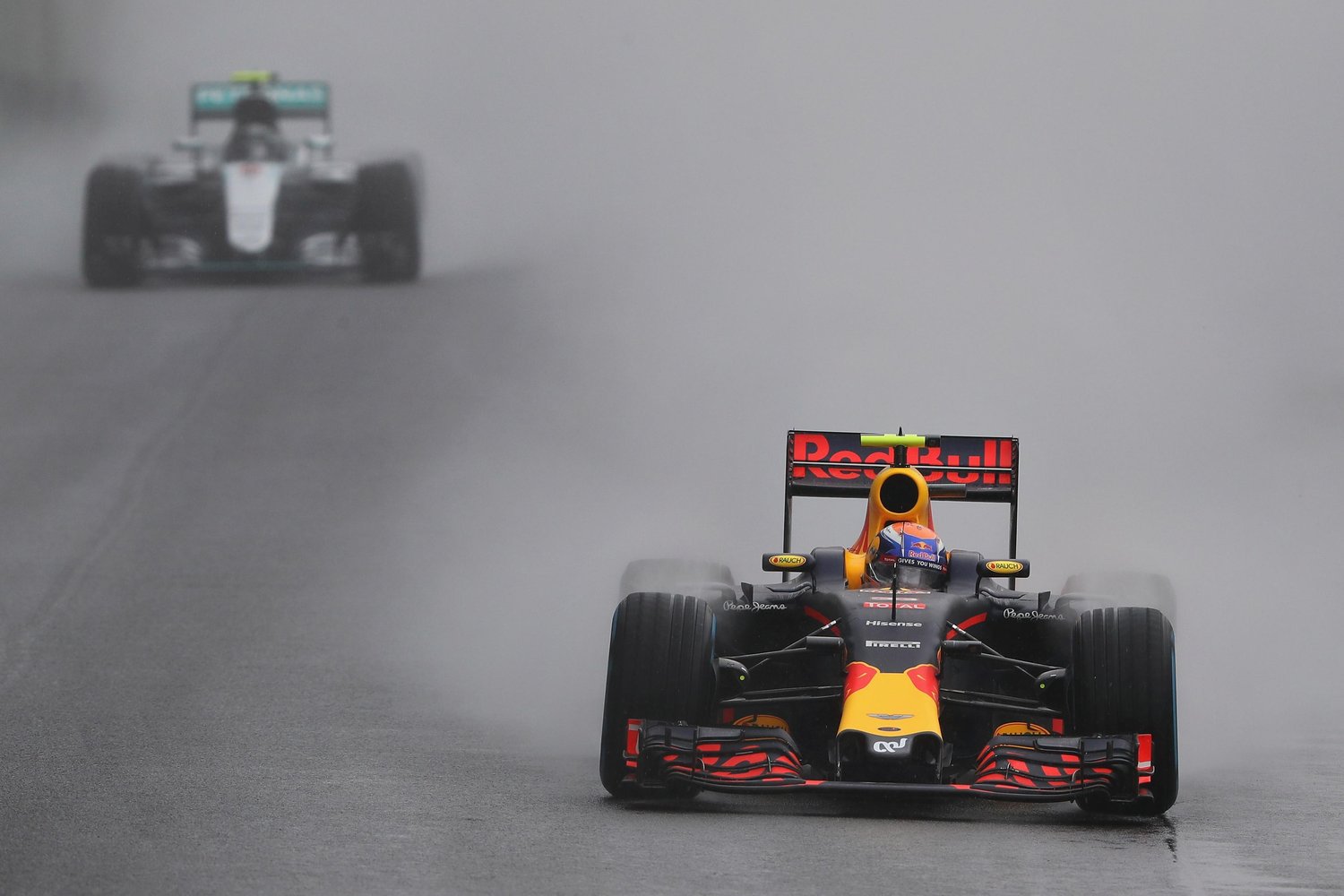 Where other drivers simply drive, Max Verstappen flies in an F1 car.
Clearly the greatest threat all weekend, Verstappen, who drove like an enraged bull with enough power in his wheels to mow down fast lightening last year will be keen to ascend to the top of the podium here at Interlagos.
Perhaps no other driver other than Max would've managed what turned out last year as the most spectacular piece of driving under incessant rains. The Dutchman charged through the pack, picking 11 places in the final 16 laps of the biting thrill at Interlagos of 2016.
Having already declared that he will be 'glad' if it rains, where most drivers tighten their seat-belts, sitting to the edge of their seats, Max takes minimum effort in producing a scorching show under rains. Having won 2 brilliant races this year at Malaysia and Mexico, Max Verstappen, Horner would hope, will be expected to produce yet another fiery drive to the checkered flag.
A question to Lewis while a word of caution to Ferrari drivers this weekend : can they contain Mad Max at Interlagos.
Till then, let's wait for our friend David Croft to declare, "It's lights out and away we go"!!