Disclaimer: If you have the ability to forget and forgive a very poor chance of making do with a laugh-related to motorsports; a really bad attempt, then should you read it.
2018 proved, yet again, that Merc were the team to beat. But this was not before proving to the Ferrari fans that it is possible to hand away what can be a successful outing.
In so doing, Lewis Hamilton did what he does best: win crucial races and snub aside critics who try to focus elsewhere to put him down, for instance, his fashion designing.
Among the biggest reinforcement theories in 2018, authored by Ferrari yet again, concerned itself with reminding fans that it's totally possible to throw away a strong podium finish (as seen at Bahrain) and a world title (as felt at the heart-sinking feeling for those in red at Abu Dhabi).
But rather interestingly so, Ferrari did showcase one sterling achievement: that of having their own driver run down a mechanic's leg, during a pit stop.
In executing a move that cost Kimi a strong finish at Bahrain, Ferrari's pit crew found a way to not fit a wheel properly when that was their job and found Raikkonen return the compliment rather remorselessly when he didn't bother to check on the man's foot; one who he'd run over rather uneventfully.
Meanwhile, 2018 ensured that even the man behind an infectious smile- Daniel Ricciardo- could do away with some. That it came at the back of his own car's unreliability was something worth spending a few pints with.
With Verstappen and Ricciardo winning some brilliant races, a lot of the action, when it came to the midfield concerned itself with frequent race retirees. There were also some who found a way to collide as if the idea of being in a normal race 'sucked.'
In so doing, Nico Hulkenberg of Renault and Romain Grosjean of Haas found a way of competing against themselves by virtue of fighting for "who did more accidents this year." The duo remained tied at 4 accidents from 21 races, therefore meaning, being part of 1 poor move in every 5.5 Grands Prix.
Also, in ensuring that Mercedes took 4 Constructor's titles in the past 5 years, Ferrari found themselves concerned with other pivotal areas. They successfully increasing the suspense regarding the future of the oldest man on the grid, arguably because it seemed the only way they'd lend some spice to a bland second half.
That said, let's look at some harmlessly constructed 2018 F1 season memes:
The Wingman Has Cometh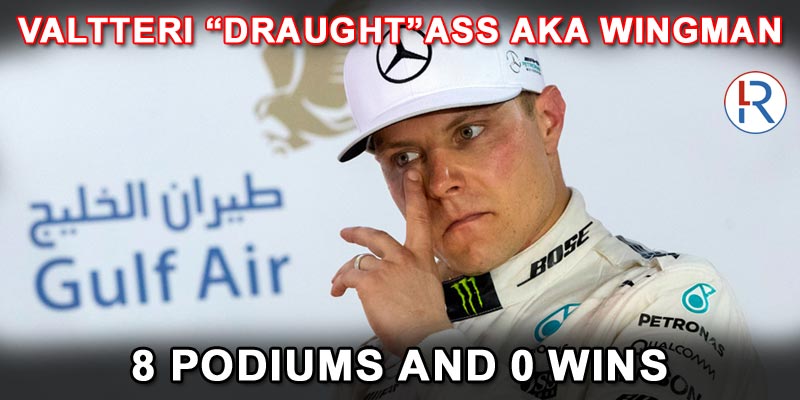 They called him the Wingman, he didn't protest. They called his compatriot from a rival team the Iceman he still didn't get upset.
But sticking on with consistency in 2018, regardless of what he did to himself- 0 race wins- or what his team did to him, the emotions on Bottas' face did remind one an old industrial mill's chimney.
Max- but- nothing mum about Brazilian GP
The 2018 F1 season was every bit meme-worthy since it proved to fans that young race drivers who've had no history of high blood pressure can seemingly depict some, if one were to remember the cute date featuring Max Verstappen and Esteban Ocon, at Interlagos.
As seen on the video footage of the post-Brazilian GP, it's believed that no love sonnets from Shakespeare were heard as Max and Ocon engaged in what wasn't perhaps banter in the paddock, with Max, in particular, not refraining from expressing profuse love toward Ocon, so much so that he'd get only begun to get physical with the Frenchman, before someone pulled both aside?
Red Bullied by Red Bull: Dan-Ric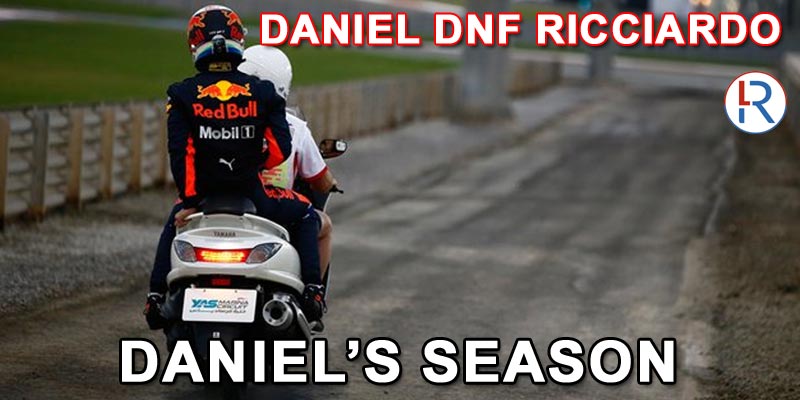 The 2018 season was memorable for drivers like Hamilton and Raikkonen, but for different reasons. It was special for Lewis in the sense that apart from putting off the smile on Vettel's face, he also happened to win a fifth drivers' title. For Raikkonen, it was finally about tasting the champagne, not rosewater on top of the podium.
Thank god it was the USA!
But that said, not every driver enjoyed the season for there were many modest performances.
Top-rated blokes like Ricciardo found a way to collide with really bad luck, which is despite winning two Grands Prix, one each at Monaco and China.
How then, Ricciardo was able to contest- for there would be 8 DNFs in all- is something none can explain. Not even, Eddie Jordan or D.C.!
Don't do in Spain, Baku, Monza, US etc as Romain did!
There are drivers who crash. There are drivers who don't crash. And apart from Pastor Maldonado, there are drivers like Romain Grosjean, a 4-time accident participant in the 2018 F1 season; a driver who also earned the not so prestigious tag of being a bloke who also managed to disqualify himself from the Italian Grand Prix that too in the final lap of the race at Monza, owing to something that really sounds strange: Illegal floor, according to the FIA.
When it came to 0 race wins was Fernando the only one who was Alone-so? 
Fernando Alonso is a name that cannot be forgotten from the annals of the sport, let alone from Formula 1 racing specifically.
Apart from being the only active motor-racing driver who has a museum dedicated to his life, in Spain, Alonso, who's had the distinct honour of fighting the backmarkers for the better part of last half a decade, finished his F1 journey by doing the doughnut.
Gladly, it was a far better sight for the fan than seeing 'El Nino' eating one- just imagine- hypothetically speaking, with an entire circuit's crowd watching impatiently.