Dipa Karmakar, a 22-years-old girl is winning India's heart as she entered in Rio Olympics in Female Gymnast category. She is from Tripura and she is going to represent India in the Rio Olympics in women's gymnastics later this year. It was easy for her to get into the competition. For those who don't know, Dipa won a bronze in the Glasgow Commonwealth games and she is also a participant of the finals of the World Championship in 2015.  
But the question still lies that which act made her enter the Rio Olympics?
The answer is Produnova vault. This act involves a front handspring into two frontal somersaults. It is possibly the most difficult maneuver and only 4 people other than her can do this. This act is so dangerous and death defying that if performed incorrectly, the act can cause the Gymnast a fatal injury to the spine.
That is how she got in. Dipa risked it all and did Produnova vault which made her the ultimate qualifier for Olympics.
Watch Produnova Vault Here: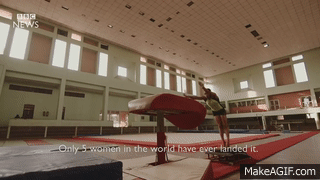 It does look scary and Dipa deserves to be in the competition. Her winning spirit not only praised by other Gymnast in India but two former Indian cricketers praised her for her amazing achievement. Any Guesses?
Master Blaster Sachin Tendulkar tweeted to Congratulate Dipa.
Congratulations #DipaKarmakar on creating history with your qualification. You inspire young Indians with your achievement. Best wishes.

— Sachin Tendulkar (@sachin_rt) April 18, 2016
Rahul Dravid took facebook to express his happiness and share his support towards her.

After she qualified for Olympics Dipa's world has been changed. A girl who was unknown to entire country is getting everyone's respect and we bet she deserves it. Another good -news for Dipa is that she will now get additional funding of Rs 30 lakhs from the sports ministry as part of the TOPS – Target Olympic Podium Scheme.
India have been absent from Olympics in Gymnast category since 1964. Breaking the record she is not only the first Indian female Gymnast but also the Indian Gymnast who entered in Olympics after 1964. The world may applaud her for her latest achievement but her journey from the beginning to Rio Olympics has not been easy.
Watch Dipa Talk About Her Journey In This Video:
(Video Courtesy: BBC News)
When talent works hard it leads to the fruitful road of success and Dipa is the perfect example. We wish her all the best for her performance in Olympics and we hope India keep producing more talents like her.
Follow us on Facebook, Twitter and Instagram for more updates. Don't forget to like and share. Do tell us your views in the comment box below.
19 April, 2016
Avni S. Singh