Bangladesh are yet to beat Zimbabwe in a T20 series at home. In fact, what's worse? They are yet to seek a bi-lateral series win since 2018, when they'd beaten the West Indians fair and square. On the other hand, Zimbabwe- and if you are a fan, you'd know- would be desperate to avoid yet another whitewash, something that didn't cut a pretty picture during the recent ODI outing.
These two teams don't really play an awful lot of cricket with one another. But when they do, they ensure that it becomes one heck of a contest. Just that the visitors to Bangladesh wouldn't have expected that they'd be up against a team that would challenge them so enormously and unsparingly that the Sean Williams-led side would simply fail to register a single win.
The stakes, therefore, on both sides of the coin, are too high to overlook or avoid.
Zimbabweans are desperate for a win. But whether they are hungry and good enough to seek one is something you and I can't answer. To doubt their collective talent would be to do the needless. This is a team that has experience and flair; a unit that has, in the aftermath of being re-recognized and reinducted into the ICC, been on a constant hunt for improvement.
This is also a side where noted all round talents like Sikandar Raza only recently appeared in the 100th ODI international. Raza, incidentally, also recently took a career-best Test bowling figures of 7-for during a fighting draw his team managed at the back of a special performance against Sri Lanka at Harare.
But ever since that tour, Zimbabwe, about to enter their last game in Bangladesh, have seemed underwhelming.
It isn't that the likes of bowling and batting combination aren't full of thrust and experience. How can you ever take a side lightly that has someone like a proven pro of batting in Brendan Taylor? With names like Craig Ervine and Sean Williams, the moment you bring Sikandar Raza into the picture, you suddenly have the big four in front of you.
Given all these redoubtable names have been at the team's disposal and yet, the African nation has lost every single game it has contested in- thus far- goes to highlight the woes of a band of luckless travelers.
When is that elusive win coming? This has been the dominant discourse from the Zimbabwean perspective. In fact, is it even happening as the Sher-E-Bangla calls on both teams to lock horns for one last time during this bi-lateral tour featuring Zimbabwe and Bangladesh where the former's hosts have done all the talking?
What's known is that, as seen the other day, also at the same venue, Bangladesh's Saumya Sarkar produced such a garrulous powerplay with the bat that his 62 carted his side to a daunting 200.
With Bangladesh making an exact 200, requiring of their opponents no fewer than 10-an-over, it was anybody's guess which side held the advantage?
In reply, the 152 seemed promising but just not enough, Zimbabwe helped by contributions from different portions of the batting order, youngster Tinashe making the 28, the top score, followed by the captain Williams' 20, and newcomer Carl Mumba (who had gone wicketless) making 25.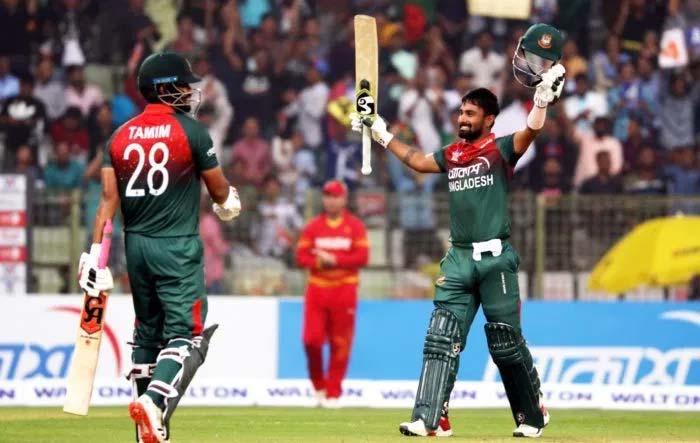 That being said, surely Zimbabwe's batsmen will want to step up their game. The likes of Brendan Taylor- 1 in the previous T20- would want to dart some runs, especially when an opener is expected to do just that. Moreover, in Ervine, Williams, and Raza- there's a collective experience pool of over 1,600 T20s and around 95 T20s, Williams alone accounting for 39 of those, while Raza's got 33 against his name.
But the problems aren't alone with the batsmen. The bowlers have been taken to all parts of the field with the likes of Liton Das- a memorable ton in the first ODI- and Tamim Iqbal batting with fire and gusto.
On his own, the premier experienced exponent of graceful left-handed batting has scores that read- 41, 128*, 158, 24 in his last 4 outings versus a winless side.
2 of his 13 ODI hundreds happened in his very series and these are big centuries, that offered a team minus Shakib so much power. Just imagine what might have happened had one among the world's foremost all rounders been in the green colors?
Guess, it's safe to say and with due respect to the spirited team that Zimbabwe are, that at this point in time, nothing would ever lift their spirits as much as securing a win somehow.
But then, a good way to begin would be for the likes of Mpofu- over 14 an over in his last T20I- and Mumba- 12 an over in the last game- will have to significantly hold back their economy rates.
Don't take wickets if you can't but don't offer freebies and half-volleys, right? Can we expect a close contest or a finish down to the wire?