Just hours before the Supreme court banned the sale of firecrackers in Delhi/NCR until 1st November 2017, Indian all-rounder, Yuvraj Singh posted a video message through his Twitter handle, urging his fans to avoid bursting crackers on Diwali and celebrate a pollution-free Diwali with friends and family.
While the sale of firecrackers in the festive season has increasingly become an unwanted part of our lives, many celebrities, as well as crickets, have joined hands in the past to promote a pollution-free Diwali and celebrate this festival of joy with peace.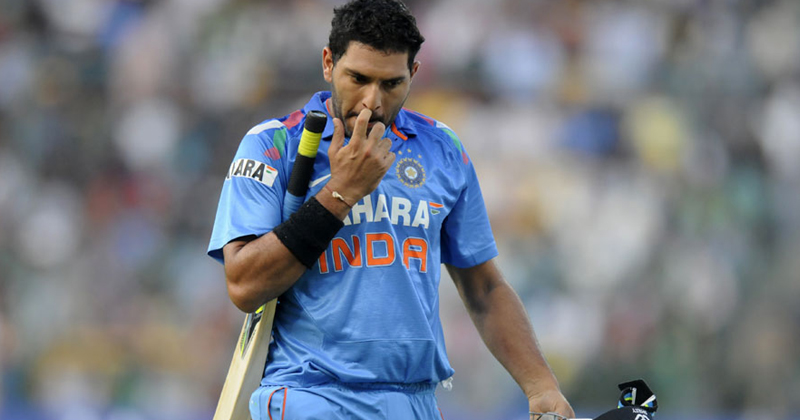 Yuvraj Singh, on the other hand, took a stand with this video and recalled the trouble he faced last year as due to a sudden rise in pollution, he was not able to breathe outside his house. He added that it was so devastating for him to see kids wearing masks outside their house and highlighted the fact that making India better is our responsibility.
Watch Yuvraj Singh's Video Message For All His Fans Here.
Say no to crackers, let's celebrate a pollution free Diwali #saynotocrackers #pollutionfree https://t.co/l1sotpKizM
If you are one of those who quickly went on checking out Yuvraj Singh's Twitter wall, you might have realized that the social media platform has issued a warning stating that the video might contain some sensitive content. If not, Yes, it is true.
If you are wondering what caused Twitter to issue the warning then it's worth mentioning that his message wasn't received well by Twitterati and they, to everyone's surprise, had some hard words to say to the Indian all-rounder.
While few people accused him of being anti-Hindu, others cited the events of animal slaughtering and some even went on to giving him the advice of stop using air-condition and start using plastic bats to save trees. (What has happened to this world?)
Here are some of the Twitter reactions to Yuvraj Singh's 'Say No To Crackers' Message For Diwali.
@Banucheeku @YUVSTRONG12 my point is simple all celebs starts tweeting this stop cracker thing only before diwali as if it is solely responsible for pollution.
@aniljharbade2 @YUVSTRONG12 @manu1154 These guys driving high end diesel cars and making pollution every day but preach when it comes for Diwali. Crs of families earn their yearly income from crackers, it's indirectly helping them to survive. So buy desi crackers as much as you can
@YUVSTRONG12 if u want to control pollution then stop using car ,use cycle.
@YUVSTRONG12 @YUVSTRONG12 bhaiya, 1. How often do u use public transport?? 2. Have u ever requested BCCI/ICC to not use fire crackers during matches.
@YUVSTRONG12
@pransu123 @amaraharish @YUVSTRONG12 don't play with leather balls too, save animals
@YUVSTRONG12 If you stop flying, a lot of jet fuel pollution will be saved. Also, doesn't IPL have firecrackers?
@YUVSTRONG12 भाई जब खुद की शादी की पार्टी में पटाखे जला के शान से Entry किये हो फिर क्यों ज्ञान बाट रहे हो? क्या हे न इतना दोगलापन अच्छा नहीं लगता सर
@igaurav1234 @YUVSTRONG12 These are all silly one yaar,The words comes from his mouth is appreciating one,Tell possible things ,impossible without car for celebrities
Well, the whole incident has left us with no words. While the fans sound right at their part, the fact that Yuvraj Singh being a celebrity had to unwillingly be on the receiving end of fans' anger after Supreme Court banned the sale of firecrackers in Delhi/NCR.
It is also true that change starts from home and rather than urging fans to care about the rising pollution levels, an idol like Yuvraj Singh should have led with some examples.
But then again, it is not his duty to change the world and a message like this coming from him, in itself, is worth an applause.
As for his career as a cricketer, Yuvraj Singh is currently out of the national team due to fitness issues and is set to feature in Ranji Trophy for Punjab in the second round. The 35-year-old was last seen playing for Indian national team on their tour of West Indies but since then, he has not been picked, even once, for limited-overs format against Sri Lanka and Australia.