Yuvraj Singh and MS Dhoni are considered as the backbone of India's batting lineup and while both of them have played some incredible innings in their careers, when they have partnered in their prime, oppositions have found it difficult to keep the Kookaburra within the stadium.
Finishing a match is an art and it doesn't come naturally to the players rather, it has to be perfected over the time. There had been many finishers in Indian Cricket and Virat Kohli is leading the segment with some mind boggling run chases ever seen, however, the current run machine looked up to Yuvraj Singh and MS Dhoni even before his debut in International Cricket. When MS Dhoni revamped Indian Cricket team after being handed down the captaincy, Yuvraj Singh was his first preference for being at the spine of batting lineup.
The era of 'Captain Cool' saw several players rising under the Dhoni's captaincy but there were two batsmen who were regularly registering some awe inspiring stands in the middle order.
We relived the era once again during the India vs England ODI series 2017's second game at Barabati Stadium, Cuttack where Yuvraj Singh and MS Dhoni played for a rock-solid 256 runs stand that took Indian team to the total of 381. The pair now have ten 100+ partnerships and more than 3000 runs between them and we thought of reliving the past once again by remembering the top 5 most memorable stands between Yuvraj Singh and MS Dhoni.
1. 102* vs Pakistan in Lahore, 2006
India vs Pakistan has been considered as the mother of all battles and the 3rd ODI between the two teams at Lahore was nothing short fierce confrontation. Both teams had a win under their belt and the 3rd game of the four match series was all about taking the lead. Pakistan was able to set a target of 289 for India but after Sachin Tendulkar and Yuvraj Singh gave a great start to the chase by registering a 105 runs stand, India's wickets fell in quick succession and the team was struggling at 190 runs with the loss of 5 wickets after 35 overs. After Mohammed Kaif went back to pavilion, MS Dhoni came to the crease and went berserk.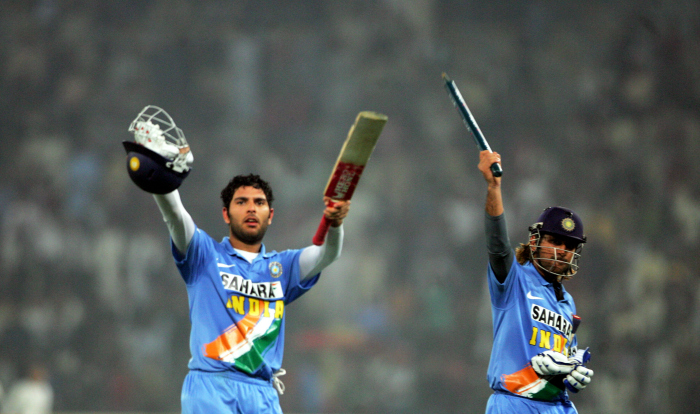 MS Dhoni started smashing the ball all over the ground while Yuvraj Singh complimented him by taking quick singles. The pair registered an unbeaten 102 (MS Dhoni scored 72) runs stand and went on gifting India a much needed victory.
2. 158 vs Zimbabwe in Harare, 2005
After giving a target of 251 runs to India, Zimbabwe went on a wicket spree and left India craving at 91 runs with the loss of 5 wickets. When Yuvraj Singh and MS Dhoni were together on the crease, India needed 159 runs off 154 balls. Yuvi batted brilliantly and went on scoring a remarkable 120 off 124 balls. This time MS Dhoni took the back seat, scoring an unbeaten 67 off 63 balls. With the team needing just two runs for a victory, Dhoni played a huge six, showing his finisher qualities.
3. 146* vs Pakistan in Karachi, 2006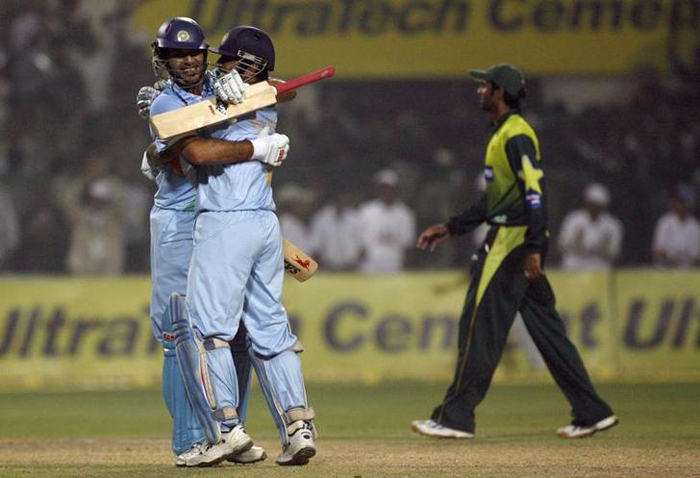 Rahul Dravid led Indian team had already clinched the 5 match ODI series against Pakistan but Yuvraj Singh and MS Dhoni had a showstopper in their mind. The target was 287 runs and India lost two wickets at 191 runs after 31 overs. Dhoni came at No.4 to join Yuvraj Singh at the crease, who was batting on 46 off 50 balls. What we saw next was an association between the immovable and the unstoppable one. Yuvraj ended on 107* off 93 balls and Dhoni on 77* off 56. Pakistani bowlers were left clueless as by the end of this game, run rate flowed near 9 per over and nobody was able to stop the ball from crossing the boundary. India went on equalling the record of 13 successful consecutive ODI chases with West Indies.
4. 102* vs Australia in Rajkot, 2013
In a Twenty20 against Australia at Rajkot, India had target of 202 runs to chase in just 20 overs and completing the chase was considered equal to climbing the Mt. Everest.
As expected, Yuvraj Singh and MS Dhoni saved India from total embarrassment after the upper order failed to perform and registered an unbeaten 102 runs stand in 51 balls.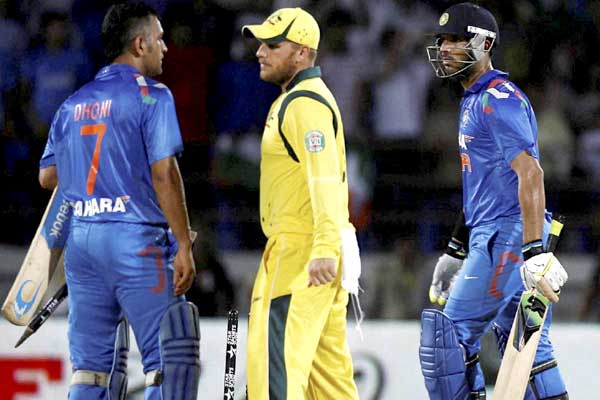 This time Yuvraj took the front wheel and scored 77 off 35 balls (his personal best) while MS Dhoni didn't fail to keep the in-form batsman on strike and was content with 21 runs off 24 balls, leading India to an unexpected victory.
5. 148 vs Australia in Delhi, 2009
India and Australia locked horns in a 7 match ODI series and in the first two games, both teams had a victory under its belt. In the 3rd game, Aussies bundled out at 229, leaving the match in India's grasp. However, India lost Virender Sehwag and Gautam Gambhir early in the game and Sachin Tendulkar chipped in with a 32 runs off 47 balls stand. After he went back to pavillion, India stood at 53 runs for the loss of 3 wickets. Yuvraj Singh and MS Dhoni again came to the rescue by adding 148 runs for the fourth wicket. Yuvraj Singh scored a brilliant 96 ball 78 and Dhoni batted well for his 71 runs off 95 balls, leading India to a 6-wicket win over Australia
India vs Sri Lanka, World Cup Final, 2011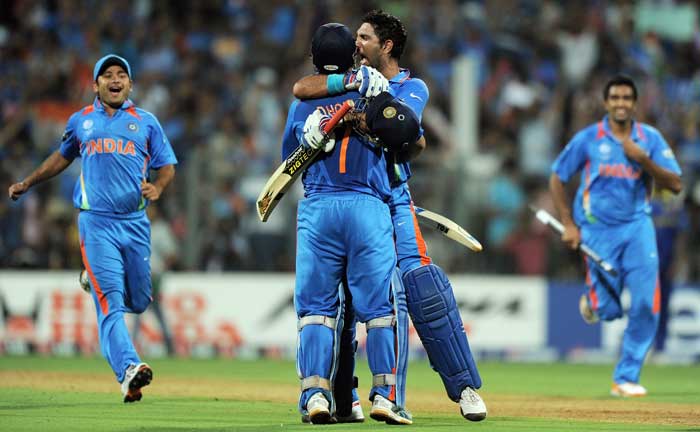 This particular partnership doesn't reflect big numbers but was undoubtedly the best and the most important stand taken by Yuvraj Singh (21*) and MS Dhoni (91*). After being humiliated in 1996, heartbroken in 2003 and the shame of 2007, India claimed the ICC World Cup for the second time after 28 years. Sri Lanka set a target of 275 runs and to everyone's horror, Sachin Tendulkar and Virender Sehwag went early in the match. Gautam Gambhir and Virat Kohli steadied the innings before the latter being sent to pavillion by Sri Lankan bowlers.
MS Dhoni promoted himself and came to the crease, not long before Gautam Gambhir got out at 97. India now needed 52 runs off 52 balls and Yuvraj Singh paired with the captain to score 54* runs off just 42 balls with Dhoni finishing the game via the 'famous six'.
Follow us on Facebook, Twitter and Instagram for more updates. Don't forget to like and share. Do tell us your views in the comment box below.
20th January 2017
Rohan Jaitly