The big question, if you are a Bangladesh cricket fan, is whether Shakib Al Hasan might or might not return to the international fray anytime soon. Truth is, since the 2019 ODI World Cup, there's been a ban imposed on the famous cricketer, widely recognized as among the game's premier all rounders.
The left-handed batsman, who also bowls wicket-taking left-arm spin had been banned by International authorities (ICC) for not reporting any corrupt approaches that had been happening around Bangladesh cricket circuit.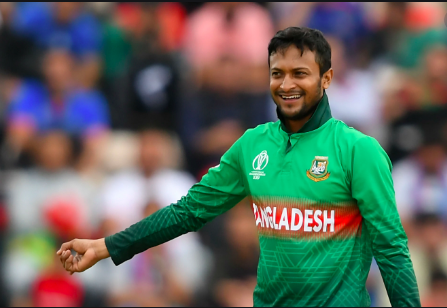 Although, in the widely-followed ICC 50-over men's world cup event in 2019, Shakib al Hasan was among the most famous players and one with astonishing success in both departments of the game, what didn't help his cause or reputation one bit was that not only were he severely reprimanded but banned from the very game in which he has excelled for a considerably long period of time.
Having said that, to imagine a Bangladesh side in the absence of their star player has been a leading predicament for the fan. What didn't help were seemingly one-sided outcomes that hurt the otherwise promising Asian nation, such as their disappointing T20 tour to India held later, toward the close of 2019; a series where the visitors lost each and every T20 international other than the one held in Delhi.
But there's often a trail of good news at the end of looming disappointments, as they say. And it may so happen that the fan gets to see the single-most inspiring figure from Bangladeshi firmament soon, without much delay.
If all goes well, then, where it stands at the moment, the Bangladesh cricket team may travel to Sri Lanka in the coming days in 2020, a year where, lest it is forgotten, the international side hasn't starred in a single contest across the three formats of the game.
And it's in this proposed 3-T20I tour of Sri Lanka, that one may get to see star all-rounder Shakib Al Hasan. So how did all of this turn out into a possibility and what does the news have in store with fans who will find unmatched contentment at seeing their famous cricketing idol return to the place where he belongs: the cricket pitch!
An excerpt published on famous Indian daily HT.com happened to share:
Bangladesh's tour of Sri Lanka is more or less confirmed and given the schedule, Shakib could feature in the proposed three-match T20 series.
"I think Shakib being out for a year is not that much different to the rest of our squad who have been out for six or seven months as well," Bangladesh head coach Russell Domingo was quoted as saying by ESPNcricinfo.
We are hoping all the players are fit. Obviously, there are standards that they need to attain in terms of fitness level. We have to organise a bit of game time for Shakib, as well as for all the players." The all-rounder's fitness will be taken into consideration before picking him.
"It is very difficult to get into international cricket without any sort of cricket. I think we need to try to find some opportunities for him to play some games. He is a world-class player so I am sure he will get back into it pretty soon, but fitness is an important thing