The runs aren't coming. Well, they are. But guess what, they actually aren't? To nine in ten- this could be some drunk writer not sure of what he's trying to do. There exists and it's not hard to identify a sense of confusion in there. But if you were to read something as simple as, here's the batsman who's making runs and here's someone who needs to, it would offer clarity- would it not?
But that's precisely the issue. There's hardly a clarity in the way the West Indian Test batsmen have been going about their Test proceedings, of late. Mayers and Bonner, both of whom, make no mistake, have been great finds, making an impact on difficult sub-continental pitches in Bangladesh earlier this year, aren't performing well. Or not as well as they'd have liked.
What's more- Nkrumah Bonner got hit by a bouncer in the Test against the Proteas by Anrich Nortje and since then, he's been on a recovery mode, never really cutting the figure of inspiration and assurance that the number 3 has generally brought to the table.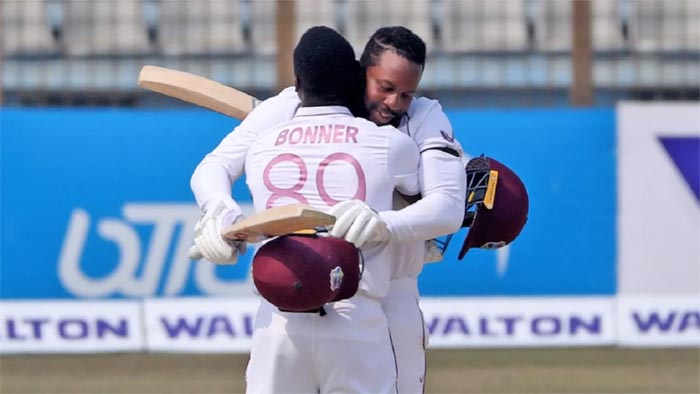 So he can be cut some slack. Moreover, Kyle Mayers, who earned a dubious albeit freakish first in Tests- a golden pair, scoring no runs whatsoever, has been a disappointing picture for the West Indies.
In the fourth innings of the final Test against South Africa, he did look on song, scored a gritty half century, which was at the back of an impressive showing with the ball.
Since then, his scores of 0 and 0 haven't inspired confidence. When you hit 210 unbeaten runs in your maiden appearance in the sport's most prized and rated format, the expectations of you are huge.
That Mayers followed it up with fine knocks against Sri Lanka in his maiden assignment against the visitors in the Caribbean offered the fact that he was no flash-in-the-pan batsman for the Windies.
But that these two are vital cogs, as of today, of a middle order that doesn't boast of too much firepower except Jermaine Blackwood, whereas in an India's case, there's Pant and Jadeja as two of the most recognised forces in that position, undermines fans' confidences somehwat.
Moreover, where Mayers and Bonner come into picture is due to an unstable top order. Though, Kraigg Brathwaite played a commendable very Brathwaite-esque knock of 97 in the first inning that enabled the captain to lead by an example and his team to compose a first-inning lead, that his partner at the other end didn't, exacerbates woes for a top order that still looks vulnerable and threatened.
It's yet to come into its own.
That, in some ways, has been the great nadir of the West Indies for quite a while. They drafted Hope as the opener and then at number 3- he failed. They sided with John Campbell, the Jamaican left-hander on multiple occasions, think the tour in England 2020, and the home series against Sri Lanka- and the batsman failed to impress.
In Test cricket, a patient game, you need to build a start and then consolidate one. The number of starts Campbell has thrown away, whose patient knock in the forties before a Proteas pacer sent him packing was about as beautiful and purpose driven as any one would have noted in a long long time.
Just the kind of batting that you as Brathwaite would wish to see the other partner exhibit. But is it happening, how soon can it happen- we have no clue!
Moreover, the vice-captain, Blackwood, fresh from a fighting half-century in the fourth inning was admirable in that despite being the batsman who can so quietly counterattack, his runs haven't been coming in bulk or in regularity.
As a vice-captain, that kind of slackness cannot be expected. Whether the greatly fluent but under achieving bat Jason Holder, who too struck a vital fifty recently, can come good again against Pakistan- we don't know.
You don't know them ever, do you- the West Indies.
Though what you do know is that somehow Mayers and Bonner will have to hold an inning together and build a strong foundation. The runs haven't been coming and if they do now, they'll go well and a long way to help West Indies think of a series triumph, their opponents clearly under pressure.
Cricket expert and widely known commentator from the Caribbean said, "It's pointless to find the fault in one particular batsman, I'm not a fan of that approach. As a unit, as one team- the West Indies batsmen need to find a cohesive answer to this batting malady!"
Someone who's always advocated the need to build a strong foundation, instead of creating a top to bottom approach, you cannot ignore the vital suggestion a son of the Caribbean has to say. In a conversation with the author of this piece, the bespectacled studious figure from St. Kitts and Nevis also shared- "The vision of the team needs to deliver runs consistently, bat session after session and bat time! Though for that, getting behind the line of the ball and having water tight defensive technique is needed. The team must focus on that," Mr. Springer concluded.
But the key question is- will that happen starting tonight against Pakistan in the decisive Test?