"Rain, rain don't go away.. I desperately need World Cup qualifying points my way"
They were in it, by chance, you felt. In fact, you knew it. They weren't actually supposed to belong here. They should've been at the Harare airport by now, with sad, sagging shoulders and grim faces. The waiting line queuing up for the flight back to the Caribbean would've been a mighty sad one, with clueless faces of Gayle, Samuels, Lewis, captain Holder himself. But they did it. They prevailed. Even if, the rarity of the West Indian win came at the back of a rain-affected intervention. No love lost. Cricket is alive and buzzing. So are the West Indies.

You feel sad for Scotland. It's true, there was an umpiring error. A big error. On really shaky grounds was the Scotland ouster forged, perhaps at the back of a dismal error by umpire Paul Wilson. Surely the one hitting Richie Berrington on the pads in the 32nd over had Ashley Nurse jumping with joy. But there was a problem. It was deviating mightily away from that leg stump. With their most set batsman dismissed for 33, you felt, it was curtains for Scotland.
Which is exactly when a vital 20 run stand- immense in the context of the low scoring game- began developing. Munsey looked set to dismiss Windies from the brink of an unlikely upset. Leask was out there, hitting the ball through the covers. A resistance was being attempted; an arduous one at that. Suddenly, Nurse, who'd been bowling as well as he's ever bowled began feeling pressure. You found captain Jason Holder wanting. Calculated risks manifesting in brilliant switch hits by George Munsey emerged out of nowhere, taking a toll on West Indies bowlers.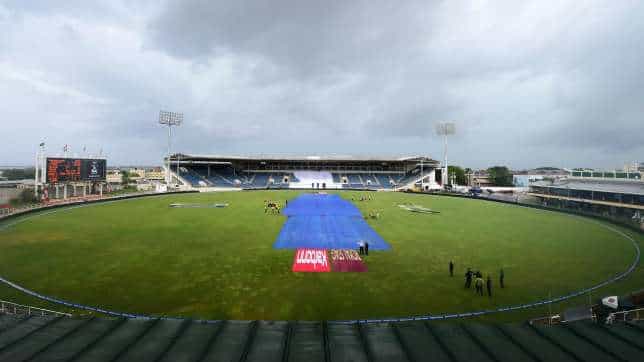 That is precisely when rain interfered, quite like a mother desperate to save her child from savagery. For all their hopes and efforts, Scotland found themselves at the wrong end of the scoreboard in the next half an hour of the proceedings. The final scorecard spelt boundless joys for the West Indies and sent Scotland on the path of the same emotional disbelief that South Africa had felt way back in 1992 World Cup against England. Both equations were equally ludicrous. 26 years back it read: South Africa need 22 off 1. Today, in Zimbabwean heartland it suggested- Scotland lose by 5 runs. It was bitter. No, it was utterly unbearable.
You grieved for the Scots, wondering immediately how would have Sir Sean Connery reacted; perhaps seething in anger at this baseless babble. Cricket can be a tricky sport. More like a difficult lady love to handle. Your loss is another one's gain. Back in the West Indies dugout- what transpired were unreal scenes. Jubilation as if you were sent back home from a medical facility, your healing complete. Second phase of life begins.
But all that said- with due regard to Scotland- somewhere not acknowledging Jason Holder's efforts would be a big mistake. A grave one. Ever chastised for being a seemingly lazy, somewhat haggard captain, tasked with leading a recalcitrant side, the Bajan surely has turned a corner. In first instance, you'd think he is Darren Sammy.2 in making. The big difference is, Sammy might've been birthed in a period marked by ferocious protest against the Board. It was firebrand stuff. Calling out names. Taking the board head on. He's still a modern day legend in the Caribbean. But his successor, will likely be remembered for guiding the West Indies to qualify in ICC World Cup 2019.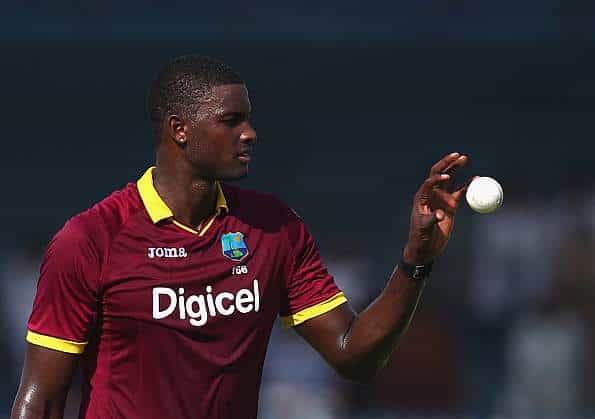 Lest it be forgotten that the very same team missed the bus to 2017 ICC Champion's Trophy. Somewhere, we've got to reward Holder for his patience. This isn't siding with an unlikely hero. Here's proof.
How often have we seen Holder bowl with the commitment of a mercenary driven to evade a death sentence? How often have seen Holder scalp 15 wickets in a competition? Often oscillating between a batsman who can bowl a bit and a bowler who's painfully slow to be a medium pacer, Jason Holder's figures in the ongoing World Cup qualifiers would arrest the attention of West Indies' most scathing critic. A personal best of 99*, a 5-for; only the second of his ODI career, 219 runs in all and, a princely match-winning effort for his side demonstrate a leader who was sound and aware of just what lay at stake for cricket in the Caribbean.
Even in these after-hours of West Indies' unlikely qualification (for the next year's World Cup) there are more hearts crying for Scotland as opposed to backing the Windies, but you can say that this moment marks nothing less than a desperate success of life cheating death. The West Indies cricket is supposedly off the ventilator it had been breathing on. At least for now. And must one factor in the useful contributions of key men who've brought them to witness a heartening triumph. Surely, Holder's not alone.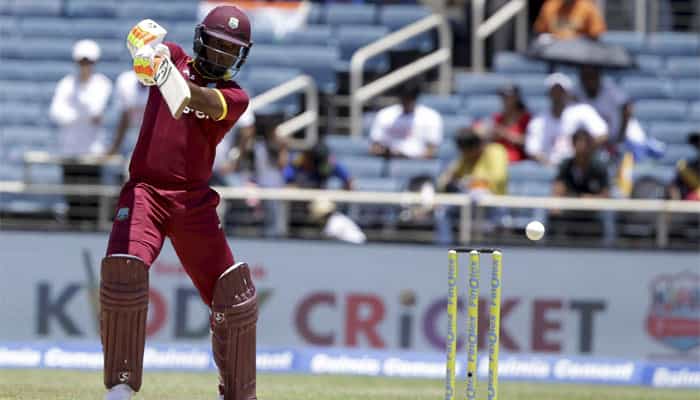 How about Evin Lewis? Tipped a natural successor to Gayle and someone who's only shy of a few runs from reaching his first major milestone in ODIs- 1000 runs- Lewis fired 66 today, perhaps just when his team needed it. Previously, he chipped in with a 64 versus Zimbabwe and that 84 against Netherlands. Both were, undoubtedly, must win games for West Indies. But he wasn't alone. Marlon Samuels- a man they call the 'Icon'- finally proved why he's such a vital character in the side. It isn't everyday we find the Jamaican striking three solid fifties in the same tournament? The last time he did it, probably it would've been on a computer game.
He produced arguably the West Indies' most useful knock courtesy that mega 86 against Zimbabwe, within days of hitting 36 against Afghanistan and an unbeaten 73 against Netherlands. The focus, interestingly, at all these times was on the butchering blade of Gayle which, reasons known only to Gayle himself, fell bland when it was needed.
All that told, here's what the West Indies are ought to do. The board, clearly needs to continue taking stock of this vital progress, surprising and unlikely that it might've been. At this time, there seems no clear back-up plan for their T20 mercenaries- regardless of how much Pollard hates the term- for returning. The best idea is to focus on developing their current 13 into how they could forge themselves into superior performing athletes for immediate future. Gayle and Samuels seem fit to last an extra few miles. Their guidance and involvement is pertinent for honing skills of bright talents- Lewis, Hope, both of whom have been in sound knick. Finally, Kemar Roach needs to maintain his fitness and rhythm. You'd expect coach Law to back him up well. For this and more the Board needs to rally around the team as much as the fans do.