Ismail opens the inning. Kapp storms in from the other end and before the batswomen even stretch their arms or get acclimatized to the Auckland pitch, the White Ferns are 2 down. Kapp has taken 2 early wickets. At the end of another troubled day for the hosts, while you are meanwhile reminding yourself this is New Zealand batting in New Zealand, the team have skittled out for 115. Of the 10 Kiwi wickets, "Kappie" has taken 4 on her own. The Second ODI reads like another sorry result. Huh, the result, the devoted Kiwi fan asks? A paltry team total of 115- was it even worth the time spent on the game. Regardless of how terse a pitch in world cricket where such a total is made, you wonder, can it ever difficult to contain a batting order that includes- Lizelle Lee, Laura Wolvaardt, Mignon Du Preez, Dane van Niekerk, Chloe Tryon, and Sune Luus?
Let this be known that Kapp, who's one of international cricket's best all-rounders, not only one of South Africa's best, hasn't been included in the list?
The answer is known. The results soon come along. It takes the visiting Proteas Women only 24 overs to 'do the needful'. You do realize, however, that along with South Africa's comfortable snubbing of their opponents, they've seized the series and done so in a highly deserving fashion. This is right after crushing the White Ferns in the opening ODI that was hosted on the very same venue.
Just that in the first game, the suffering endured by the White Ferns seemed far more bearable and that there seemed fight! The White Ferns made 259, it was a fighting total.
Fight.
Isn't that the word that is currently missing out of a team that's made a name for itself exhibiting that very key cricketing instinct?
It's anybody's guess. But yes, to any passionate fan who holds just as much love for the White Ferns as for the Black Caps, being reminded that the Second ODI loss meant that the ladies have now lost 8 ODIs since the start of 2019 is far from ideal. Drop more math into the equation and you understand the desperation that such a vastly talented bunch might be experiencing.
The 2nd ODI loss, that confirmed the Proteas Women's series win also meant that the White Ferns have now lost 9 of their last 11 ODIs.
Flattery.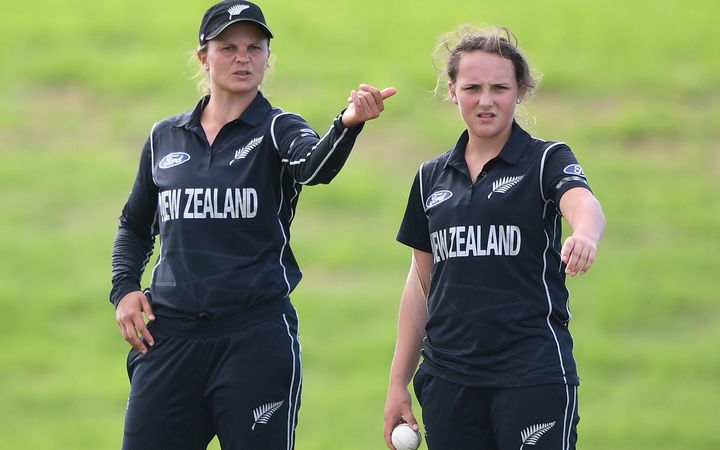 It is a cheap word. It's something that doesn't make much sense, especially when a team as good as the White Ferns is far from playing well.
It also makes no sense. Akin to wearing a raincoat inside a swimming pool. What good is it anyway?
But there's a catch against a very rational argument: "why consider flattering New Zealand cricketers especially when they are playing poorly?"
Take one close look at Suzie Bates and Sophie Devine's stats. Try to spend more than a few seconds on them with perhaps the same inquisitiveness with which you check your early morning WhatsApp notifications.
Chances are, you would have spent easily more than 5 seconds in taking cognizance of two diverse all-round careers where the numbers are about as big as their impact incalculably bright.
It's a simple exercise, really. Suzie Bates+ Sophie Devine= 227 ODIs combined. It also means 7000+ runs and, it also means 145 wickets.
Raincoat. That' Suzie Bates and Sophie Devine to the ailing body that the White Ferns currently seem, as they find themselves in a cesspool of problems akin to a light-weight body sinking in troubles the Proteas have splashed on them.
But the two great all-rounders, giants of the current side and inspirations for the youngsters are like the cover of safety, the blanket of insurance amid tough times. Yet, problems are persisting.
It's been two back-to-back games in a row now. Not even a solitary win, something that the fan would've wanted as much as the newly-made captain Devine.
But what about flattery? How can there be any when the team are now going to bat for a face-saving chance. A victory, from their perspective, in the third and final ODI could mean pride salvaged.
Well, flattery because of what New Zealand women have managed in the very format where, 3 years back in time, they didn't beat South Africa, they had mauled them.
But before we head there, let's rewind to a period little over a year and a half back.
It's the first-ODI of the bi-lateral series featuring hosts Ireland and New Zealand. The date, in an Ian Bishop style, is something, not just women's cricket and its paraphernalia but even the men's game would want to remember.
On Dublin, on June 8, 2018, the White Ferns, electing to bat leave Laura Delany and team, and with it, million-plus eyeballs on the very day and many more in multiples absolutely gobsmacked, within hours of electing to bat.
The very White Ferns unit that currently finds itself down in the dumps- cliches are inescapable in life– puts on the board 491 runs.
Let it be known that no male team, as a matter of fact, has reached this tally. The Himalayas for team totals. The biggest planet orbiting in the cricketing galaxy. The T-rex among Cricket's most animatic beasts.
Soon, Ireland realize, whilst evidencing cacophonious crackling sounds of thuds and blasts, as do followers of this great game, that of the 300 balls bowled at New Zealand, 71 alone were clubbed to fours and sixes.
Forget about the 230.
We are talking about 12 overs in the game that only included boundaries and sixes.
Nothing else. Only fours and sixes.
Of these 71 balls, 7 yielded sixes and 64 boundaries.
A classic case of seduction for those who chase numbers for a living, the White Ferns, it occurs to everyone- whether the cricket tragics or the easily bored– plundered 298 of their 491 runs only in fours and sixes.
How often does that happen? Well, for Ireland, the Olympus of Kiwi batting had fallen on them.
That Suzie Bates, who scored 151 of the team's 491, i.e., over a third of the entire team's effort did so with astonishing ease, regardless of the fact that she was also the captain back then, reads like another day in the office for a giant.
Yes maybe, a more unusually special day than most in a career where 10 ODI hundreds have already been carved makes the feat memorable. Importantly, that, it came a winning cause is attributed to pride.
Something Maddy Green -who was responsible for 122 of NZ's 491- understands the value of.
Pride.
That's what the Kiwis are conscious of; something they're eager to play for, and stand ambitious to save.
And that's what they'll be playing with when they ready themselves again meet Kapp, Ismail, there's Luus, van Niekerk in a few hours.
While those who've struggled, thus far, including Kerr, Bezuidenhout, even Devine- 9 and 27 in the 2 ODIs-would want to play to their skin, they would know that it's not over. They would know that around them are the two very heroes who catapulted the White Ferns to their highest wire of excellence.
Yes, a bad bout of form happened since that glorious Dublin run-fest. But it happens to them all, mighties, sinners, doers, doubters. We stand up and we fight. That's what New Zealand have done in their yesteryears. That's what defines their game in the bright sunny mornings and even the not so bright nights.
Yes, White Ferns, this difficult period too shall pass.